Online banking electronic payments are set to grow. Exposure can be achieved through GH Capital Inc.
Internet and online businesses continue to thrive. Timely investments resulted in sizable gains for investors in the near past. Frequent innovations provide new opportunities for investors every now and then. Speaking of internet businesses, payment systems are one of critical success factor for businesses to capture more customers. Online retailers are keen to invest in payment methods as it directly results in expanded customer acquisition. On the other hand, customers like to have more options for a payment method. Growth of payment systems are connected to the growth of online businesses and tapping payment systems market can prove beneficial for investors. According to ATKearney, non-cash payments are expected to grow 8% per annum until 2020. This piece is focused on one specific payment system known as Online Banking Electronic Payment, or OBeP.
What is OBeP?
OBeP relies on the online banking of the customer to enable payments thereby eliminating the need for signing up for cards or electronic signup. According to Paypers, In an OBeP scheme, the consumer is authenticated in real-time by the consumer's financial institution. The availability of funds is validated in real-time and the consumer's financial institution provides guarantee of the payment to the merchant in case the payment is made as a credit transfer that is the consumer initiates the payment.
Why Invest?
The reasons for OBeP adoption seem very compelling. Firstly, consumers don't like to sign up for multiple payment options in case one option can be used for all purposes. And, bank accounts are most certainly a must in the current financial system. Using online banking details to purchase online is convenient as compared to sign-up for new cards. For retailers, chargeback risk is eliminated and also, the security is enhanced given that banking details are used. Other benefits are the relatively low transaction cost compared to card, wallet, or other alternative payments.
However, the key thing is that this type of payment system suits regions with strong online banking infrastructure. The payment system may lag in adoption in emerging markets for now but is getting traction in Europe. In the Netherlands, for example, iDeal, an OBeP, is much famous as compared to credit cards. As 93% of the Europeans use their bank accounts regularly, there is clearly a market for innovative payment system like OBeP. Finally, not everyone can sign up for credit cards given the risk analysis carried out by the companies to issue cards. However, payment system tied to bank accounts and real-time balance doesn't require that kind of scrutiny, which indicates a healthy adoption of such payment methods going forward. Online banking payment is already a method of choice in countries like Netherlands and Poland followed by strong adoption in Finland and Germany.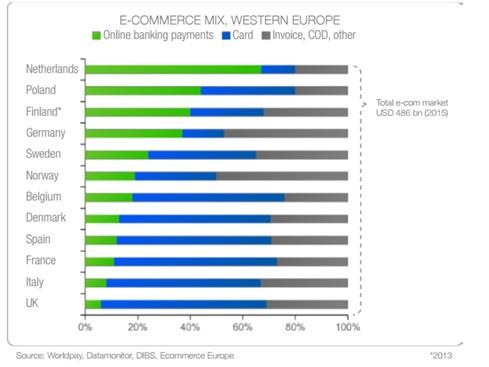 According to global payment report, total e-commerce payment through online bank transfers including real-time transfers is set to reach $440 billion by 2020 translating to CAGR of 12% p.a. Credit cards will become less dominant going forward, according to global payment report 2016. The info graphic below depicts the increase in market share of bank transfers going forward while eWallet, credit cards and debit cards are set to lose or maintain market share.
Source: World Payment Report, 2016
All in all, payment market is set to witness a minor shift during the next few years, and online banking transfers including OBeP will become more common.
Where to Invest?
Regarding the companies, iDEAL in Netherlands and SOFORT in Germany are leading the way for OBeP. Sofort, a Klarna group company, has signed up almost half of the all online merchants of Germany. Overall, Klarna Group cooperates with 65,000 online merchants and offers its solutions in 15 European countries. iDEAL, in Netherlands, is the go to payment service provider for Dutch people. The challenge for investors, however, is the private nature of both these companies. There is no option for retail investors to invest in the growth of OBeP on the mainstream market.
There is another company, ClickDirectPay, a subsidiary of GH Capital Inc (GHHC: OTCBB), which is trying to set a foothold in European market. As the company is a start up, it recently IPO'd on the OTC market QB. The company provides the OBeP for the European merchants and customers. The company is not as established as Sofort GmbH but may challenge Sofort going forward given the cost advantage. Secondly, CPD is trying to cater the needs of the market not tapped by the likes of Sofort.
According to the management, they have a cost advantage as compared to Sofort. Sofort charges 0.95% as compared to 0.75% charged by CDP from e-commerce merchants. For high risk merchants, CDP fees are 2% as compared to 3% charged by Sofort. Cost is a critical success factor as merchants are keen in choosing payment service providers with low costs.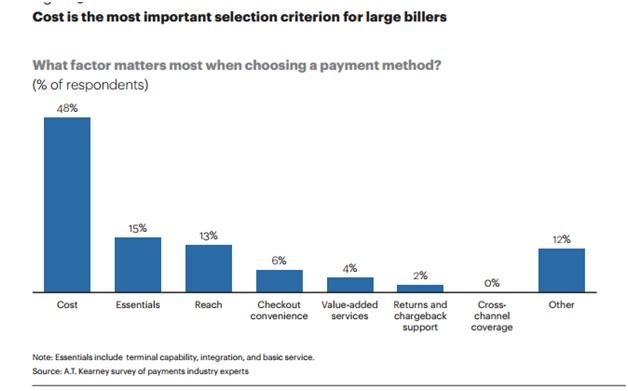 Secondly, ClickDirectPay is not directly competing with Sofort as it is focusing on a completely different industry, high risk merchants. The company is planning to target such as adult merchants, online casinos, digital goods, FX brokerages, e-wallet providers etc. The company has just around 350 merchants but most of these merchants switched from Sofort amid reasonable pricing. Further, switching is also instant using REST API leading to reduced switching barriers. The management of the company also claims to have more developed and secured technology as compared to Sofort GmbH. For instance, data transfers are performed via AES 256-bit secure connections, and sensitive customer information is inaccessible to ClickDirectPay or any merchant. Given that management's claims hold true, GH Capital Inc is an interesting option to tap into OBeP market. However, it is suited for investors with high appetite for risk amid the liquidity concerns of OTC markets. Note that GH Capital Inc is also involved in capital market IPO advisory services.
Bottom line
Online payments are set to evolve over time. OBeP is expected to witness double digit growth. Europe is the current playground for OBeP companies. Investing is problematic given Sofort and iDEAL are currently private. However, exposure can be achieved in OTC market through GH Capital Inc, which has one of the key advantages, cost.
Disclosure: I/we have no positions in any stocks mentioned, and no plans to initiate any positions within the next 72 hours.
Additional disclosure: This publication is for informational purpose only and reflects the opinion of Focus Equity's analysts. This opinion doesn't constitute a professional investment advice. We have no positions in any stocks mentioned, and no plans to initiate any positions within the next 72 hours. Our technology analyst compiled this research piece. Focus Equity is a team of analysts that strives to provide investment ideas to the U.S. equity investors. This research piece is sponsored by a third party