Background:
Photocure ASA (OTC:PHCUF), a Norwegian pharmaceutical company located in both Oslo, Norway and Princeton, New Jersey, specializes in photodynamic technology, targeting damaged (cancerous) cells while preserving healthy tissue. Founded in 1993, they intended to commercialize combined light with medication technologies, developed by the Norwegian Radium Hospital, one of Northern Europe's largest cancer centers. They hired their first employee in 1997 and went public in 2000. Although the firm is small, only 47 employees, they have received patents, FDA approvals, licensed products for sale and completed an exit. Moreover, they have 27 US and 36 European Patents (searching by company name in the respective registries). They receive funding from various sources while belonging to the state supported Oslo Cancer Cluster.
Currently, they have only one product on the market:
Bladder Cancer: This is the ninth most prevalent cancer with more than 380,000 new cases per annum, worldwide. Photocure developed Cysview (NYSE:USA) or Hexvix (Outside USA), diagnosing and managing non-muscle invasive bladder cancer. They are also expanding this product into surveillance, the ongoing process after initial diagnoses, securing cooperation with the FDA to design the required study.
And three products in the pipeline:
Acne: This is the most common skin ailment, affecting 85% of 12-24 year olds. It also appears in many adults. Visonac combines a cream with a controlled red-light source, killing desired bacteria and cells, suitable for moderate to severe acne. There is high demand for new products this market segment, since current treatments are with antibiotics and retinoids. They are preparing for Phase III trials, one-step before US FDA and EU approval. Photocure is in discussions with third parties, seeking a development and commercialization partnership.
Colorectal Cancer: This is the third most diagnosed cancer in the western world, with 500,000 new cases per annum in the US and EU combined. CRC is slow growing thus curable when diagnosed early. The company is developing Lumacan, a supplemental diagnostic to standard white-light cystoscopy, detecting smaller and often overlooked early stage polyps and lesions. Lumacan is in early stage development, between Phase I and Phase II. However, development is currently on hold. Photocure collaborated with Salix in 2010, developing and commercializing the product then offering them exclusive marketing rights. They terminated this relationship in mid-2014, after Salix merged with Cosmo Pharmaceuticals.
HPV (Human Papillomavirus) & precancerous lesions on the cervix: HPV is the most common sexually transmitted disease and one of the main causes of cervical cancer, claiming 250,000 victims per annum worldwide. Currently, the best treatment is surgery, which has severe side effects and destroys healthy tissue. Photocure is developing Cevira, which, like Visonac, combines medication and a light source, treating only the affected areas. This is Phase III ready, with promising results in Phase II. Photocure submitted required documents, for US FDA review, around mid-2015. They are also exploring partnerships. This product, regarded as a game changer in the treatment of HPV, offers a palatable treatment compared to surgical alternatives while preserving fertility.
Thesis
In the latest quarterly report, the company showed significant improvement, increasing sales revenues by 45% while moving closer to profitability: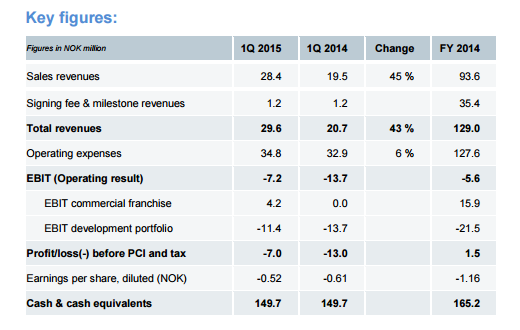 (Source: Photocure ASA 2015 Q1 Report)
Hence, Photocure ASA is beginning to realize their goal, becoming a profitable specialty pharmaceutical company. Moreover, the UK National Institute for Health and Care Excellence recommended photodynamic technology for improved bladder cancer detection. Photocure, with strong intellectual property, promising pipeline progress and increasing sales, offers an investment opportunity as the company moves into the market.
Financials
Although the company does not make money appears richly valued, it has a strong balance sheet and a 90% equity ratio. The difference between gross margin and pre-tax margin indicates long-term potential. As products emerge from the pipeline, R&D and legal costs associated with FDA approval will decrease as a percentage of revenue, improving the pre-tax margins. The share price, in USD terms, trades at the lower end of the 5-year spectrum, offering value to those with a two to three year timeline.
Key Ratios:
| | |
| --- | --- |
| As of 14.05.2014 | as of 14.05.2015 |
| Price/Earnings (NYSE:PE) | N/A |
| Market Cap (NYSE:NOK) | 900M |
| Market Cap (NYSEARCA:USD) | 122M |
| Gross Margin | 93 % |
| Pre-tax Margin | 1.18 % |
| Share Price | 42 |
| Price/Book (NYSE:PB) | 2.45 |
| Price/Sales | 4.55 |
| Cash Ratio | 6.02 |
| Current Ratio | 7.07 |
| Source | |
Key Figures:
Photocure

Q1 2015

Q1 2014

FY 2014

FY 2013

FY 2012

FY 2011

FY 2010

Total Revenue (M NOK)

29.60

20.70

129.00

83.60

133.80

115.60

177.40

Total Revenue (M USD)

3.82

3.40

17.46

13.74

23.96

19.47

28.61

EBIT (M NOK)

-7.20

-13.70

-5.60

-75.50

-39.20

-57.40

7.50

R&D Expenditure (M NOK)

7.10

8.70

32.60

32.40

50.10

66.20

90.20

R&D as pct. of revenue

24 %

42 %

25 %

39 %

37 %

57 %

51 %

Earnings Per Share

-0.52

0.61

-0.77

-2.78

-2.24

-0.35

0.83

YE/QE Share Price

30.50

25.20

27.50

25.70

38.00

34.70

45.80

Year End Share Price

3.94

4.13

3.72

4.22

6.81

5.84

7.39

Shares outstanding

21,393,301

21,393,301

21,393,301

21,393,301

21,393,301

21,393,301

22,093,301

Market Cap (M NOK)

652.50

539.11

588.32

549.81

812.95

742.35

1011.87

Market Cap (M USD)

84.19

88.46

79.61

90.38

145.58

125.04

163.21

Employees

47

47

47

50

64

60

46

Market Cap/Employee (M NOK)

13.88

11.47

12.52

11.00

12.70

12.37

22.00

Market Cap/Employee (M USD)

1.79

1.88

1.69

1.81

2.27

2.08

3.55

USDNOK (Yearly Average)

7.75

6.09

7.39

6.08

5.58

5.94

6.20

Source: Company Quarterly and Annual Reports and Investor Relations. EBIT includes "one-offs". FX from Norges Bank & US IRS
Management
Although the focus is currently R&D, the firm is setting up for increased in sales abroad, mainly in the US and EU. Photocure is a small firm, only 47 employees. I can imagine working in an R&D oriented company requires a thick skin, dealing with setbacks, paperwork and rework. The time horizon is long, and gratification is very much delayed.
The executives are both in Oslo, Norway and Princeton, New Jersey, a mixture of highly qualified Norwegian and Americans. I believe that the purpose of the Princeton HQ is physical presence, working closely with the FDA, ensuring requirements are met and proximity to American marketing partners.
The CEO, Kjetil Hestdal, has an MD with a PHD in immunology. In an interview with Alvik Roy, he appears modest, business savvy with a deep understanding of the underlying science, understating the full product potential. He has been CEO since 2005 and with the firm since 1997, almost 2 decades. He is highly regarded in the Norwegian media, who stated in 2013 that Cevira offers breakthrough potential - a product offering a billion dollar per year revenue potential. Overall, this is competent and highly committed management team with integrity, perseverance and enthusiasm for their work.
Competitors
Photocure does not have any direct competitors, using the same approach to solve the same problem, but there exists global competition to solve the same problems using different approaches. Within Norway, they are unique. They are competing with big pharmaceutical companies, research hospitals and other specialty firms. However, in many cases, the pharma products complement each other vs. directly compete with each other, offering the physician variety of options that they could tailor into a custom treatment.
OncoGenex (OXGI), a similar firm working in both Canada and the US, addresses bladder cancer, but the issues of treatment resistance through protein mechanisms. OncoGenex targets the resistance mechanisms, making existing therapy more effective. The greatest long-term threat to Photocure, who aims to minimize damage to nearby healthy cells, is gene therapy, currently in early stages of development and extremely costly. Therefore, Photocure's approach is unique, viable and relatively cost effective, applying a medicine, activated by photons, treating only the affected cells.
Comparing Specialty Pharma Firms:
Firms

Specialty

Valuation
(M USD)

PCI Biotech Holding (Norway)

Photocure spin-off

$23.7

OncoGenex (USA)

Cancer treatment resistance (Bladder Cancer)

$41

Binor Pharma (Norway)

Vaccines & HIV

$81

Medistim (Norway)

Cardiac & Vascular

$94.3

Biotec Pharmacon (Norway)

Immune system

$110

Photocure (Norway)

Applied photodynamics (Bladder Cancer)

$122

Weifa (Norway)

General meds supplier

$191

Source: Reuters.com & Bloomberg.com

 
Integrating MEMS Technology
Twenty-one years ago, during my senior year in college, I wrote a paper on MEMS (Micro-Electro-Mechanical Systems), mechanical devices with working gears, pumps and levers, seen only under an electron microscope.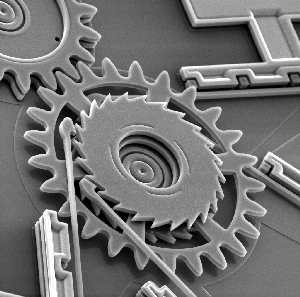 Since my graduation, this technology advanced substantially. Sony developed MEMS with micro (10-6m) lighting technology in 2002! My MBA Alma Matter, University of Illinois at Chicago, was working with this technology to create an artificial retina in 2005. Today there are Bio-MEMS, sophisticated applications specific to the medical industry. Bio-MEMS, seen as the future of medicine, work at the cellular level, detecting and precisely curing ailments. Photocure could leverage MEMS technologies, sending micro-robots with lighting elements to the affected area, activating medication on individual target cells.
Conclusion
Photocure ASA, a Norwegian specialty pharma, is successfully realizing years of R&D. This small firm is addressing big issues, currently not addressed by the market with unique technology. Photodynamic technology addresses the need for precision medication application, minimizing side effects and collateral healthy tissue damage. Photocure is a speculative play, depending on FDA approvals that could be years away and increased sales of a single product.
However, they are financially sound with strong management, who understands both medicine and business, and what appears to be very highly qualified and committed employees. Indications from the trials look promising. The products address gaps in the current market, offering breakthrough potential.
The firm with 27 US and 35 EU patents and no majority shareholders, offers acquisition potential. Interestingly, JP Morgan is the top shareholder; the remaining top 20 are Nordic and one British institutions. Currently, there is an appetite for biotech with the right story. Both private equity and pharmaceutical bellwethers are looking for deals. Hence, this is the Norwegian pharma worth watching, buying the stock opportunistically, under 40 NOK per share.
Disclosure: The author is long PHCUF.
The author wrote this article themselves, and it expresses their own opinions. The author is not receiving compensation for it (other than from Seeking Alpha). The author has no business relationship with any company whose stock is mentioned in this article.