Summers in Norway are slow, often passing time by fishing. Hence, this may be the right time to pick a company associated with Norway s second largest export. Turning on the fish finder then casting a line into the Oslo Børs (stock exchange), I caught several established Norwegian fish stocks. Hungry for yield, after seeing low savings rates, I did a speedy analysis, choosing the best one and throwing the rest back into the sea. This is a protein play. As global population and income rise so does the demand for meat. Selecting Havfisk (HFISK.OL), SalMar (SALM.OL), Lerøy Seafood Group (OTCPK:LYSFF) and Marine Harvest (NYSE:MHG), I analyzed key ratios against dividend yields, selecting SalMar (SALM.OL). Started in 1991, they are Norway's third largest producer of farm raised Salmon with operations in the UK and Japan. Seeking Alpha was trolling these waters long back (Q3 2008).
The Protein Thesis
This is a known story, underlying commodity-investing fundamentals. As population and incomes rise, so does meat consumption. The United Nations Food and Agriculture Organization (FAO) predicted that global meat consumption would rise from 233M to 300M tons from 2000 to 2020, straining arable land resources.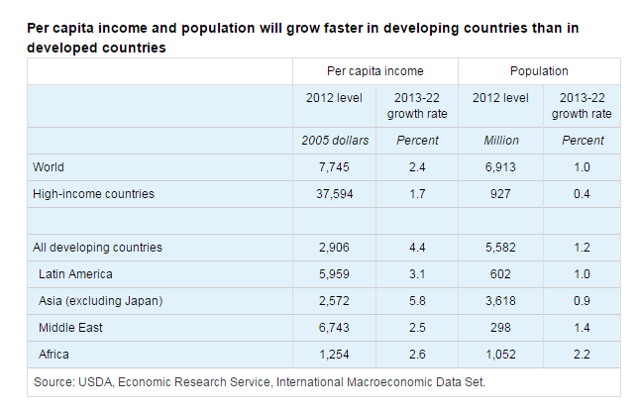 Source: USDA, Economic Research Service, International macro Data Set.
The demand for meat in developing countries is growing faster than their production capacity, creating opportunities for exporters. Although commodity prices are in a slump, meat prices have been increasing over time, albeit with much volatility.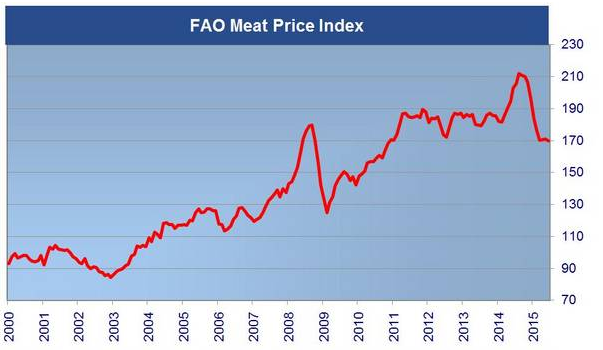 Source: Food and Agriculture Organization of the United Nations
Meat production requires grain, which has also been in a slump, but trending up since 2010, albeit not smoothly.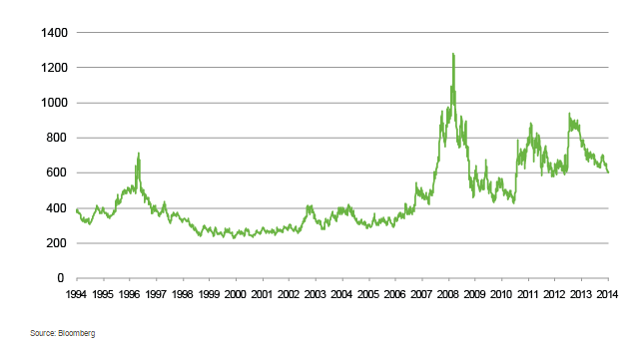 Source: Bloomberg - Wheat Prices in cents per bushel
Seven kilograms of grain are required to make one kilo of meat in addition to water and land. The table below clearly shows that aquaculture (fish farming) is the most viable way to address future demand.
Type

Beef

36g

7

Pork

30g

4

Chicken

18.3g

>2

Fish*

26g

<2

*Tuna, Salmon or Halibut/ Sources: links on header
However, fish farming is not easy. There are many perils:
Sea Lice: This is normally not a problem in the wild where the salmon move from salt to fresh water, killing the parasites. However, this is a constant battle for fish farmers, confining fish to large stationary pens.
Diseases: Infectious salmon anaemia, bacterial kidney disease and infectious pancreatic necrosis pose threats, spreading quickly among fish concentrated and confined in small areas.
Escapes: There are instances where fish actually escape, causing business loss. It takes 18-36 months to raise a fish and bring it to market. Additionally, these escaped fish wreak environment havoc, interbreeding with wild fish and sometimes introducing diseases to wild populations.
Regulations and Capital Costs: This is capital-intensive business with strict government regulations.
Although there is a lot of debate on the health and ethics around fish farming, population growth and rising incomes make it inevitable.
The Fish Stock Finder
Fishing for stocks is like fishing in real life. It requires patience and a long-term view as well as using technology to find where the fish congregate. Powering up the fish finder, searching the Oslo Børs, seeking optimal market capitalization, I found SalMar (SALM.OL) and Lerøy interesting, trolling the $1-5B market cap range. The goal was to find an established company with room to grow.
Company

Specialty

Type

Market Cap

Market Cap

Employees

Mkt Cap
/Employee

2014
Operating Margin

Havfisk

Cod, Haddock & Saithe

Boats

$257M

2.1B NOK

390

$661,501

28 %

SalMar

Salmon

Farm

$1.7B

14.2B NOK

1,000

$1,744,472

26 %

Lerøy Seafood Group

Salmon, Trout, Cod & many others

Farm

$1.9B

15.4B NOK

1,900

$995,733

14 %

Marine Harvest

Salmon

Farm

$5B

45.1B NOK

11,715

$472,944

12 %
Source: Annual Reports, Yahoo Finance & Oslo Børs. Date: July 27 - 2015/USDNOK= 8.14
Tuning the fish finder for yield while considering key ratios, valuations appear normal. The equity ratio or percentage of share value reaped from liquidation indicates dividend sustainability, explained in the next section. Havfisk, with a lower equity ratio, is a true fishing company, using trawlers. Therefore, it has a different cost structure than the rest, which are fish farms. Noteworthy is that the PE ratios of Lerøy and Marine Harvest are significantly higher than SalMar and Havfisk while having lower yields.
| | | | | | | | |
| --- | --- | --- | --- | --- | --- | --- | --- |
| Company | Ticker on Oslo Børs | Stock Price (NYSE:NOK) | Equity Ratio (Q-2015) | P/E | P/S | Latest Annual Dividend | DIVY |
| Havfisk | HFISK | 24.50 | 36.2 % | 11.7 | 1.74 | 1.50 | 6.1 % |
| SalMar | SALM | 123.50 | 55.6 % | 12.2 | 1.96 | 10.00 | 8.1 % |
| Lerøy Seafood Group | LSG | 281.00 | 55.5 % | 17.4 | 1.2 | 12.00 | 4.3 % |
| Marine Harvest | MHG | 99.45 | 50.9 % | 19.8 | 1.86 | 8.30 | 8.3 % |
Source: Annual Reports & Oslo Børs: Date July 27 - 2015/USDNOK= 8.14
Price Support Pillars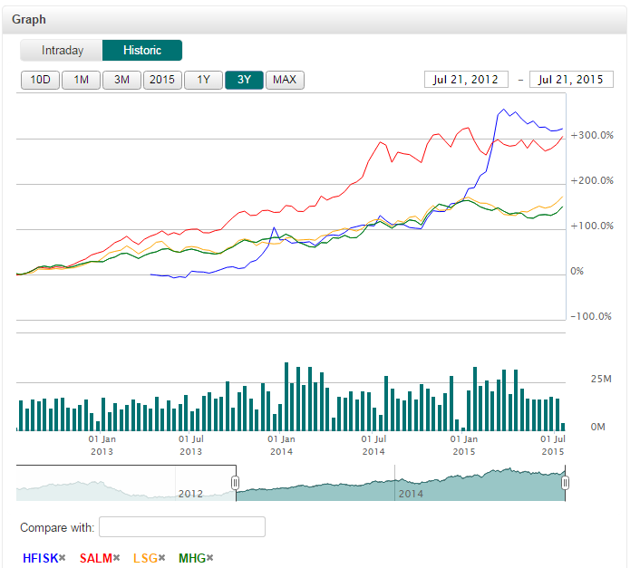 Source: DnB Bank: Selected fish stock price history
Two major pillars, in addition to forward growth outlook, supporting prices are:
Commodity Market (Fish) Prices: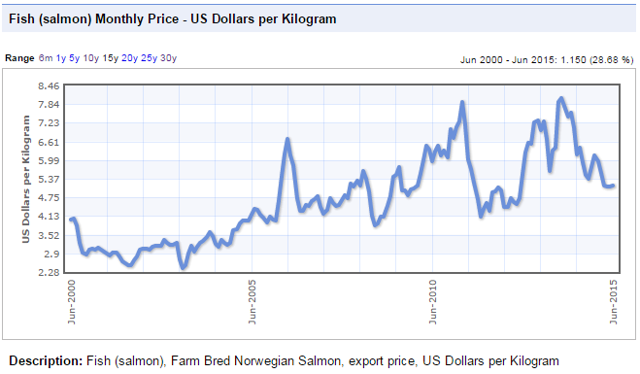 Source: IndexMundi.com Norwegian fish stocks jumped in recent months, while fish prices are at near-term lows.
Fishing companies often distribute surplus liquidity as a dividend, aiming to create value for their shareholders. At the same time, management boards may elect for business re-investment or debt reduction. Rises in commodity prices, leading to higher profits, favor increasing dividends. However, salmon prices, considering historical patterns, are towards the bottom of the cycle. Based on the chart below, salmon prices are closer to a bottom than a top, leaving room for future revenue and dividend growth. Fish stock prices have actually been rising as fish prices have been falling.
Exchange Rates (NYSE:FX):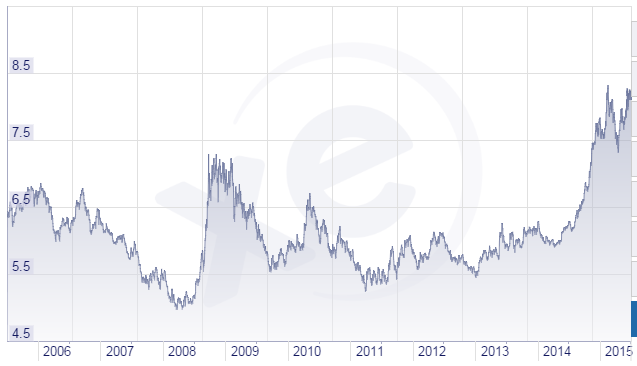 Source: xe.com: USDNOK - The US Dollar (NYSEARCA:USD) is near all time highs against the Norwegian Krone .
Oil drives the Norwegian Krone . Weakness in oil, attributed to increasing US shale and OPEC output along with technological advances, essentially crashed prices over the past year, taking the NOK along. With China slowing down and the world awash in oil, this trend is expected to continue for the near future, supporting the FX price pillar indefinitely. Norges Bank (The Norwegian Central Bank), biased towards low interest rates, warned that they would continue cutting rates if oil keeps falling, averting a recession. This move favors Norwegian exporters, making their products more competitive abroad. Hence, many investors are "fishing", searching beyond oil stocks and bank deposits for safe yield.
Comparing stock price and FX charts, Havfisk (HFISK.OL) and SalMar (SALM.OL) responded to the FX changes, starting in mid-2014, but Marine Harvest and Lerøy have more muted responses. This is perhaps due to both of them having a 40-70% higher PE ratio as the other two.
Analyzing the Catch
Havfisk
This is the only pure open water fishing play of the catch, operating the largest trawler fleet in Norway. Aker, the Norwegian oil and shipping conglomerate, owns 73.2% of the company. Ten boats fish and process cod, haddock, Saithe, redfish, Greenland halibut and prawns. Hence, they have more overhead costs than aqua-farms, giving them a lower equity ratio, and susceptible to nature's whims, making them less efficient. The company recently accepted three new trawlers in 2013 and 2014. Fleet modernization, started in 2009, is mostly complete, freeing up funds for shareholders. Evident this year not only in the margins (28% operating for 2014), they declared a retroactive dividend for 2014 and another for Q2-2015. Based on ratios, compared to the sector, this is a well-managed company. I wrote about their former CEO, Olav Holst-Dyrnes, as a dedicated and committed leader, seeing through Havfisk's fleet modernization, before leaving for Ekornes as their CEO. Their new CEO, Webjørn Barstad, is from the industry and educated in Scotland. He attended Heriott-Watt University Business School, graduating with BA Hons. Business Organization and MSc International Banking and Financial Studies. Therefore he has the experience and intellectual tools required to keep this company ship shape.
HFISK.OL Dividend History:
| | |
| --- | --- |
| Year | NOK |
| 2015 | 1.5 |
| 2014 | 0 |
| 2013 | 0 |
| 2012 | 0 |
| 2011 | 0 |
| 2010 | 0 |
Source: Havfisk Annual & Interim Reports
Although I personally prefer fresh ocean fish, and this company has the smallest market cap ($257M) of the four. Despite dividend growth potential, scalability is difficult. Open water fishing is very capital-intensive and regulated, depending on licenses and quotas. Hence, I will allow this one to swim free.
Lerøy Seafood Group
This is the world s second largest producer of Atlantic salmon, started in 1899. Currently, Austevoll Seafood ASA, the majority shareholder, has a 62.6% stake. The company has a US listing as an ADR. Their fully integrated value chain starts with the fish eggs and ends with the customer: eggs, smolt, farming, harvest, processing, and distribution, including trucking operations. They are Norway's largest supplier of sushi, not using antibiotics in their salmon since 2011 and creating new oven-ready meals, catering to a faster moving society. They are growing by acquisition, picking up Alarko, a Turkish seafood distributor, taking minority stake in Norsk Oppdrettsservice AS, a lumpfish producer. Although dividends and margins are low, compared with the others, they are the only one paying every year since 2010.
LSG Dividend History
| | |
| --- | --- |
| Year | NOK |
| 2015 | 12 |
| 2014 | 10 |
| 2013 | 7 |
| 2012 | 10 |
| 2011 | 10 |
| 2010 | 7 |
Source: Lerøy Annual & Interim Reports
However, it appears that owning the capital associated with complete (value chain) control, especially trucking operations, sacrifices yield and margins, lagging the others. Moreover, this company is on the expensive side, trading at around 17x earnings (referring to charts above). This 200-year-old company, although safe with growth and innovation, is "too slow" for me.
Marine Harvest
This is the biggest company in the net, comparing market cap and employees, valued more than the other three combined while having the highest dividend yield but the lowest operating margin. They are one of the world's largest seafood companies and the world's largest Atlantic salmon farmer, supplying 20% of global demand. They are the only one in the catch with an NYSE listing and no majority shareholder. Nevertheless, dividends have fluctuated, depending on fish prices.
| | |
| --- | --- |
| Year | NOK |
| 2015 YTD | 2.5 |
| 2014 | 8.3 |
| 2013 | 2.25 |
| 2012 | 0 |
| 2011 | 8 |
| 2010 | 6 |
Source: Marine Harvest Annual & Interim Reports
Moreover, they have a $5B+ market cap, making it attractive to Warren Buffet, who likes big boring companies with reliable cash flow. However, with the highest PE of the four, around 20, they will have to wait for the Oracle of Omaha's Norwegian fishing expedition. He wants to get a deal for Berkshire Hathaway shareholders. Therefore, I will pass on this as well.
SalMar
SalMar ASA (SALM.OL) is Norway's third largest producer of Atlantic salmon with 1000 employees. Kverva, a Norwegian marine investment company, owns them 53.4%. Like Lerøy, they operate the entire value chain: smolt (hatching the fish), farming (getting them to size), processing (packaging) and distribution but exclude trucking operations. Of the four, SalMar conveys best their focus on operational efficiency, reflected in their 26% operating margin, highest of the selected fish farmers. For example, their investment into InnovaMar, an automated processing facility, improved the worker's quality of life and food safety while boosting efficiency. This is clearly paying off, restoring dividends after two years of investing into future growth.
| | |
| --- | --- |
| Year | NOK |
| 2015 | TBD |
| 2014 | 10 |
| 2013 | 8 |
| 2012 | 0 |
| 2011 | 0 |
| 2010 | 4 |
Source: SalMar Annual & Interim Reports
Moreover, like Lerøy and Marine Harvest, they have structure and strategic locations in place, facilitating constantly rising Asian demand. I chose them over the others, not only for an optimal market cap while having a high dividend yield (NYSEARCA:DIVY), but also for their technological focus. They are truly able to do more do with less.
Conclusion
This is a fishing story worth sharing, telling a tall tale about stocks with strong yield, well above inflation and bank saving rates, offering relative safety, supported protein demand growth. The selected Norwegian Fish stock prices rose dramatically since Q2-2014, on the back of Krone's decline, dropping with oil, increasing export competitiveness. Perhaps we are late to the summer party. Theoretically, based on the salmon prices, the stock prices should be at lows. However, it appears that currency factors, dividend yield and potential growth are trumping the commodity price cycle.
There are two pillars underlying the Norwegian fishing stocks. The first is the exchange rate, which has been realized. As more oil comes online from America, Iran and the modernized fields in Arabia, we can expect continued long-term weakness in the Norwegian Krone. The second pillar is the salmon price cycle, which as not been realized. Salmon prices are currently at short term lows. Once salmon commodity prices start moving back up, margins will improve, boosting dividends, leading to higher share prices.
My pick of the four was SalMar. Their focus on operational efficiency and technology leads to a high and potentially sustainable yield, best equity ratio and favorable market cap, making it an attractive long-term investment. Their InnovaMar "factory in a big-box" is the future of the industry, automating processing and packaging. This, less human dependent approach, makes their business model scalable and transferable, ensuring smooth global expansion, in-line with population and income growth.
Havfisk, Lerøy Seafood Group and Marine Harvest are solid companies, practically Norwegian institutions. It is worth keeping an eye on them as well, buying on dips, boosting yields.
Disclosure: I am/we are long SALM.OL.