It is important to learn from the best and clone their strategy, as noted by Mohnish Pabrai of the Pabrai Investments. This author compiled a list of 60 Super Investors, with a combined asset of $428B under management, based on data from dataroma.com. Every manager in the list has a long and successful track record. A few of them, like David Einhorn, Bill Ackman, Lou Simpson, and Charlie Munger are well known to the investment community. A corner stone strategy for these Super Investors is to pay less and get more, as noted by Bruce Berkowitz of the Fairholme Fund. It would be fantastic way to invest by buying companies selected by the Super Investors and pay a lower price than they did.
Below is a list of Super Investors: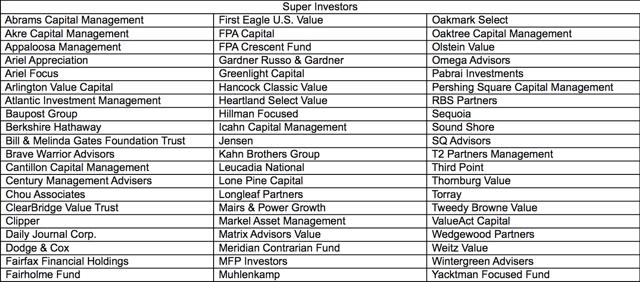 Buying index fund is popular nowadays, but this author would advice an even better strategy--index the Super Investors and buy the ones that are trading near 52-week low. The Super Investors have to report their holdings to the U.S. Securities and Exchange Commission (SEC). Based on the most recent data from the SEC, a single Super Investors portfolio is created on the top ten holdings of all the funds, and it only includes companies hold by two or more funds. The result is a total of 98 companies. This author short-list it to ten companies based on ranking of 52-week low.

(A 4% 52-week low means it is trading 4% above the 52-week low.)
(Ticket: L, SD, WSH, XCO, MSI, GM, ALLY, WMT, EBAY, IBM)
Out of these ten companies, XCO offers one of the best bargains. Oaktree and Hamblin Watsa Investment have XCO as one of their top four holdings. Both funds modeled their approach after Warren Buffett, and Prem Watsa of Hamblin Watsa is often quoted as the Canadian Warren Buffett. As of September 8, 2014, XCO's share is traded at $4.50, a 10% discount compared to what these Super Investors paid in January 2014.
Common Stock Ownership
 
 
 
Shares
 
 
 
%
WL Ross & Co. LLC
 
 
51,104,050
 
 
 
18.7
Oaktree Capital Group Holdings GP, LLC
 
 
45,173,682
 
 
 
16.6
Hamblin Watsa Investment Counsel Ltd.
 
 
17,538,912
 
 
 
6.4
The key factor for XCO is the US natural gas price. In mid-2008, gas traded above $10 per futures contract; in 2012 the equivalent was at $2. Historically, gas has been about 10 times cheaper than crude oil. Back in 2012, gas was roughly 50 times cheaper, and today is about 25 times cheaper with price trading around $4. Although gas price has recovered, even Warren Buffett admitted his mistake on betting that natural gas prices would rise at a faster pace in the Berkshire Hathaway's annual letter in 2013.
However, a higher gas price in the future is not a fairy tale and the logic behind it is sound. "Everyone who has a brain should be thinking of how to make money on this in the longer term," the renowned investor Jeremy Grantham of GMO wrote on natural gas in one of his letter. First, crude oil and natural gas prices should have a 6 to 1 ratio, based on energy equivalent basis. Historically, that ratio was around 10 because gas cannot be easily transported like crude oil. Second, gas price in Europe is roughly double of that in the US, and the Europeans depend heavily on the Russian to supply gas. The Europeans would be more than happy to have other viable supply. It will be a multi-year shift to address these two issues. Industrial companies are switching from coal or diesel to natural gas and more terminals for cross continent gas transportation are being built. Eventually, potential profits and cost savings will cause a shift in demand and drive price higher. At that time, profitability of gas producing companies will heat up.
In terms of valuation, XCO suffered a series of write-down on their balance sheet for a total of $5.7 billion between 2008-2013 when gas price dropped from $9 to $2 and then back up to $4. Suppose gas price converge to the 6 to 1 ratio on an energy equivalent basis with crude oil. Even if we assume crude oil trades at $70 a barrel in the future, a 30% discount from today's price, a modest 10 to 1 ratio implies gas should be trading around $7. At that price, XCO would recover most of the $5.7 billion write-off, or about two times XCO's current enterprise value of $2.7 billion. It's great to buy assets at 50 cents for a dollar. In fact, it's even better to buy XCO at 45 cents when the Super Investors paid 50 cents.
Disclosure: The author is long XCO.
The author wrote this article themselves, and it expresses their own opinions. The author is not receiving compensation for it. The author has no business relationship with any company whose stock is mentioned in this article.