Most people want to look good. Try asking some of your friends and acquaintances which they would choose if they had the choice between being good looking and not at all good looking.
While both genders purchase various kinds of beauty products, women are by far the larger market, spending over $400 billion per year. Although the male segment of this market is small, it is increasingly steadily, suggesting that in aggregate the market has many years of growth ahead.
Wrinkles are a primary concern of both genders. While hiding wrinkles is the most common strategy, some products attempt to slow their development. Whether or not the latter approach makes a noticeable difference for the average person is open to debate.
Botox has been steadily gaining popularity (around 7 million cosmetic procedures per year in the US) because it can actually cause wrinkles to appear much smaller, although this effect often lasts for only 2-3 months. (It should be noted that therapeutic uses of Botox, such as treating migraines, rehabilitation after strokes, and bladder problems, now account for more revenue than cosmetic uses.)
Allergan, the maker of Botox, is in the process of being acquired by Actavis. Allergan's annual revenues were $6.3 billion in 2013, with about one-third of that figure coming from Botox. Actavis is paying $66 billion for Allergan, i.e., more than ten times its annual revenue. No doubt Actavis foresees an exciting future for Botox.
The size of the market attracted the attention of Johnson and Johnson, which worked on its own version of a botulinum toxin-based anti-wrinkle treatment to be known as PurTox. After working on PurTox for about five years, Johnson and Johnson threw in the towel due to ongoing problems.
While Botox can produce dramatic improvements in the appearance of heavy wrinkles, it has a limited span of action (a few months) and involves the injection into one's face of a toxin that induces muscle paralysis, with the result that severe side effects (including death) are possible if something goes wrong.
Treatments that actually reduce wrinkles - as opposed to temporarily hiding them by paralyzing the muscles that create them - do exist. Unfortunately they have significant drawbacks. Currently, the leading treatment method involves CO2 lasers. During the treatment, the laser heats the patient's skin to around 800C (almost 1500F). Recovery is not considered pleasant, limiting the appeal of this treatment.
Enter Buffy the... I mean, J-Plasma the Botox Slayer.
As previous Seeking Alpha articles on Bovie Medical Corporation have noted, the J-Plasma (helium plasma) technology has many advantages such as tunability, operation at low to modest temperatures, minimal effects on surrounding (non-targeted) tissue, etc. Also as briefly noted, one of J-Plasma's many applications in the medical field is skin resurfacing.
Bovie recently released a white paper written by Joseph B. DeLozier III, M.D., FACS and Mary Beth Oglesby of the DeLozier Cosmetic Surgery Center on the use of J-Plasma in skin resurfacing for wrinkle improvement, keratosis removal, and treatment of scarring and discoloration. So far the results have been dramatic. The photographs below are before and after shots of a 61 year old female who had deep vertical wrinkle lines and perioral laxity. Six months elapsed between the two photographs, showing that the treatment is permanent in nature, rather than wearing off for a few months as Botox does.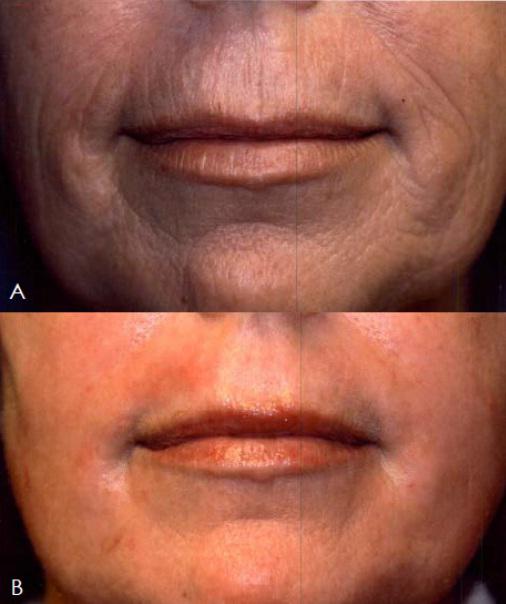 The efficacy and tolerability of J-Plasma skin resurfacing is on a whole new level compared to conventional treatments. The market potential for this technology is very exciting.
Previous Seeking Alpha articles on Bovie have demonstrated that Bovie has strong links to Boston Scientific Corporation and that a future takeover bid or lucrative licensing deal with Boston Scientific is a very real possibility. (Until recently, Boston Scientific has been deeply engrossed with resolving a series of issues that have plagued it for a number of years and limited its M&A activities, among other undertakings.)
Bad blood has existed between Johnson and Johnson and Boston Scientific since the Guidant takeover war back in 2006. A lawsuit by Johnson and Johnson against Guidant (and therefore against Boston Scientific as Guidant's owner) was settled a few weeks ago with Boston Scientific agreeing to pony up $600 million.
Cosmetic applications of Bovie's J-Plasma are right down Johnson and Johnson's alley. One would think that the demonstrated efficacy of J-Plasma, its tremendous market potential, and Bovie's bargain price ($57 million market capitalization at today's close) would be rather tempting. A move on Bovie and / or J-Plasma could also be a chance for Johnson and Johnson to poke a stick in Boston Scientific's eye, something they might enjoy getting to do.
Disclosure: The author is long BVX.