The basic idea behind contrarian investing is that when investors are most excited and optimistic about an investment, that type of investment is probably near a peak, price-wise. Conversely, when investors are most depressed and pessimistic about something, it is probably near a bottom.
Naturally there are exceptions to this. A stock can be very well-regarded and - from a share price perspective - go on performing wonderfully for years, most usually when the company shows strong, consistent sales and profit growth for many years running. A stock can be considered a dog and keep up dropping all the way to zero if the company goes out of business.
Boston Scientific Corporation (NYSE:BSX) is a company I've mentioned before on this Instablog and in several regular articles with a Bovie Medical focus.
Boston Scientific is interesting for several reasons, including that so far it is following this "hate 'em at the lows, love 'em at the highs" pattern.
It wasn't all that long ago that Boston's share price was all the way down at $5 and many analysts hated the stock.
My, how things change.
Take a look at the following three excerpts from articles on Boston Scientific. (The article excerpts are in chronological order and the originals are available here, here, and here.)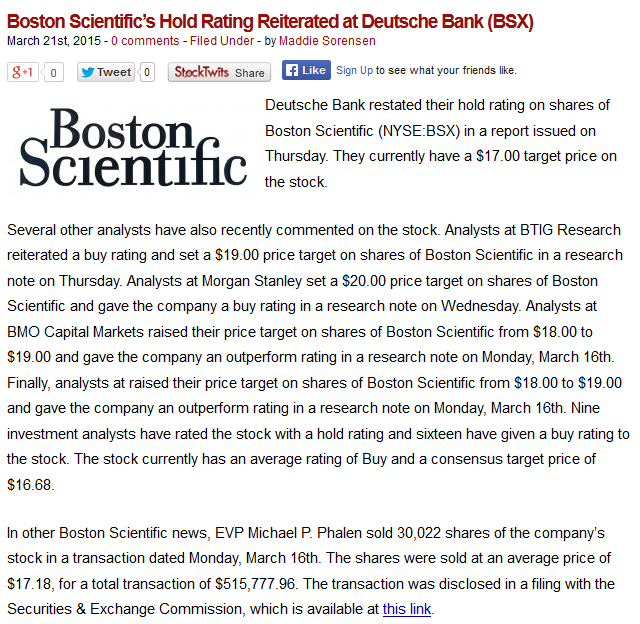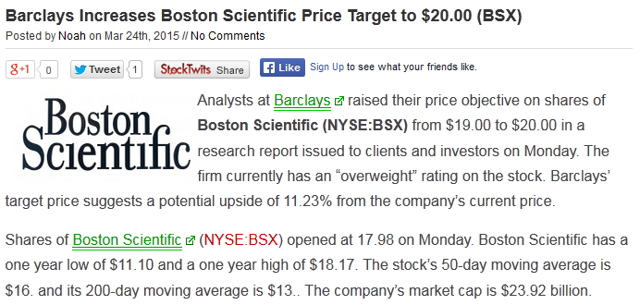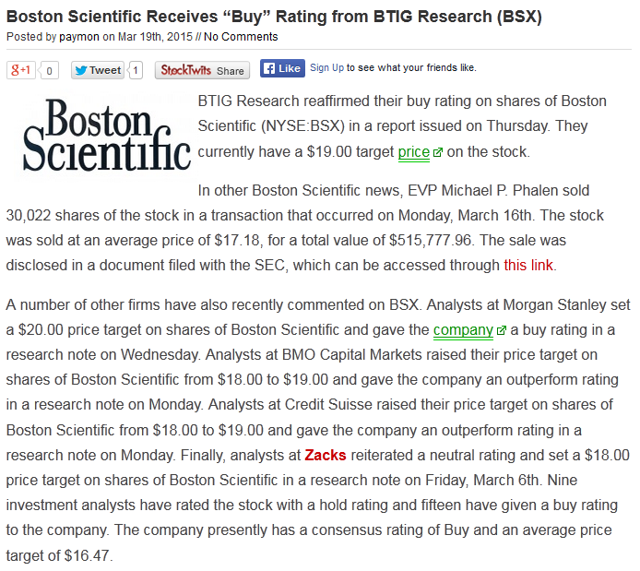 Several points stand out to me as interesting. In no particular order:
At $5/share, analysts (generally speaking) looked upon Boston Scientific as being trash. Now at $18/share (plus or minus a few pennies), analysts take a much brighter view of the company, with fifteen rating it a buy and nine rating it a hold.
Despite having a consensus rating of Buy, the average price target is $16.47. Do analysts really expect it to go down that much? With twenty four saying to either buy or hold and no one (at least among those tracked by the outfit that wrote the articles above) saying sell, it seems the answer is probably no.
The previous point shows how analysts - generally speaking - tend to be more reactive than predictive. In addition to changing their ratings after the stock was already moving up sharply (rather than recommending it as a buy down near its lows), their price targets tend to be based on where the share price is, rather than where it might be going. In this case, the share price has moved up fast enough that analysts' projections have not kept up, which is how they've ended up with a "buy" rating at the same time as they seemingly predict an almost 10% drop in the share price.
While the analysts are saying "buy," the Executive Vice President is selling half a million dollars worth of shares. Of course, we don't know his reasons; perhaps his daughter is getting married and he needs to pay for the wedding. So this may or may not have any real significance.
So what does this mean? Is Boston Scientific going to head down?
Although I wish I could tell you, I can't as I don't know myself. What I can say is that this smells to me like a situation in which a little caution wouldn't hurt if one has a substantial holding of Boston Scientific or is thinking of parking some money there.
Disclosure: The author is short BSX.
Additional disclosure: I am short Boston Scientific Corporation (BSX) via Put options.