(Note: This was meant to be a comment added to the end of an existing Instablog post on Bovie Medical Corporation (NYSEMKT:BVX). However, Seeking Alpha won't let me put graphics in comments, so I was forced to make this its own post.)
Although I never had time to finish the article "When Sarbanes-Oxley Non-Compliance Is Good: The Mysterious Missing Inventory Of Bovie Medical" (and so turned it into an Instablog post), I have been able to do a little more poking around. As it turns, it looks like the fate of the missing inventory was a bit different from what I had originally thought.
It seems fairly likely that the MEG inventory sent to China (likely for storage at a Covidien facility in Jiangyin) ended up on the books of one of Steve Livneh's companies, most probably Dynament. (Mr. Livneh has a history of using business structures that include multiple corporations.)
The transfer would most logically have taken place when Bovie initially lost a large chunk of their IP to Mr. Livneh in a lawsuit, before later winning it back.
The accounting value of the MEG inventory would have been initially been its production cost (not its future sales value, as I implied in the above Instablog - brain fart on my part). Once the inventory became impaired due to legal / IP ownership reasons, its book value would have plummeted, perhaps to its scrap value. This is presumably when the change in ownership from Bovie to Dynament would have occurred.
Being privately held, Dynament's financial data is not available for public scrutiny. The results (or lack thereof) of Google searches suggest the company has been keeping a low profile. However, some interesting information is available.
Dynament's China are in Jiangsu, the province where Jianying is located. While this doesn't prove anything, it is an interesting coincidence.
The following picture shows the location of Jianying (indicated by a purple oval) within Jiangsu.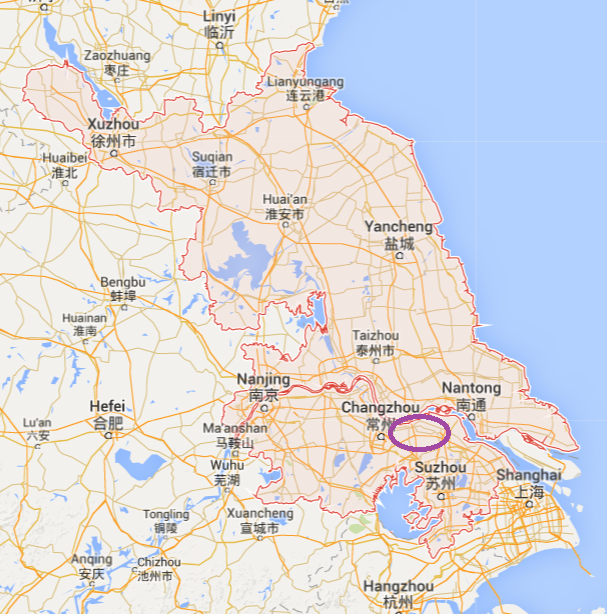 A sense of scale is provided by the next picture, which shows the size and location of Jiangsu within China.
True to form, Mr. Livneh has set up several companies that are probably involved in the same line of business. This can be seen on his LinkedIn page.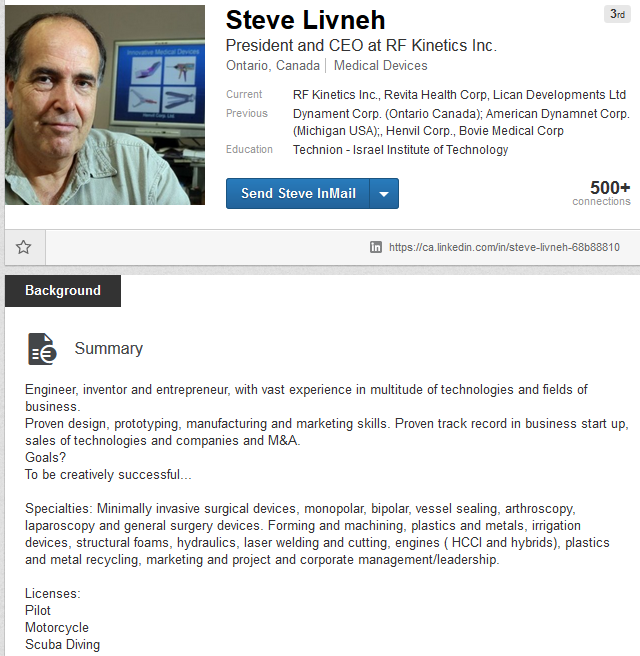 The choice of the name RF Kinetics is interesting. A large chunk of Bovie's product line (including products invented by Mr. Livneh) use RF electronics, including the helium plasma-based J-Plasma technology.
Mr. Livneh's LinkedIn page also suggests he has turned over responsibility for the day-to-day operation of the company to someone else while he focuses on the operations of RF Kinetics.
Past writings of mine on SeekingAlpha have suggested that Mr. Livneh may once again become involved in Bovie Medical in some fashion. Some of the reasons for this are that it makes a lot of sense from technical / scientific and business standpoints and the change in Bovie management may help grease the skids since the persons most involved in the litigation between Mr. Livneh and Bovie are, for the most part, no longer the public face of the company.
There is now circumstantial evidence that a business relationship of some kind is now in place. For example, a Dynament employee (Dynament's operations being in Ontario, Canada; Michigan; and China) is apparently now located in the Tampa-St. Petersburg area, which is (surprise!) where Bovie's main operations (including their factory) are located. This information is available on LinkedIn. (Note that I can't see the name of the employee as I don't have one of the LinkedIn premium memberships.)

Although Bovie has mentioned an important China-based supplier (or perhaps multiple suppliers) multiple times in company filings, the company has never identified the supplier (at least as far as I know).
It is likely, in my opinion, that Dynament China (and / or a sister company within Mr. Livneh's group of companies) is the important Chinese supplier Bovie has mentioned.
During one of Bovie's rounds of raising additional funding via share placements, the company's management mentioned acquisitions of other companies as one of the possible uses of the funds. Bovie later acquired its Bulgarian supplier. It would not surprise me if Bovie were to cut a deal with Mr. Livneh of some kind in which Mr. Livneh came fully back into the Bovie fold, along with his companies.
On a related note, a reader recently sent me the following:
"I have a friend (a wealth manager) who has been watching BVX for 10 years and owns a few shares. He pointed me towards the stock this week thinking maybe its time is finally about to come.

"One of things he mentioned was that the pistol grip for the J-Plasma was a bit heavy for some doctors' tastes and Bovie was trying to miniaturize the electronics inside to get the weight down. Do you know anything about that and whether the pistol grip of today is indeed lighter than it was originally?"
The J-Plasma pistol grip seems reminiscent of the MEG's ergonomic grip. It may be possible that some MEG units are to be used for J-Plasma systems following appropriate modifications (e.g., the addition of the correct electronics). It has been awhile since I took a close look at the design of the two devices, so I don't remember enough right now to say for sure if this could be the case. It is certainly an interesting possibility, however.
Although at this point I don't have the time to pursue these investigations in anything other than a cursory way, this is ripe for an enterprising reader to investigate in depth and chase down the details of what is going on.
Disclosure: I am/we are long BVX.