Nike will report earnings on Thursday after the market close. Here are a few things investors will be watching for in this quarter's press release and earnings call:
1) Impact from currency exchange rates: The U.S. Dollar has strengthened against many global currencies, particularly the Euro. The currency exchange impact on Nike's European sales (more than 20% of the total) and Asia/Emerging Market sales (30% of total) will be an important topic on the call.
2) Top-line growth in China: Management has been implementing a new strategy to build the brand and introduce new products in Asia. As a result revenue from China was up more than 20% year over year (as of last quarter). Investors will be looking for continued momentum this quarter.
3) Margin expansion in Europe: The differentiation strategy in retail stores and new product introductions have paid off in Western Europe. The segment's EBIT margin increased 112% year over year for the second fiscal quarter (F2Q15). This quarter investors will be watching for indications that the margin will hold up against the Euro exchange headwind. The F3Q15 year over year comparison will also exclude the impact of the one-time legal charge from F2Q14.
4) Inventory control: Nike has taken steps to maintain lower inventory balances over the past year. Management's goal is to clear excess inventory by the end of this fiscal year. Investors will be watching to make sure management reaches the normalized inventory level target. Mexico's inventory will likely be in focus again this quarter as the segment's inventory has remained high due to distribution center issues from last year.
Valuation Review
The current consensus estimates for F3Q15 and F4Q15 revenue are $7.7B and $7.8B which imply full year revenue of $30.9B, below management's guidance of year over year revenue growth in the mid-teens (consensus implied growth rate is 11% based on fiscal year 2014 revenue of $27.8B). The market is likely incorporating the impact of the current currency exchange rate environment into the earnings forecasts, which could result in an upward surprise if management does not cut their guidance this quarter.
We are currently using a 24.9x Price-Earnings (NYSE:PE) multiple for our share valuation of $94.72. The multiple represents the three-month average forward PE, based on the Next Twelve Month (NTM) consensus EPS estimate of $3.80. Our 24.9x multiple is below the three-month high of 26.0x, above the low of 23.9x, and above Adiddas Group's (nearest competitor) PE multiple of 19.9x. Please visit our website for our full valuation model and valuation sensitivity (click here for details).
Nike Inc Consensus-Based Valuation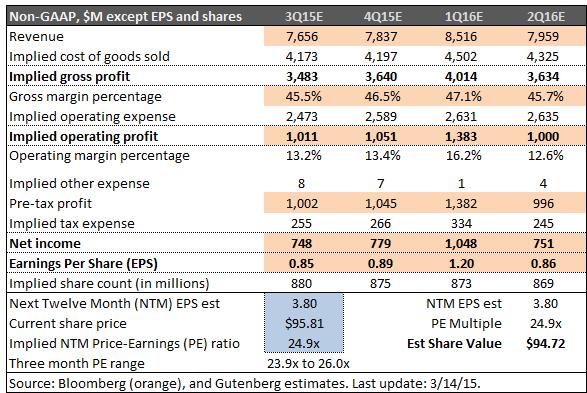 Sources: Company reports, consensus estimates from Bloomberg.
Disclosure: The author has no positions in any stocks mentioned, and no plans to initiate any positions within the next 72 hours.