What's RES's current state?
RPC Inc.'s (RES) road to recovery has become steeper in the past couple of months. Limited pricing maneuverability, underinvestment in the E&P industry, and the Permian capacity constraint issues are hurting this oilfield equipment and services provider's outlook. So much so that its revenues are likely to fall in Q4 2018 compared to Q3. I think the underlying drivers will stretch RES's underperformance beyond one quarter. At his juncture, it would not be wise to expect RES to bounce back before mid-2019.
On top of that, the recent weakness in crude oil price following an oversupply from the U.S. is holding the OFS industry down. The WTI crude oil price has declined 22% in the past month. In 2018 so far, RES's stock price has gone down 49% and underperformed the VanEck Vectors Oil Services ETF (OIH) which declined by nearly 28% during this period. OIH represents the oilfield equipment & services industry.
What's RES's headwind
RES's revenues declined 7% in Q3 2018 over a year ago. Here is what went wrong for the company. Lower activity levels and marginally lower pricing for RES's services weakened its revenues in Q3. Upstream operators are yet not committing significant rise in capex despite crude oil price hike. Some of them are planning to curtail E&P capex. According to PWC's Oil and Gas Trends 2018-19, the two key supply-related issues confronting the energy industry's growth are a decline in discoveries and a deceleration in the exploration spending rise. Both the problems have started to capture OFS's outlook. Schlumberger (SLB) and Halliburton (HAL), in their Q3 2018 financial results, have discussed extensively on this. You may read HAL's report here and SLB's report here.
Year-over-year, RES's Technical Services segment revenue declined 7.6% in Q3 while the Support Services segment saw a growth. Technical Services revenues declined due to lower activity levels in several of the larger service lines. The Technical Services segment accounts for nearly 96% of RES's revenues. Support Services revenues increased in Q3 due to better pricing in the rental tool service line during the quarter.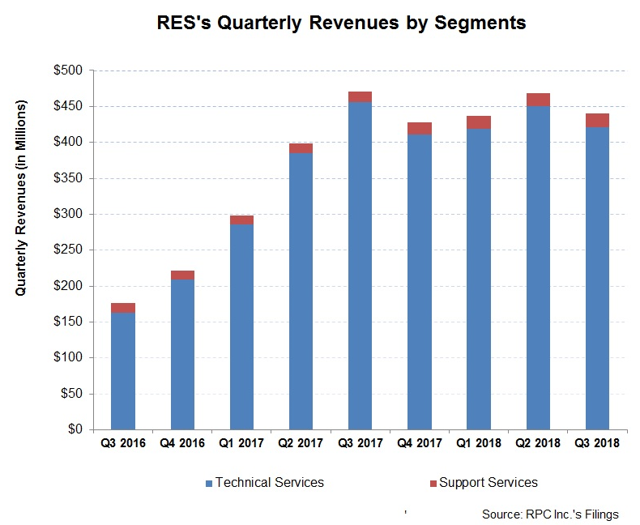 On the pricing front, RES experience weakness in the pricing for its pressure pumping services as additional horsepower continued to enter the market. Also, the continued improvement in pressure pumping efficiencies has further contributed to overcapacity, leading to lower prices. Although RES did not disclose or quantify the effect of lower pricing, it did discuss its strategies on pricing and utilization, which I will discuss next.
Price vis-à-vis utilization: Upstream producers have responded to the rise in energy demand across the world primarily through hydraulic fracturing of tight-oil unconventional resource basins. As a result, new entrants into OFS and from established competitors are adding to their fleets of revenue-producing equipment to meet operators' growing needs. Over-capacity depressed price during the 2014-16 downturn and RES has not yet been able to improve its pricing over the past couple of years. Cost of revenues during Q3 2018 was 68.4% of revenues compared to 62.6% a year ago. The higher cost of revenues was due to an inconsistent activity level and higher employment costs.
However, RES's management is keen on maintaining a steady pricing level for its services, rather than moving it in sharp response to short-term fluctuation in supply (or overcapacity). In RES's view, what impacted RES's revenues downwards was lower pressure pumping utilization of its products in Q3. Although RES attributed this to a higher number of holidays in Q3, this could well be upstream operators' bias towards keeping operating costs down by engaging smaller services companies at a lower rate. As RES described it in its Q3 2018 earnings conference call,
"I mean, we know there are bids for work that are 15%, 20% lower than prices at which we're working. And we are not engaging in those. I mean, you know us. Our preference is to preserve pricing to the extent possible, even if it means sacrificing utilization. Part of that reason has to do with the service intensity of the work and how hard it is on the equipment".
The issue of the Permian constraints: According to RES's Q2 2018 10-Q, The Permian Basin is RPC's largest market. The takeaway capacity bottleneck in the Permian has led to reduced local crude oil pricing as compared to WTI and Brent-linked benchmarks. So, the region's pipelines constraints can lead to its customers reducing their drilling and completion activities. This puts RES's near-term financial results on risks.
RES's management sounded uncertain of what holds for Permian, although it did was resilient about steady business from the Permian until now. In the Q3 earnings conference call, RES's management commented,
"And I just want to emphasize the metrics we see through October, we are not seeing an activity decline right now. I do want to emphasize, though, we will be among the last to know. It's not in our customers' best interest to tell us when they are planning to slow down."
Indeed, RES's management observed more pressure pumping fleet entering into the Permian, the Bakken, and the Midcontinent in Q3, which can put entire East Texas into capacity overdrive, lowering prices down and eventually hitting the margin for RES.
The effect of sand pricing changes: Approximately, 10% of the natural sand RES used in Q3 came from the in-basin Permian Basin mines. Now sand pricing has declined substantially in recent times as supply looks to outstrip demand. According to RES's management,about 10% to 14% of its sequential revenue decline in pressure pumping was owed to pumping in-basin sand which is a lot cheaper.
This was because RES's pricing, which is based on a cost markup method, leads to a decrease in revenues if costs go down, leaving margin nearly unchanged. With proppant prices falling almost everywhere, RES may have to tinker with its pricing to keep customers engaged. To know more about sand pricing in the OFS industry, read my fellow author's article here.
So when is the recovery coming
Based on what's happening in Q3, the next quarter (Q4 2018) may not bring in much respite. According to its management estimate, the issues of holiday slowdowns and customers' budget exhaustion can lead to low double-digit revenue declines in Q4 2018. Despite the short-term wobbles, RES is still confident about a medium-term recovery. So, it's not looking to adjust cost structure significantly in response to the possible revenue fall, while expecting a pricing recovery in 2019.
RES pays dividend: RES pays $0.10 quarterly dividend, or $0.40 annualized. Its forward dividend yield is 3.11%. In the past five years, its dividend has declined at a CAGR of 16%. On top of the quarterly dividend, RES announced a special dividend of $0.07 per share in October. During the nine months of FY2018, RES's dividend and share repurchases totaled $104 million.
RES has no debt: RES's has no long-term debt. Its net debt was negative as of September 30 as a result of cash & cash equivalents balance. RES's cash & equivalents balance was $128 million as of September 30. Being a debt-free company is an attractive feature. Compared to RES, its peers Newpark Resources' (NR) net debt stood at $136 million as of September 30, while Hi-Crush Partners' (HCLP) net debt was $269.3 million as of September 30.
Is RES's internal cash flow strong enough?
In the first nine months of 2018, RES's capex was $199.5 million. In 2018, it plans to spend $280 million on capex. This leaves~$80 million of capex for Q4 2018. In 2018, it intended to utilize the capex towards revenue-producing equipment and capitalized maintenance of its existing equipment.
At the 9M2018 run rate, RES's aggregate cash flow from operations would be $429 million in 2018. In February, RES increased the number of shares authorized for repurchase by 10 million shares. This leaves 9.1 million shares available to be repurchased as of September 30. If RES does not repurchase shares in Q4 2018, it will not need outside borrowing to fund capex and dividend. RES's total available liquidity was $233.5 million as of September 30, 2018.
Revenues and EBITDA estimates

For Q4 of 2018, I expect RES's revenue to decline compared to Q3. For that, I have considered the value drivers as discussed in this article. I estimate growth to start improving again in Q1 2019, but at a moderate rate, as the seasonality factor comes into play. Historically, inclement weather negatively impacts fracking activities and pressure pumping business during the winter months. I expect revenue growth to pick in Q2 and Q3 of 2019.
I also expect the adjusted EBITDA margin to remain relatively steady in the next four quarters. Adjusted EBITDA excludes various non-recurring items.
What does RES's relative valuation say?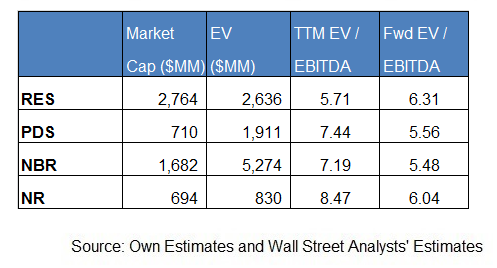 RPC, Inc. is currently trading at an EV-to-adjusted EBITDA multiple of 5.7x. Based on my EBITDA estimates in the next four quarters, RES's forward EV/EBITDA multiple is 6.3x.
RES's forward EV-to-EBITDA multiple expansion versus its adjusted trailing twelve months EV/EBITDA is in contrast to the industry peers' average multiple compression, as noted in the table above. This is because I expect RES's EBITDA to decline compared to the rise in the peers' average in the next four quarters. This would typically reflect in a lower current EV/EBITDA multiple compared to the peers' average. RES's TTM EV/EBITDA multiple is lower than its peers' (PDS, NBR, and NR) average of 10x. For PDS, NBR, and NR, I have used sell-side analysts' estimates provided by Thomson Reuters.
Analysts' rating on RES

According to data provided by Seeking Alpha, 23 analysts rated RES a hold, while only two recommended a buy and two recommended a "sell". The analysts' consensus target price for RES is $14.9, which at RES's current price yields ~11% returns.
What's the take on RES?
Investors need to be cautious about the short-run drop in RES's growth. Its management warns of lower utilization, the Permian fall-out, and the effects of competitive pressure on RES's margin. However, the U.S. hydraulic fracturing growth and a partial recovery in the international energy market are likely to pull things forward for RES, albeit at a slower rate. Plus, should any adverse event occur resulting in sudden deterioration in financial results, RES's debt-free balance sheet ensures that it does not wilt easily. RES has not responded to its current weakness through any knee-jerk reaction like a change in dividend policy. RES is not a buy at this moment, but it will offer growth once the market sentiment improves.
Disclosure: I/we have no positions in any stocks mentioned, and no plans to initiate any positions within the next 72 hours.
I wrote this article myself, and it expresses my own opinions. I am not receiving compensation for it (other than from Seeking Alpha). I have no business relationship with any company whose stock is mentioned in this article.