Summary:
Facebook is diversifying into other markets.
User growth across all its platforms continues to be huge.
FB is effectively using cash for strategic growth through M&A.
Facebook has quickly become one of the most beloved tech companies in the last decade. It's a fun, cool way to stay in touch with friends and family and allows you to stay current with what's going on in other people's lives. However, I'm not here to talk about why Facebook is a great company for users, I'm here to talk about why I love the company from an investment standpoint.
Since I bought Facebook (NASDAQ:FB), I'm up 160.64%. Fellow investors have told me "you've got to trim your position" or, "take a little money off the table". I haven't listened to them, and I'm glad I haven't. Facebook is like a wild stallion galloping ahead, why would I want to get in its way? I recently added to my FB position after it broke out on the charts and am happy I did so. With so many catalysts' going for the company, I see no reason to liquidate any of my position, and quite frankly, I'm going to add more on the next significant correction.
Take a look at the chart: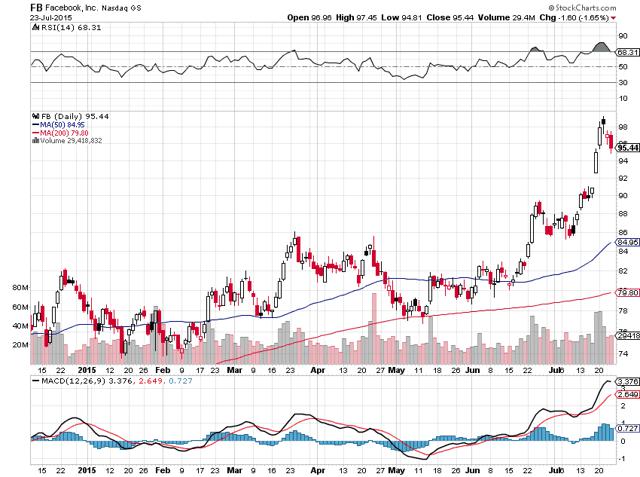 I'm not sure how familiar most passive investors are with Fibonacci Retracements so I'll break it down very simply. If you would draw your attention to around the June 22th mark you'll see it hit a new high and then had a small sized correction. Look after that, it "based out" and traded sideways holding approximately an $85 support level very firmly before breaking out again. Its initial explosion through the $85 dollar resistance level and its holding of that level making it the new temporary support level encouraged me to buy more. It has since exploded to the upside, and I believe that $95 will become the new support level for the stock.
Catalysts:
Oculus Acquisition:
When Facebook bought Oculus for 2 billion dollars, a virtual reality gaming startup, a lot of people said "huh?". Facebook was never a gaming company, although it does have many gaming programs on its site, many provided by Zynga (NASDAQ:ZNGA). Many companies threw loads of R&D money into virtual reality and gaming startup initiatives in the 90's only to fail and fade away into the world of science fiction. But we are in a new century now, and the technology has improved at an exponential rate (a reason why I love Google/GOOGL and Ray Kurzweil). This has made it possible to actually begin moving forward with the fantasy ideas of the 1990's. The gaming industry is a huge one, valued at approximately 90 billion dollars. Mega hit games, and graphics have long continued to propel the industry, but the human race is a hungry one, always looking for the next best thing. The gaming consumer is hungry for something more visually, physically, appealing to the senses, something more real. Just as we have seen in movies like Gamer with Gerrard Butler, I truly believe people are dying to live out their fantasies fighting dragons, engaging in a boxing match, living the life of a gang member or drug dealer, instead of controlling a figure on the TV with a third person view via a controller. While I believe it is going to be some time before we start to see the intrinsic benefits of this acquisition pay off, Facebook has smartly began moving into industries with huge potential in years to come. I believe Facebook's first mover advantage (FMA) will be very profitable for them in the mid to long-term future.
Instagram Acquisition:
People love Facebook, but they REALLY love Instagram. The purchase of IG for 1 billion in 2012 seems like a steal now. What's not to love? Posting and viewing cool pictures with photo filters and hashtags is very entertaining. Even cooler is following celebrities post wildly fantasying photos that John Q. Public will never get to experience (notice I'm tying in the fantasy theme here). The facts are that Instagram has 300 million monthly active users, and that 25% of those people use it on a daily basis. People are starting to use Instagram as an advertisement platform just like they do for Facebook. But Mark Zuckerberg and company are too savvy to let people continue on with this free charade for too long. Soon the company will start charging formal rates for big, bold, and noticeable (and annoying) advertisements that appeal to the millions of millennials who use the service every day. This will be a win-win for Facebook/Instagram and the companies who are smart enough to use the service to advertise. We can't forget the possibility that Facebook takes Instagram public (which I suspect will happen in the next year or so) and reap the profits of everyone hopping on the bandwagon and buying the IPO. Whether Instagram will be financially profitable for a stockholder I do not know, but for Facebook I see it being a great success. People do not want to miss the next Facebook and will probably pile into the IPO driving up its first day returns to some astronomical number as many tech and bio-tech companies have done as of late.
WhatsAPP Acquisition:
This was another purchase that dropped many jaws. It seemed wildly expensive at almost 22 billion dollars and many are still trying to figure out its value. I believe that FB is taking on the Netflix approach, go after the users first, and worry about monetization later. The strategy seems to be working. In late 2012/early 2013 WhatsAPP had approximately 200 million users. Since than its user base has more than quadrupled to 800 million + users! While I'm not sure how FB plans to turn this company into a profitable one yet, I do know that it is quickly approaching a billion users, and that there is money to be made there.
Inhibitors:
WhatsAPP:
WhatsAPP hasn't posted a profit yet, and has growing negative revenue. In 2012 it was -55M, 2013: -138M, 2014: -232.5M. This is really not a good sign. However I'm going to cut FB a little slack because 88.8% of the losses were attributed to share-based compensation expenses and issuance of common stock below fair value. I would like to see this company turn a profit this year, or at the very least continue to decrease its net losses while increasing its user base. Anything less than that is unacceptable.
Rising Costs:
Facebook reported in 2014 that while profits rose dramatically, so did its expenses, spooking investors plummeting the stock price down 11%. Last quarter Facebook increased its ad pricing by around 10% which had people thinking some people would leave Facebook and advertise elsewhere. While that hasn't happened en masse like most people have expected, some did make the switch to alternative platforms. Rising expenses, and rising costs passed on to advertisers are going to continue to increase as the company becomes larger. While Facebook is run very well, it does have the tendency to make extravagant purchases (at possibly overvalued deals) without cost cutting measures or procedures. FB may one day require the likes of a Ruth Porat, and we have already seen the positives she's bringing to Google (NASDAQ:GOOGL).
Conclusion:
Facebook is going to continue to have rising costs, and probably will continue to buy extremely expensive companies to maintain its creativity and ingenuity. However the company has continued to perform time and time again and has an extraordinary amount of catalysts going for it. Facebook has 1.45 billion monthly active users, and 936 million of those people use it every single day. Facebook is not just a company, it is becoming a part of our lifestyle, and for many people it already has. It is an engaging company specifically to millennials but has started to attract some of the older generations as well. As Cramer would say (no, not BOOYAH!), I think this is a "buy, buy buy" on any significant correction.
Disclosure: I am/we are long FB, GOOGL.
Additional disclosure: I am long FB and may initiate a new position within the next 72 hours if a significant correction presents itself.