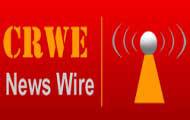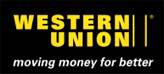 The Western Union Company (NYSE:WU)
WU has signed an agreement with one of the world's largest banks, Industrial and Commercial Bank of China (ICBC), enabling its customers to send or receive money from their online bank accounts on a 24/7 basis around the world through Western Union's global network.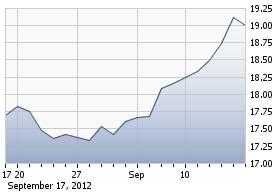 ICBC, ranked as the world's largest Bank based on capital and third largest based on assets, will work with Western Union to activate the Account Based Money Transfer Service which will allow customers to receive funds in US or RMB currencies.
WU is a leader in global payment services. Together with its Vigo, Orlandi Valuta, Pago Facil and Western Union Business Solutions branded payment services, WU provides consumers and businesses with fast, reliable and convenient ways to send and receive money around the world, to send payments and to purchase money orders. As of June 30, 2012, the Western Union, Vigo and Orlandi Valuta branded services were offered through a combined network of approximately 510,000 agent locations in 200 countries and territories. In 2011, The Western Union Company completed 226 million consumer-to-consumer transactions worldwide, moving $81 billion of principal between consumers, and 425 million business payments. For more information, visit www.westernunion.com.
****

Tenet Healthcare Corporation (NYSE:THC)
THC announced that its 2011 corporate sustainability report, which was developed in accordance with the internationally recognized Global Report Initiative's (NYSEARCA:GRI) sustainability report framework, was acknowledged by GRI, as meeting its Application Level C Guidelines. This application level reflects the extent of disclosure requirements the company achieved in its report, which is available online at www.tenethealth.com/community.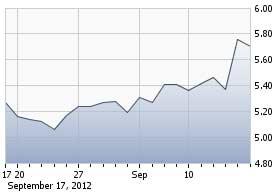 THC, a leading health care services company, through its subsidiaries operates 49 hospitals, over 100 free-standing outpatient centers, and Conifer Health Solutions, a leader in business process solutions for health care providers serving nearly 400 hospital and health care entities nationwide. THC hospitals and related health care facilities are committed to providing high quality care to patients in the communities they serve. For more information, please visit www.tenethealth.com.
****

Crown Equity Holdings Inc. (OTCPK:CRWE)
CRWE Tube, (www.crwetube.com) a video sharing site of CRWE, allows billions of people around the world to upload, watch and share original videos. With online videos continuing to experience explosive, viral growth and the web rapidly moving from text to video, businesses will need to adapt to the shift in video distribution technology or quickly become irrelevant to their consumers who anticipate seeing video everywhere online.
CRWE offers advertising branding and marketing services as a worldwide online multi-media publisher with its digital network of websites and focuses on the distribution of information for the purpose of bringing together a targeted audience and the advertisers that want to reach them. Crown Equity Holdings advertising services cover and connect a range of marketing specialties, as well as provide search engine optimization for clients interested in online media awareness. For more information about Crown Equity Holdings Inc. visit www.crownequityholdings.com.
***********
THIS IS NOT A RECOMMENDATION TO BUY OR SELL ANY SECURITY!
Disclaimer: CRWENewsWire.com publisher and its affiliates and contractors are not registered investment advisers or broker/dealers. (Read Full Disclaimer at http://crwenewswire.com/disclaimer). www.crwenewswire.com/150228/business/wes.../
Disclosure: I have no positions in any stocks mentioned, and no plans to initiate any positions within the next 72 hours.