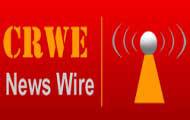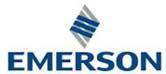 Emerson Electric Co. (NYSE:EMR)
Emerson Network Power, a business of EMR and a global leader in maximizing availability, capacity, and efficiency of critical infrastructure, reported today a strategic partnership with high-performance cloud infrastructure provider Joyent to transform and optimize how physical and logical data center resources are packaged and delivered for public and private clouds.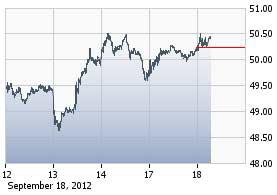 Emerson Network Power, a business of Emerson, delivers software, hardware, and services that maximize availability, capacity, and efficiency for data centers and healthcare and industrial facilities. A trusted industry leader in smart infrastructure technologies, Emerson Network Power provides innovative data center infrastructure management solutions that bridge the gap between IT and facility management and deliver efficiency and uncompromised availability regardless of capacity demands. Our solutions are supported globally by local Emerson Network Power service technicians. Learn more about Emerson Network Power products and services at www.EmersonNetworkPower.com.
EMR, based in St. Louis, Missouri (NYSE:USA), is a global leader in bringing technology and engineering together to provide innovative solutions for customers in industrial, commercial, and consumer markets around the world. EMR is comprised of five business segments: Process Management, Industrial Automation, Network Power, Climate Technologies, and Commercial & Residential Solutions. Sales in fiscal 2011 were $24.2 billion. For more information, visit www.Emerson.com.
****

MoneyGram (NYSE:MGI)
MGI, and Gemalto (Euronext NL0000400653 GTO), the world leader in digital security, reported today a global agreement to provide MoneyGram services over Gemalto's LinqUs Mobile Money solution.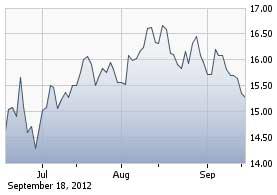 MoneyGram's money transfer platform will be integrated with Gemalto's LinqUs mobile payment platform solution, allowing customers to send international transfers from a mobile phone to one of MoneyGram's 284,000 locations worldwide or receive transfers directly to their mobile wallet. Gemalto Mobile Financial Services clients, including banks and mobile operators, will be able to connect directly to MoneyGram's global network and offer convenient and secure mobile remittance services.
MGI, a leading global money transfer company, enables consumers who are not fully served by traditional financial institutions to meet their financial needs. MGI offers money transfer services worldwide and bill payment services in the United States and Canada through a global network of more than 284,000 Agent locations — including retailers, international post offices and financial institutions —in 196 countries and territories around the world. To learn more about money transfer or bill payment at an agent location or online, please visit www.moneygram.com.
****

Crown Equity Holdings Inc. (OTCPK:CRWE)
CRWE has launched two online service companies CRWE Direct (www.crwedirect.com) and CRWE Real Estate (www.crwerealestate.com).
CRWE launched CRWE Real Estate to provide a global portal for property listings at a fee of only $1 a day. CRWE Real Estate mission is to empower consumers with information and tools to make smart decisions about homes, real estate and mortgages. CRWE Direct is an online business-to-business marketplace for manufacturers and small to large businesses to purchase various types of merchandise. Manufacturers may start downloading their product immediately, free of charge during the next six months. Thereafter, there will be various annual fees. The listing process and image loading for both sites are user-friendly.
CRWE offers advertising branding and marketing services as a worldwide online multi-media publisher with its digital network of websites and focuses on the distribution of information for the purpose of bringing together a targeted audience and the advertisers that want to reach them. Crown Equity Holdings advertising services cover and connect a range of marketing specialties, as well as provide search engine optimization for clients interested in online media awareness. For more information about Crown Equity Holdings Inc. visit www.crownequityholdings.com.
***********
THIS IS NOT A RECOMMENDATION TO BUY OR SELL ANY SECURITY!
Disclaimer: CRWENewsWire.com publisher and its affiliates and contractors are not registered investment advisers or broker/dealers. (Read Full Disclaimer at http://crwenewswire.com/disclaimer).
www.crwenewswire.com/150241/business/eme.../
Disclosure: I have no positions in any stocks mentioned, and no plans to initiate any positions within the next 72 hours.