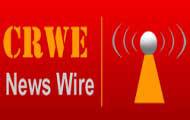 Chevron Corporation (NYSE:CVX)
CVX reported further drilling success by its Australian subsidiary in the Greater Gorgon Area, located in the Carnarvon Basin, a premier hydrocarbon basin.
The Satyr-2 exploration discovery well confirmed approximately 128 feet (39 meters) of net gas pay. The well is located in the WA-374-P permit area approximately 75 miles (120 kilometers) northwest of Barrow Island off the Western Australian coast. The well was drilled in 3,570 feet (1,088 meters) of water to a total depth of 12,454 feet (3,796 meters). Satyr-2 is Chevron's fifteenth discovery in Australia since mid-2009.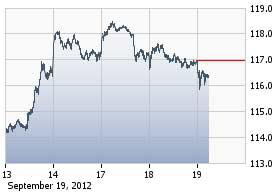 Chevron is one of the world's leading integrated energy companies, with subsidiaries that conduct business worldwide. The company is involved in virtually every facet of the energy industry. CVX explores for, produces and transports crude oil and natural gas; refines, markets and distributes transportation fuels and lubricants; manufactures and sells petrochemical products; generates power and produces geothermal energy; provides energy efficiency solutions; and develops the energy resources of the future, including biofuels. Chevron is based in San Ramon, Calif. More information about CVX is available at www.chevron.com.
****

E. I. du Pont de Nemours and Company (NYSE:DD)
AvidBiotics Corp. and DuPont Nutrition & Health reported today a collaboration aimed at significantly improving food safety. The agreement, which includes a DuPont Ventures equity investment, gives DuPont worldwide, exclusive rights to AvidBiotics' antibacterial protein technology in the broad realm of food and food protection. AvidBiotics retains all rights to applications of its technology in the fields of animal health, human therapeutics, human prophylactics and human diagnostics.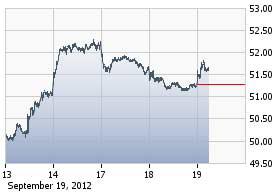 DuPont Nutrition & Health addresses the world's challenges in food by offering a wide range of sustainable, bio-based ingredients and advanced microbial diagnostic solutions to provide safer, healthier and more nutritious food. Through close collaboration with customers, DuPont combines knowledge and experience with a passion for innovation to deliver unparalleled customer value to the marketplace
DuPont (NYSE: DD) has been bringing world-class science and engineering to the global marketplace in the form of innovative products, materials, and services since 1802. DD believes that by collaborating with customers, governments, NGOs, and thought leaders we can help find solutions to such global challenges as providing enough healthy food for people everywhere, decreasing dependence on fossil fuels, and protecting life and the environment. For additional information about DD and its commitment to inclusive innovation, please visit www.dupont.com.
****

Crown Equity Holdings Inc. (OTCPK:CRWE)
CRWE AD-Services, a division of CRWE is a full service multimedia advertising company specializing in internet marketing. Their goal is to provide you with a customized advertising blue print using their expansive resources. CRWE Ad Services (www.crwe-adservices.com ) provides modern and unique advertising campaigns. They are dedicated to offering the most cost effective advertising solutions.
In addition, CRWE has launched a online service companies CRWE Real Estate. Crown Equity Holdings Inc. launched CRWE Real Estate to provide a global portal for property listings at a fee of only $1 a day. CRWE Real Estate (www.crwerealestate.com) mission is to empower consumers with information and tools to make smart decisions about homes, real estate and mortgages.
CRWE offers advertising branding and marketing services as a worldwide online multi-media publisher with its digital network of websites and focuses on the distribution of information for the purpose of bringing together a targeted audience and the advertisers that want to reach them. Crown Equity Holdings advertising services cover and connect a range of marketing specialties, as well as provide search engine optimization for clients interested in online media awareness. For more information about Crown Equity Holdings Inc. visit www.crownequityholdings.com.
***********
THIS IS NOT A RECOMMENDATION TO BUY OR SELL ANY SECURITY!
Disclaimer: CRWENewsWire.com publisher and its affiliates and contractors are not registered investment advisers or broker/dealers. (Read Full Disclaimer at http://crwenewswire.com/disclaimer). www.crwenewswire.com/150244/business/nat.../
Disclosure: I have no positions in any stocks mentioned, and no plans to initiate any positions within the next 72 hours.