The price of Argan, Inc. (NYSEMKT:AGX) stock jumped $3.78 (or +17.69%) to $25.15 on Friday, after the company reported strong earnings on its financial results.
For the third quarter ended October 31, 2013, AGX posted consolidated EBITDA from continuing operations of $20.8 million, compared to $9.6 million in the same period the prior year, and net income attributable to AGX's stockholders of $11.9 million, or $0.83 per diluted share based on 14,365,000 diluted shares outstanding, compared to net income attributable to AGX's stockholders of $6.1 million, or $0.43 per diluted share based on 14,106,000 diluted shares outstanding for the quarter ended October 31, 2012.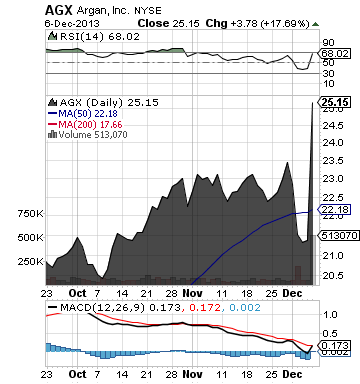 AGX's primary business is designing and building energy plants through its Gemma Power Systems subsidiary. These energy plants include traditional gas as well as alternative energy including biodiesel, ethanol, and renewable energy sources such as wind power. AGX also owns Southern Maryland Cable, Inc.
More about Argan, Inc. (AGX) at www.arganinc.com
**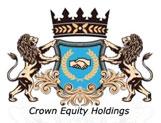 Crown Equity Holdings Inc. (OTCPK:CRWE) is currently developing a social networking service and phone app, CRWE Network (CRWE-PR), that is designed to target all the communities in every state of the United States.
CRWE Network will allow users to connect with people who live in their community.
CRWE Network's business plan is based on selling advertising to local businesses. Its goal is to facilitate exchanges of goods and services in a manner similar to Craigslist, a classified advertisements website with sections devoted to jobs, housing, personals, for sale, items wanted, services, community, gigs, résumés, and discussion forums.
Looking to deliver value for its stockholders in both the near and long term, and to improve the potential future growth for the company, CRWE is targeting the multi-billion dollar social networking service market with its CRWE Network (CRWE-PR) project.
Community of Encinitas, CA , visit http://encinitas.crwe-pr.com and Get a CRWE Network Encinitas Site in Seconds for FREE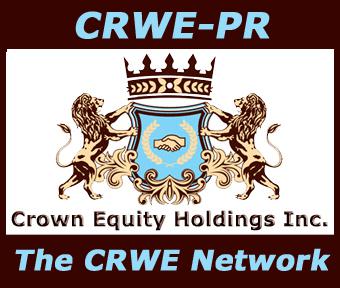 CRWE offers advertising branding and marketing services as a worldwide online multi-media publisher.
More about Crown Equity Holdings Inc. (OTCPK:CRWE) at www.crownequityholdings.com.
**

Gilead Sciences Inc. (NASDAQ:GILD) reported that the FDA has approved Sovaldi(NYSE:TM) (sofosbuvir) 400 mg tablets, a once-daily oral nucleotide analog polymerase inhibitor for the treatment of chronic hepatitis C (NYSE:CHC) infection as a component of a combination antiviral treatment regimen.
Sovaldi's efficacy has been established in subjects with hepatitis C virus (HCV) genotypes 1, 2, 3 or 4 infection, including those with hepatocellular carcinoma meeting Milan criteria (awaiting liver transplantation) and those with HCV/HIV-1 co-infection. Recommended regimens and treatment duration for Sovaldi combination therapy in HCV mono-infected or HCV/HIV-1 co-infected patients follows:
Genotype 1 or 4 Treatment: Sovaldi + peg-interferon alfa + ribavirin Duration: 12 weeks
Genotype 2 Treatment: Sovaldi + ribavirin Duration: 12 weeks
Genotype 3 Treatment: Sovaldi + ribavirin Duration: 24 weeks
The Wholesaler Acquisition Cost (WAC) of a 28-tablet bottle of Sovaldi in the United States is $28,000
Chronic hepatitis C affects an estimated 4 million people in the United States, the majority of whom are "baby boomers" – individuals born between 1945 and 1965. The disease is the nation's leading cause of liver cancer and liver transplantation, and in recent years has surpassed HIV/AIDS as a cause of death.
GILD is committed to ensuring that people with hepatitis C can access Sovaldi and has launched Support Path(TM) (www.MySupportPath.com) to provide assistance to patients who are uninsured, underinsured or who need financial assistance to pay for the medicine. GILD is also developing a hepatitis C treatment access program, focusing on those countries with the greatest HCV burden.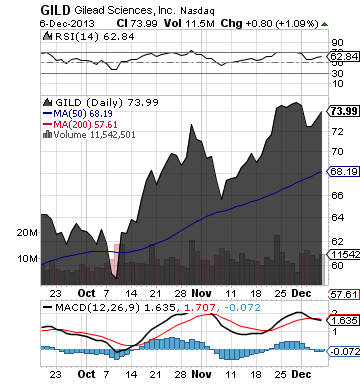 GILD is a biopharmaceutical company that discovers, develops and commercializes innovative therapeutics in areas of unmet medical need.
More about Gilead Sciences Inc. (GILD) at www.Gilead.com
**
Read Full Disclaimer at www.pennyomega.com/disclaimer
pennyomega.com/28683/stock-alerts/argan-.../
Disclosure: I have no positions in any stocks mentioned, and no plans to initiate any positions within the next 72 hours.