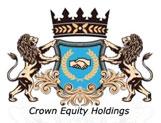 Web-based social networking services make it possible to connect people who share interests and activities across political, economic, and geographic borders. Social networks are providing a different way for individuals to communicate digitally. These communities of hypertexts allow for the sharing of information and ideas, an old concept placed in a digital environment.
Crown Equity Holdings Inc. (OTCPK:CRWE) is looking to deliver value for its stockholders in both the near and long term, and to improve the potential future growth for the company, is targeting the multi-billion dollar social networking service market.
CRWE is currently developing a social networking service and phone app, CRWE Network (CRWE-PR.com), that is designed to target all the communities in every state of the United States, with its geographic focus starting in Southern California and Las Vegas Nevada.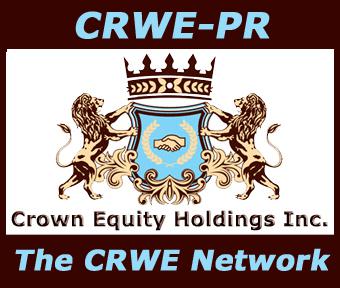 You can visit CRWE Network at:
Encinitas, CA - http://encinitas.crwe-pr.com
San Diego, CA - http://sandiego.crwe-pr.com
Costa Mesa, CA - http://costamesa.crwe-pr.com
Del Mar, CA - http://delmar.crwe-pr.com
La Jolla, CA - http://lajolla.crwe-pr.com
Dana Point, CA - http://danapoint.crwe-pr.com
Huntington Beach, CA - http://huntingtonbeach.crwe-pr.com
Laguna Beach, CA - http://lagunabeach.crwe-pr.com
Las Vegas, NV - http://lasvegas.crwe-pr.com
Long Beach, CA - http://longbeach.crwe-pr.com
Newport Beach, CA - http://newportbeach.crwe-pr.com
Palos Verdes, CA - http://palosverdes.crwe-pr.com
Redondo Beach, CA - http://redondobeach.crwe-pr.com
San Clemente, CA - http://sanclemente.crwe-pr.com
San Pedro, CA - http://sanpedro.crwe-pr.com
CRWE's business plan is based on selling advertising to local businesses. Its goal is to facilitate exchanges of goods and services in a manner similar to Craigslist, a classified advertisements website with sections devoted to jobs, housing, personals, for sale, items wanted, services, community, gigs, résumés, and discussion forums.
The business model merges traditional national ad campaigns with the flourishing hyper local business directory model. Along with national and international news, each site will have local news pertinent to its own home town community. The sales teams will be able to market to the blue chip big brands and local small businesses.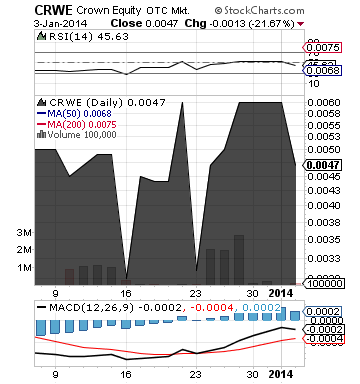 CRWE offers advertising branding and marketing services as a worldwide online multi-media publisher.
More about Crown Equity Holdings Inc. (OTCPK:CRWE) at www.crownequityholdings.com.
**
Certain of the matters discussed in this communication about us and our subsidiaries future performance, including, without limitation, future revenues, earnings, strategies, prospects, consequences and all other statements that are not purely historical constitute "forward-looking statements" within the meaning of the Private Securities Litigation Reform Act of 1995. Such forward-looking statements are subject to risks and uncertainties, which could cause actual results to differ materially from those anticipated. Such statements are based on management's beliefs as well as assumptions made by and information currently available to management. When used herein, the words "anticipate," "intend," "estimate," "believe," "expect," "plan," "should," "hypothetical," "potential," "forecast," "project," variations of such words and similar expressions are intended to identify forward-looking statements. Factors that may cause actual results to differ are often presented with the forward-looking statements themselves. Other factors that could cause actual results to differ materially from those contemplated in any forward-looking statements made by us herein are discussed in filings we make with the United States Securities and Exchange Commission (SEC), including our Annual Report on Form 10-K and subsequent reports on Form 10-Q an d Form 8-K and available at Crown Equity Holdings' website
www.crwenewswire.com/154100/stock-alerts.../
Disclosure: I have no positions in any stocks mentioned, and no plans to initiate any positions within the next 72 hours.