No indicator or system will ever be dead-on perfect in its timing, I think we all know that. The search for a true grail that IS perfect causes endless frustration and discouragement to many. And leads them to the wrong conclusion.
However, many people stop at that and in my opinion, miss the following. Others dismiss technical analysis out of hand, based on some article or sound bite that said "you can't time the market"; without ever checking for themselves.
The more rewarding & productive search should be for something which though not perfect, is close enough to provide a value that you can exploit. Indicators, like many other aspects of life, do not have to be perfect to help you.
The Zweig breadth thrust ratio is ratio calculated as follows: the 10 day EMA of (nyse advancing issues divided by sum(advances+declines) . This result, which is not an oscillator, ranges in value from approx .30 to .65. being as it is free and public, you can check for yourself that extremely low values corresponded with good intermediate term buy point. Not much magic here, zweig low points indicate there has been pronounced selling for many days.
I suggest that this is the free and publicly available Zweig Breadth Thrust ratio. (continued below the chart) , only when confirmed by the $nahlr being below .01 The link below should give you a live up to date chart.
http://stockcharts.com/public/1653636/tenpp
What I see is when the ZBT falls below .375 , look up at the SP500 chart above it with an eye to what happens next over several weeks to months. You'll see a good size rebound. You then look for confirmation from the $nahlr being below .07 (the lower the better), below .01 is very rare
The $nahlr can be charted for free at stockcharts.com and it is the ratio of highs VS lows on the Nasdaq composite.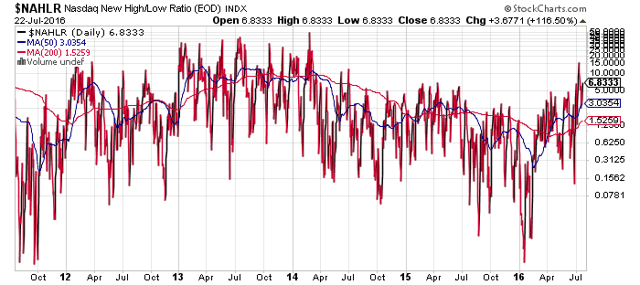 The Breadth Thrust ratio, invented by Dr.Martin Zweig, PHD & frequent guest on Louis Rukeysers Wall St Week many years ago; is defined as a technical indicator used to ascertain market momentum. It is computed by creating a 10 day EMA of the daily ratio of (NYSE advancing issues/(total active NYSE issues)
The Nasdaq high/low ratio ($nahlr) is another free & public ratio, chartable at stockcharts.com
I follow about 100+ stocks who have excellent very long term performance of both stock price as well as growing dividends.
I have only gone thru about 18 years of history but I have found a strong correlation between dips in ZBT below .375 (confirmed by $nahlr <.01) and market bottoms. It goes without saying it is not laser precise but I have yet to see an indicator free and public which gets this close. The one very important caveat is bear markets, I was just looking at the worldwide subprime meltdown period and saw a buy signal in late 2008 but things continued down at least another 20%. That said, another signal occured when down there, and one could have added positions to lower average cost.
This applies well to broad-based mutual funds, market indexes and quality stocks. I would not try to use it on speculative stocks or stocks going thru their own unique events.
This signal over-rides a lack of stochastic 144,1,1 signal because it relates to the total market, not just one stock. The stochastic signal is covered in another blog entry I have made.
Both the $nahlr and the zweig breadth ratio are broad, overall market indicators and when they reach the lows described here, you will usually also see the full stochastic down near zero on stocks in your watchlist.
Recent Zweig-Nahlr signal History
8/8/11 , 1/15/16
10/13/16 , Zweig fell to .38 by 10am today as the market tanked 160+ points, this is the lowest level since January 2016
10/13/16 - $nahlr ended at .25 , not low enough yet for the buy signal discussed.
11/1/16 0 12:30 est Zweig down to .39 and $nahlr ended the day down to .26 , good to be aware of but not a buy signal yet.
11/2/16 - 1:17pm est, zweig down to .37 , and $nahlr .105 4:31 est
Disclosure: I am/we are long aph, atr, bdx, bcr, wab, cni, rost, lanc, ctsh, ecl, GGG.
Additional disclosure: I use this to add positions that I have already researched to my portfolio. this blog is intended to explain a free and public means of tracking your watch list and looking for low entry points. It is not investment advice and you should always do your own due diligence before buying stocks. If you study indicators without expecting laser perfection, you will find the Zweig Breadth ratio a valuable buying tool.