Below I will attempt to upload examples when your sorted portfolio watchlist at Yahoo can key in on issues where the stock is trading below the 200 dma, a condition frequently associated with a low stochastic, which in turn can be a good buy point on stocks from your own research you feel you want to own.

This is not any for of investment advice, instead it is a concept that you can study to see if it helps you buying things you wanted to own, on meaningful pullbacks.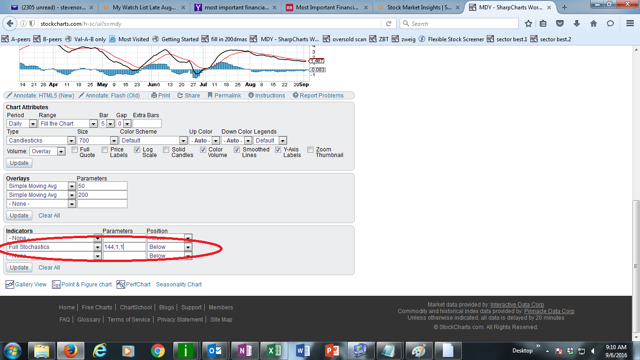 2/22/17-note: if you have a high $cpce reading (.90+) at the same time as a full stochastic near zero, all the better, more confirmation. This happened in early November 2016 when PSA was already at an already low full stochastic-near zero. The $cpce alone is not good enough to be a standalone indicator in my opinion, but make an excellent confirm for the full stochastic.
I have found that any of these indicators in the blog are much better for when to add positions to your portfolio than when to sell. I think selling requires an entirely different approach. What I do is wait for indicators to go to their high end, example Zweig breadth ratio .60 or higher, then I look at the largest gainers in my portfolio and trim some shares if their portion of my portfolio is outsize.
The full stochastic is a free chart indicator from stockcharts.com which can be applied to either and individual stock chart or a market index.
Additional disclosure: this blog entry is part of an on going series about systematic means of buying stocks you would like to own on pullbacks.