You'll probably remember back during the crash of 2008 that there was a great deal of talk on the media, especially in written articles, about the Baltic Dry Index and what an incredible dive it was taking.  For many, that would be the first time they'd even heard of the Baltic Dry Index, now more commonly known simply as the BDI.  What is it?  The BDI is an index based a number issued daily by the London-based Baltic Exchange.  It is not restricted to Baltic Sea countries, but instead tracks worldwide international shipping prices of various dry bulk cargoes.  So it does not include tankers and therefore doesn't include the costs of shipping oil.  It's directly related to shipping dry goods only such as lumber, coal, wheat, corn, corn burritos, automobiles, etc.  I'm not sure how much of an impact the burritos had but that's more or less a moot point.
 
When the S&P 500 was in the early stages of its big slide, what none of us realized at the time was that the BDI was about to embark on a journey of its own, a crash of epic proportions… one for the record books.  When the S&P 500 topped in early October of '07, the BDI of course put in a top of its own at the same time.  But what followed was a real shocker, a very scary development.  Almost overnight the BDI fell from its late October peak of 11,033 to a low of 5,615 in the last week of January… a crash of 49.1% in 90 days.  When it finally hit that bottom and began to recover, most in the investment world wiped their brows and thought "wow, that was one scary market crash.  Thank god it's over".  And indeed it did appear that the bad days were behind us because the equities markets put on an impressive bounce into May of '08 setting up one of the best bull traps of the decade.  Well not quite… the BDI set up an even better one.
 
What followed the sharpest 3 month sell-off in the history of the BDI was the sharpest 15 week rally it had ever produced.  The BDI bounced no less than 110% in three and a half short months, acquiring impressive new highs in the process.  Who knows what was going on back then and to what degree any behind the scenes shenanigans influenced that incredible series of events?  But whatever it was, it was borderline insanity.  A crash of 49%, followed by a rally of 110%, all in the space of a little over a half a year.   But that was just the set-up… the bull trap of the century had yet to be sprung.  Anyone who bought into that particular illusion got more than just a little scorched. The chart below is drawn to linear scale which offers a more accurate visual picture of how severe the crash was as well as affording a nice visual of some interesting new developments: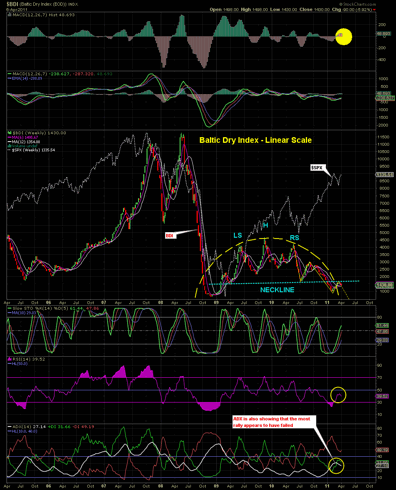 What followed made the BDI's 3 month long crash of 49% look like child's play, the warm up, the practice session.  From that brand spanking new high on May 19th of '08, the BDI encountered a, well what would we call it… a little hiccup.  A little hiccup in the form of a crash of 93% over the following 5 months, 'from its shiny brand new high no less'.  In fact the BDI hit its low a full 3 months before equities finally bottomed on my brother's birthday.  But I can never remember when my brother's birthday is… I think it was sometime in March of '09.  I think his name is Terry.  In any event, while the S&P 500 put in what some call a 'crash' of 57.7%, the Baltic Dry Index gave new meaning to the word.  93% in 5 months… yeah, that gives new meaning to the word "crash". And now the BDI is making waves again…..The chart below is drawn in a more appropriate log scale for longer time frames… a definite requirement for price action that includes swings of such enormous percentages as what occurred in the BDI's experience.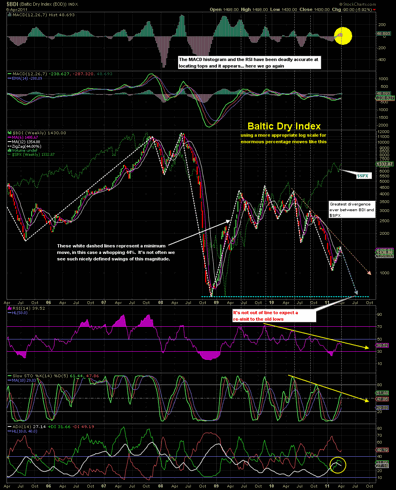 The momentum indicators on the charts are beginning to show signs that the BDI is about to roll over once more.  In the case of the weekly charts of the BDI, the accuracy in the MACD histogram and the RSI for pinpointing tops is just too significant to ignore.  They've worked flawlessly for the past 4 years so it would be a silly mistake to discount them now (not to mention poor use of great tools).  After providing such reliable performance, there is no reason to suspect that these dependable indicators won't work this time.  The charts show that for the most part, over time the Baltic Dry Index has more or less mirrored what has happened in the broad equities markets.  That's not to say that it "has to".  And considering that while the markets were crashing back in 2008, European shipyards were busy building an entire fleet of new ships, flooding the market with shipping capacity, perhaps it would be foolish of us to expect that the BDI is going to make new highs.  I mean, that's what's fully expected for the S&P isn't it?  The silly Russell just did it!  And new highs for the BDI are only…. why they're only 724% higher from current levels.  True enough, the manufacture of a whole flock of new ships would put a dent in the amount shippers could charge for their shipping services.  At least that was the argument put forth by the MSM.  But c'mon, at most a new supply of container carriers might have applied a 5% haircut to the fees… but not an entire 93% rip your ass clean off  blow out sale.  I don't mean to sound facetious here, but I just cannot buy into that argument.  New ships did not account for a very big portion of a 93% collapse.
 
For those of you who might wish to see more technical studies that I do, you're welcome to visit EW Trends and Charts where you'll find recent articles I've already posted which include an in depth look at the $NYSI for market internals guidance, a study on the gold:silver ratio, as well as a real eye opening look at the S&P 500 when priced in oil.  I will be posting articles on a regular basis here:
elliottwavetrendsandcharts.com/
Until next time…
Albertarocks 
Disclosure:
I have no positions in any stocks mentioned, and no plans to initiate any positions within the next 72 hours.
Additional disclosure:
I have no positions in oil or related to this article in any way.