How Google Works
Why has Google (GOOG) (GOOGL) become the hugely influential, behemoth it is today? Actually an even better question is; how has Google become the hugely influential, behemoth it is today?
Google's executive chairman, Eric Schmidt, based upon his recent book, How Google Works, says the company works by implementing ideas such as: product designs based on user needs, peer/committee based hiring will yield the best talent, power should be derived from merit and insight, not tenure or salary, and so on. These ideas are shallow at best and leave the reader lacking insight into the machinations of how Google became the household name it is today.
Brad Stone, a senior writer at Bloomberg BusinessWeek, writes in his recent NY Times book review of How Google Works, "Despite the overweening title, there is little information here about how Google actually works". Was this by design, Mr. Schmidt? Is it possible that he doesn't want his audience to know the real story? By investigating two recent lawsuits against Google, I propose that Google has a methodical pattern; a blueprint for theft, that exploits and robs inventors of time, money, resources, intellectual property, and their pursuit of wealth.
Enter Max Sound
A small technology company based out of Santa Monica, CA, named Max Sound Corporation (OTCQB:MAXD) creators of a unique audio enhancing technology, alleges that Google blatantly stole an essential technology from them and their partner, VSL Communications, and also allegedly stole proprietary information and trade secrets from another corporate partner, Engineered Architecture Technology (EA).
This was revealed in several lawsuits they recently filed against Google and its subsidiaries, YouTube LLC, and On2 Technologies Inc. alleging theft of VSL trade secrets and patent infringement. Max Sound also filed a suit against Google, Flux Factory, Inc., Larry Page, Sergey Brin, Sebastian Thrun, and 5 other Google employees for the theft of trade secrets and proprietary information from renowned Israeli Architect, Eli Attia, and his company, Engineered Architecture. In addition, Max Sound has filed a lawsuit in Germany and is seeking a permanent injunction on all Android devices and YouTube, Inc.
So what? Who cares? Many may think that this just sounds like another annoying patent troll wanting a share of the wealth that Google has created. On the other hand, some of those, who have been following Google's legal history, might see these incidents as another case of corporate kleptomania.
It's widely known that massive global tech companies like Apple, Samsung, Google, etc. have targets on their backs, with small opportunistic NPE's or competitive tech giants lining up in droves to collect huge lump sum payments and/or ongoing licensing agreements for technology they believe was wrongfully taken from them. Defending against patent litigation is old hat for these technology titans. So why should any investor care about another lawsuit? Are these cases any different?
Having experience in investing in companies engaged in high profile patent litigation, such as Virnetx (VHC), Vringo (VRNG), Document Security Systems (DSS), I believe the answer is obvious. If what is alleged is true, Google might be backed into a corner, with much concern about how this will affect their reputation and their margins. Does Google want to risk the consequences of these cases being presented in jury trial? Please read my synopsis of both cases and decide for yourself.
The lawsuits: Max Sound, VSL, and EA
Max Sound formed collaborative partnerships with VSL and EA last year and by proxy will be the plaintiff in these two cases. Due to the nature of both cases, the highly respected law firms involved have taken both of these cases on a contingency basis. This is a massive indicator as to the strength of the lawsuits.
If you would like to read the actual Max Sound/VSL complaints here in the US, you can find the Delaware filing here, and the California filing here.
VSL Communications
In 2010, Google had entered into an NDA with VSL as they were considering licensing their highly innovative optimized data transmission technology or acquiring them outright. The said technology optimizes data transmission, so that during the encoding/decoding process, it can reduce audio and video content to an astounding 3% of its original size. This accomplishment by VSL was profound and something that most people in the industry deemed impossible. Internet bandwidth is inherently far too narrow to support the level of video streaming we enjoy today. With the explosion of video streaming and data-intensive HD video in the mid to late 2000's, it was obvious that this technology would be of interest to Google and it's subsidiaries. In fact, as the complaint states, video compression and streaming had become integral to many Google products, including but not limited to YouTube, Google Chrome, and the Android mobile device OS. This innovation would mean an end to jittery, low-quality video and sound for large video files; a solution that would make a profound impact on Internet user experience around the world. Google desperately needed a solution to remain relevant in the video streaming market.
For years, Google refused to obtain a license from MPEG LA (a firm that licenses patent pools that cover essential patents necessary for use in various codec standards) to cover its implementation of the H.264 codec (the most widely used video codec in video streaming markets). Google never took a license even after receiving multiple notices from MPEG LA that Google required a license. Google decided to circumvent MPEG LA by seeking alternatives to H.264. VP8 was a compression standard released by On2 Technologies in September of 2008. At this time MPEG LA had not established a patent pool to cover the standard. Thinking that this was the answer, Google acquired On2. In 2010 Google announced that the VP8 codec was now incorporated into its new WebM video file format and was implemented into YouTube and the Android OS. However, to Google's dismay, WebM/VP8 was determined by the public to be far inferior to H.264. This led Google to place a phone call to VSL.
According to the complaint, after Google entered into an NDA with VSL in 2010, Google execs continually met with VSL management for 8 months. During negotiations, a Google in-house counsel advised, that if VSL's patent portfolio read on H.264, then Google would seek to purchase the technology or acquire VSL outright. Also during the course of the negotiations and pursuant to the NDA, VSL provided a working VSL codec to Google for testing and analysis, and further provided copies of VSL's patents, patent applications, and claim charts comparing the inventions claimed in VSL's '339 patent to the H.264. In addition, Google requested technical guidance on how to implement their patented technology and VSL obliged. However, after 8 months, negotiations stalled and VSL, pursuant to the NDA, requested that Google surrender their IP. As stated in the complaint, on December 16th, Google admin collected all relevant documents and materials, put them in a box, and shipped them back to VSL.
Google's Christmas Present to VSL; A Smoking Gun
Christmas was approaching. VSL received the box from Google. Included in the materials shipped back to VSL was a collection of post-it notes scattered throughout the margins of the documents. Judging by the content on these post-it notes, it appears that Google was filled with holiday cheer, as they gave VSL the greatest gift they could ever receive; a post-it note trail that contained a blueprint for how Google planned to steal their technology. The post-it notes included statements that suggest that Google intended to infringe VSL's patents and that Google's infringement was knowing and willful. Here is an excerpt from the complaint that shows examples of what was written on those sticky leave behinds: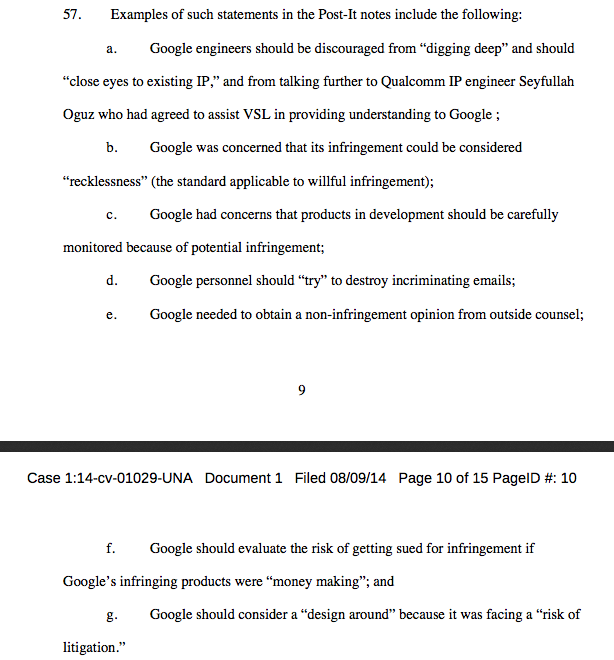 Some would call this a smoking gun. I would venture to say that this is a heat-seeking missile!
The complaint continues to say that Google began to integrate VSL's patented technology into WebM/VP8 soon after they obtained the IP and initiated negotiations with VSL. Google and On2 either amended a number of patent pending applications to incorporate various claims of the '339 patent, or filed for new patents which incorporated various claims of the '339 patent without disclosure to the USPTO or its underlying application as prior art.
According to the complaint, the '339 patent code can be found in, but is not limited to the following: VP8, VP9, WebM, YouTube, Google Adsense, Google Play, Google TV, Chromebook, Google Drive, Google Chromecast, Google Play-‐per‐view, Google Glass, Google+, Google's Simplify, Google Maps and Google Earth.
The patent code is in Google's technology for all to see. This, along with the damning post-it note evidence, and the fact that there is no prior art to VSL's technology, in my opinion, will make this case almost impossible to defend.
Preliminary and Permanent Injunctions in US and Germany
For this reason, as stated in the complaint, Max Sound is asking the courts for preliminary and permanent injunctive relief. Gaining injunctive relief in the US is no easy task, especially when dealing with large tech companies. If you don't believe me, ask Vringo and Virnetx. On the flip side, the court in Mannheim, Germany has a different philosophy when it comes to IP. An article published in PC World in 2012 discusses how favorable the German Mannheim court is to patent litigation and how quickly the courts are willing to impose an injunction on alleged infringers. This is why I believe Max Sound went to the Mannheim court in Germany and pleaded their case for a preliminary and permanent injunction.
In September of last year, Max Sound obtained a preliminary injunction (in only one hours time) against two cell phone manufacturers that utilize the Android OS. Agents of the court subsequently showed up at the IFA (large European consumer electronics show) and confiscated all smartphones and tablets from these two companies. These companies have the opportunity to appeal, but have not as of yet. More information on this can be found here. This was a very strong strategic play for Max Sound as the market share for Android in Germany continually grows and as of April of last year it was an astounding 80%.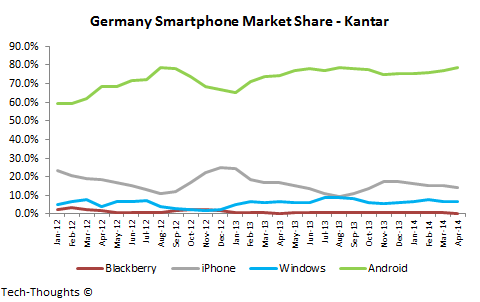 In addition, Max Sound has also filed for a permanent injunction in Germany and based on the evidence, I believe there is a strong likelihood they will succeed. Unlike the bloated, bureaucratic legal process here in the states, the average time to obtain a permanent injunction is only 7 months. With the permanent injunction filed in early December, if Max Sound prevails, we could see a permanent injunction in Germany as early as May. If Google isn't thinking settlement already, this may motivate them to pick up the phone.
What is VSL's technology worth?
Their Optimized Data transmission method helps transmit 33 times as much data in the same bandwidth as could be transmitted prior to 2010 when Google's Android platform and YouTube was not working well at playing video content. You may recall those days of waiting endlessly for video to load while watching the revolving circular icon that said, "buffering". The math involved in that calculation seems like it would be off the charts.
In summary:
Proposed Google Blueprint for Theft of VSL Technology:
Google shows interest in buying a company or the intellectual property/technology they own
Google signs an NDA with the company
During negotiations, Google steals the trade secrets, reverse engineers, and implements them into their own technology
Google then stalls until interested party becomes disinterested
Google files a bunch of new patents after the fact, but first changes all the key terms in the stolen technologies and re-arranges the order of the patent claims. This way, neither the patent office nor Googler's can find the prior art during searches. (It probably doesn't hurt that Michelle Lee, who was the head of Patents at Google for nearly a decade, has been running the US Patent and Trademark Office for the past few years.) Google's versions of the patents are approved in 6 months based on the need for National Security.
Google waits to get sued or hopes the victim(s) are too intimidated sue.
This brings us to the next complaint. Let's compare the two and see if there are any similarities. For reference the EA complaint filed in Santa Clara, CA can be accessed here.
Engineered Architecture (EA) and Eli Attia - "Google Stole My Life's Work"
Eli Attia is one of America's leading and most innovative architects. He has been practicing for 50 years and has designed award winning skyscrapers and buildings here in the US and Israel. His life's work led him to create EA, which is a company whose mission is to fundamentally change the way buildings are created. As the complaint asserts, [Mr. Attia's] technology enables the creation of buildings of all types and sizes that are more sustainable and better quality, in substantially less time and at a greatly reduced cost compared to what is currently possible. This unique invention, which is a blend of architecture, engineering, construction, and maintenance, is patent pending. The only thing Mr. Attia needed was a partner to develop the invention into a sophisticated software application.
Google Courts Mr. Attia
The complaint states that during the summer of 2010 Eric Teller, an executive agent of Google, learned about Mr. Attia's disruptive technology and invited Mr. Attia to present his invention to the top management at Google's corporate headquarters. Larry Page spoke with Mr. Attia after the presentation for quite some time about buildings and construction, which Page admittedly knew little about. After Page discussed the technology with Sergey Brin, they both decided to work with Mr. Attia and entered into an NDA. Pursuant to the NDA, Mr. Attia handed over all of his proprietary information. This was his life's work.
The complaint states that during the negotiation of the Inbound Services Agreement (ISA), that the Google VP, Sebastian Thrun, told MR. Attia that "any IP/know how" Mr. Attia brings to the Genie Project, including all the knowledge, information, and Pre-Existing IP that Google admits inspired Genie, would continue to belong to Mr. Attia. Google also acknowledged in the ISA that it would need to obtain a license from Mr. Attia if it wanted to proceed with Genie after the proof of concept.
Genie Project - The 120 Billion Dollar Project
Mr. Attia was subsequently set up with a team of software engineers to create a working prototype for testing its viability and acceptance within the industry. This all happened under the umbrella of Google's secretive arm, Google X, which takes on projects outside the realm of their core business structure to fuel future growth for Google. Mr. Attia's project was named Genie Project. A video, produced by Google X, showcases Eli Attia, the Google team, and Project Genie.
It is stated in the suit that Google estimates that the invention has potential revenue of a staggering $120 billion annually. In addition, in a write up in Jewish Business News, it goes a little further into detail:
In a top-secret executive summary that Google X sent to Page, Brin, and other Google leading executives in June 2011, the Google X Genie development team estimated that EA technology could generate annual revenue of $120 billion for Google.
The executive summary said, "Early this year, a small team at Google X began working with Eli Attia, an architect, the creator of Genie technology, to explore opportunities in the building construction industry." It adds, "Eli's work led him to the creation of 'Engineered Architecture', which provided key concepts and technology behind Genie."
Based on the NDA and ISA Mr. Attia taught the Genie Project team the fundamentals of the construction industry and the technology he spent 50 years creating as no one at Google had any previous experience in the architecture/construction field.
According to the complaint, at the conclusion of the initial 5-month period, as the proof of concept period reached its conclusion, Google and the other Defendants were very happy with the progress. With the $120 billion number dancing around their heads, Google saw the Genie Project and the global construction industry as the way to power its next stage of growth. Google's revenue in 2011 was ~37.9 billion, meaning the Genie Project stood to provide more than three times Google's current revenue.
The complaint states that Google subsequently planned to spin-off Genie into a separate company. Mr. Attia would receive a 15% stake in the new company (7% for his IP and 8% for being Co-Founder).
Goodbye, Genie and Eli. Hello, Flux Factory.
It was now December of 2011. Mr. Attia had been working in close collaboration with the Genie team since August 2010. With the proof of concept behind him, Mr. Attia believed that the fruits of his life's work were nigh. He had no idea that he was about to experience the greatest betrayal of his life. Allegedly, about 8 months prior, Google had been secretly plotting against Mr. Attia. The complaint states:
At some point known to the Defendants but not to Mr. Attia, Defendants decided that stealing Mr. Attia's ideas would not violate their own "Don't Be Evil" code of conduct. In 2011, they implemented their plan to squeeze Mr. Attia out of the new venture, to misappropriate Mr. Attia's proprietary information, to deprive Mr. Attia of the economic benefits of his labor and his inventions, and to appropriate for themselves (and Google), the economic benefits of Mr. Attia's proprietary information and know-how.
Indeed, for eight months, unbeknownst to Mr. Attia, Google was using Mr. Attia's proprietary information and know-how to develop products in a manner disapproved by Mr. Attia and behind Mr. Attia's back. Google and its agents specifically concealed the misuse of Mr. Attia's technology from Mr. Attia. In fact, when Mr. Attia unexpectedly walked into a conference room where such a meeting was being held, the participants immediately stopped all conversation, each staring at the others like a fox caught in a henhouse, until defendant Chim ordered everyone to disperse.
While Defendants were meeting secretly, they slashed Mr. Attia's compensation and then proceeded to completely purge him from the project and joint venture.
Mr. Attia was "purged" when Chim sent a team email saying that they were abandoning Genie. He wrote, "We learned a new industry, solved very interesting technical problems, and wowed the industry with the ambitiousness of our vision." He finished the email by writing, "Effectively Friday, we'll stop working on Genie." This was followed up with email to Attia by Defendant Teller that stated, "I'm very sorry Genie will end. It would have been a great thing to make for the world".
Attia learned only one week later, that Chim had been out courting the same investors he and Mr. Attia had spoken with for project Genie. Chim allegedly told the investors Attia was no longer involved with Genie and that they (Chim and his team) had the right to continue without him.
In 2012 it was announced that Google created Flux Factory, Inc. The complaint claims that Flux Factory is a reconstituted version of Genie Project. Defendant Teller is the chairman and Defendant Chim is the CEO. Flux Factory currently offers The Flux Metro Austin Preview. This design software allegedly uses proprietary information and trade secrets developed by Mr. Attia.
If there wasn't already enough evidence against Google, here is an excerpt from a transcript of recorded 23-minute phone conversation between Eli Attia and Sebastian Thrun, who at the time, headed up Google X. Mr. Attia had called Thrun in an effort to not lose his invention:
Thrun: "The team spins out with a version of architecture that is based on what you have been doing, no question."
Attia: "There's a question whether they can do that or not."
Thrun: "No they can do it. Absolutely they can do it."
Attia: "Why are you so certain?"
Thrun: "Anybody can steal anything they want."
In Summary: Proposed Google Blueprint for Theft of EA Technology
Google shows interest in the proprietary information/trade secrets from a company and inventor
Google signs an NDA with the company and inventor
During co-development of the product, Google steals the trade secrets and implements them into their own technology
Google kills the project and disposes of the inventor
Google waits to get sued or hopes the victim is too intimidated sue
The resemblance of proposed blueprints for theft derived from the complaints are uncanny to say the least.
Conclusion:
Many have questioned, scoffed at, and even challenged Google's corporate mantra, "Don't Be Evil". I submit, based on the grievous nature and clear-cut evidence of Google's methodical blueprint for theft, present in both cases, Google's intention and actions will be perceived as "evil" by a jury and the court of public opinion.
Google's mission is "To organize the world's information and make it universally accessible and useful." This is a noble cause, however to make it universally accessible, it must be given away for free. The problem is that Google doesn't own all the world's information. So is it possible that Google is also organizing and giving away the world's copywritten and proprietary material for free to fulfill their mission and to capitalize on their highly successful advertising business; a business they have created and grown to 60+ billion annually? Based on the evidence from these cases, and the long list of individual and corporate plaintiffs that have claimed that Google stole their property, I am inclined to say that Google believe the means (stealing) justify the ends.
Scott Cleland, former Deputy US Coordinator for Communications and Information Policy in the George H. W. Bush Administration, Author, and ardent watchdog of Google's history of malfeasance, writes in a 2012 Forbes article:
In sum, it is sad that the evidence indicates systematic theft is an integral element of Google's competitive business strategy. The evidence also indicates Google owes much of its success and rapidly spreading market dominance to the ill-gotten unbeatable competitive advantage of systematic theft of others property (trademarks, copyrights, patents, trade secrets, contact lists, private information) via at least eight distinct patterns of theft perpetrated over several years time - that collectively indicate that Google's anti-competitive behavior is systematic, willful, and strategic.
For the following reasons, I believe Google will settle:
Google is facing willful infringement and treble damages in the various cases.
The infringing technologies could be individually and collectively worth billions.
The high profile attorneys representing the cases and their respective high profile firms have an impeccable track record of successfully litigating corporate giants as stated in the Patent Stock Review report on MAXD. Many articles on this matter have called the case David versus Google-iath, but Patent Stock Review called the MAXD lawyers versus the Google lawyers the case of Goliath versus Goliath.
All 3 legal firms and their respective attorneys have taken these cases on a contingency basis. Max Sound pays very little unless they prevail. This shows the strength of the cases and confidence amongst the legal teams.
Preliminary injunctions were already granted and a permanent injunction is likely in Germany against Android based phone manufacturers and YouTube based on the same evidence, and the fact that Germany and Europe in general are mistrusting of Google, as evidenced by numerous copyright media battles and the European Union's overwhelming decision to break up Google.
In my opinion there are no other cases in Google's history where the evidence for the blueprint for theft is obvious like it is in these cases against them. Google appears to have been caught red handed in both cases. I believe Max Sound will prevail. The questions are; does Google want to play nice or do they want to drag this out and expose to the world their blueprint for theft.