As Mark Twain said, the definition of a mine is "a hole in the ground with a liar standing next to it." 

I'm not accusing anyone of lying here, but in the financial markets, perception and reality are often two different things.

Take for instance the recent mercurial rise in the "rare earth" stocks.  These companies mine the precious minerals that are used in batteries to power smartphones, netbooks, laptops and hybrid autos like the Toyota Prius.

At the end of 2010, China was chestbeating about how it was going to put quotas on exports of its rare earth elements and China holds the bulk of the world's deposits.

There was a subsequent flurry of activity in US-based "rare earth elements" stocks such as "Rare Earth Resources" (Nasdaq: REE) and Molycorp (Nasdaq: MCP).

Here is the REE chart showing how REE had run up essentially 800% since July as of the end of the years.  The froth was palpable...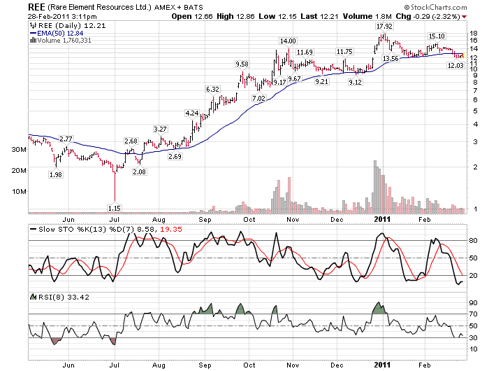 And here's MCP (Molycorp) chart showing a similar rise, although not as parabolic: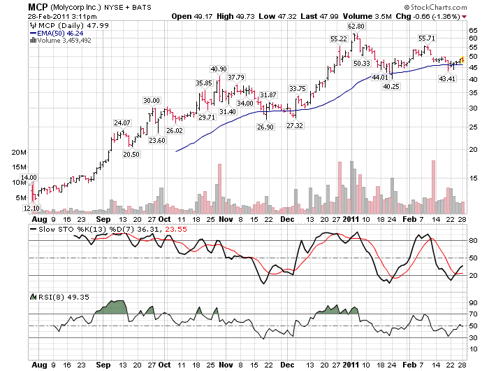 Note these stocks are either consolidating or are coming back to earth.

There is a fantastic SeekingAlpha article on REE that got me started on the bearish case for REE.  I highly recommend reading it.

From there, I did some research and realized the following:

I went to GOOGLE MAPS:

http://maps.google.com/

Then entered their company address as listed in Yahoo Finance:

325 Howe Street, Vancouver, British Columbia, Canada

Then drop down to "Street View" and navigate along the street until you see a building on Howe Street with an address of 325.

You'll see a building with several boutique stores on the first level, including "Rendezvous Art Gallery" and "Crest Jewelers."

REE is in "Suite 410" which means they have offices on the 4th floor.

Then scan up the building and you'll see there's only 7 office windows on the HOWE street side and 3 office windows on the Cordova side. Assuming a hallway in the middle, that's only 16 offices on the 4th floor.

Ask yourself, isn't there something odd about a nearly half-billion dollar market cap company with:

1) Just a handful of employees inhabiting the 4th floor of a building in Vancouver (the 4th floor has a maximum of 21 offices and we don't know if REE even occupies all of them, so do the math)

2) NO Earnings for several years until 2015 if/when their mine starts yielding.

3)  An unaudited financial report (Canada)

Here it is from their SEC FILING:

ONLY TWO FULL TIME EMPLOYEES as of a year ago!! (and this company has a market cap of over $526,000,000 - a HALF OF A BILLION DOLLARS!)

Go to PAGE 54 and you'll see it in print.

---"6.D. Employees

At 10/31/2009, the Company had two full-time employees/consultants and five part-time employees/consultants, including the three Senior Management; five of these employees/consultants are directly engaged in exploration activities. As of 6/30/2009 and 6/30/2008, the Company had six and three full-time and part-time employees/consultants, respectively, including the Senior Management. Donald Ranta, President/CEO of the Company is involved in both administration and exploration. He is based in Golden, Colorado, USA. None of the Company's employees are covered by collective bargaining agreements."

I would be skeptical going long in such a speculative stock as REE and am confounded that there are enough investors who bought into the rare earth element shortage scare enough to buy shares in such thin companies.


Disclaimer: The author makes no warrant for the accuracy of the content herein other than the links provided to traditional online sources of information for verification purposes. Additionally, investors shall not take any comments stated herein as advice to buy or sell any equities and if investors do so, they acknowledge that they have done their own proper due diligence and proceed at their own risk.  Currently no position in REE or MCP, having had puts in REE.   Waiting for the next irrational bubble.