Following Intercept Pharmaceuticals positive NASH trials, stock soured as much as 600% back in January 9. On the same day Intercept's main competitor Galectin also saw its shares jump as much as 125% inches away of sell-side consensus price target of $18. Shares are currently trading at $15.46 based on yesterday's close as investors look for additional liver disease plays that also include La Jolla Pharmaceutical, GalMed Pharmaceuticals and Gilead.
Yesterday Aegis Capital has lifted its price target on Buy rated Galectin from $16 to $32 citing even though the heightened competition, Galectin's NASH and NAFLD drugs are potential leaders in that market. Back in December the company has announced GR-MD-02 and GM-CT-01 show positive preclinical data in reversing fibrosis with data from human Phase 1 trial is expected to be released over the next few weeks. Phase 2 trials in NASH, which currently has no approved effective therapy may start by summer of 2014 which would make data available in 2015. Positive trials may lead to M&A activity as bio-pharmaceutical companies look to diversify their product offerings.
On the flip-side Summer Street analysts prefer Intercept in the NASH play and see side effects such as bad cholesterol in recent trials as not concerning. The firm has concerns over Galectin's product which may fail if found immunogenic. Although analysts do not have enough data about Gilead's simtuzumab. Based on the mechanism of action it may show effective treatment and there may be a good synergy with Intercept's OCA, perhaps a strategic partnership or M&A activity may come into play in the future.
Here is a comparison of the three companies.
| | | | |
| --- | --- | --- | --- |
|   | Galectin | Intercept | Gilead |
| Rating | Outperform | Buy | Outperform |
| Price Target | 18 | 488 | 99.48 |
| Beta | 1.5315 | -18.22 | 0.6338 |
| Institutional Ownership | 5.9 | 54.3 | 95 |
| Short Float | 9.85 | 4.3 | 5.5 |
Galectin has recently presented at the 16th Annual BIO CEO & Investor Conference. The conference is hosted by the Biotechnology Industry Organization and is considered the largest independent investor conference focused on established and emerging biotech companies. Perhaps additional details will be revealed on NASH progress, Phase 1B Clinical Trial in Metastatic Melanoma and a new collaborative venture to research and develop Galectin Inhibitors for oral use which may also be proved as catalysts for the stock if data is positive in the upcoming weeks and months.
On the technical side the chart shows a bullish trend with the stock headed to the consensus target price at 52w high around $18. A number of bullish crosses of the 20MA with the 10MA in addition to a close above resistance level at $14 may suggest on a continuation. The stock has also a 10% short float which may create opportunities for a short squeeze. On the negative side the stock is very intolerant to any negative news on current drug trials or the competition.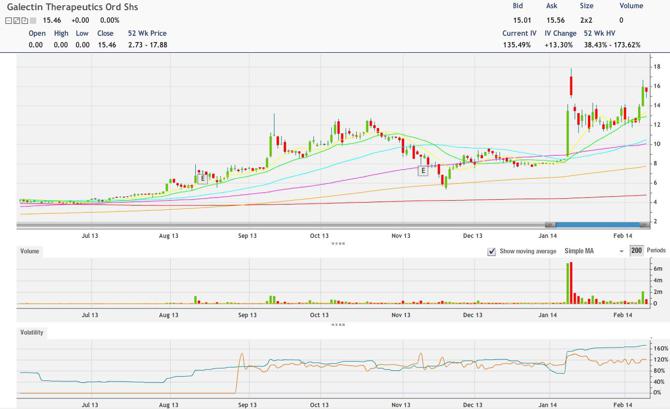 Disclosure: I have no positions in any stocks mentioned, and no plans to initiate any positions within the next 72 hours.