Summary
The CAPEX on water by Newfield in STACK and Pioneer in Midland are compared.
Cost of water is significantly higher in Midland, both source and disposal. Pioneer hides the real cost of production.
This might explain why STACK could outshine Midland or Permian LTO.
Pioneer Resources claimed that their cost of production in the Midland is lower than Saudi, under $3/barrel of oil.
I collected published numbers from Newfield Energy (NYSE:NFX) and Pioneer Resources (NYSE:PXD) on their CAPEX in water, both in their premium resources, i.e. STACK for Newfield and Midland for Pioneer.
Here are the number breakdown from PXD June 2016 Investor Update, page 21,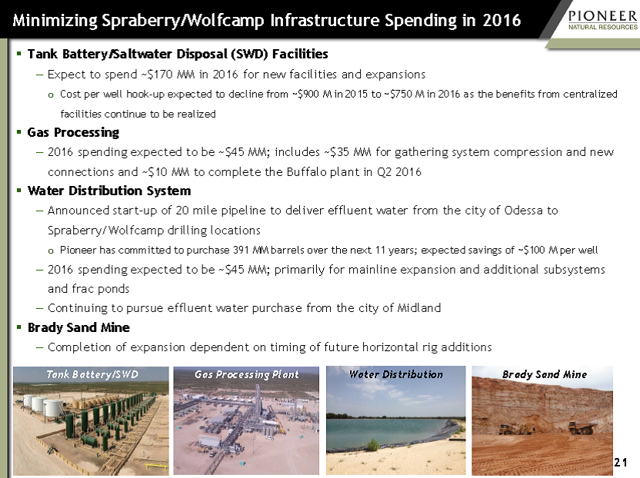 In 2016, Pioneer plan to spend $170million on water disposal and ~$45million on acquiring fracking water. In 2014, Pioneer spent $240million on water disposal and over $100million on treating effluent water for fracking.
I did not find Pioneer's CAPEX for water sourcing and disposal in Midland in 2015, but it should range in between 2014 and 2016, and this translates into CAPEX for water disposal around $600million, and water sourcing about $200million. Plus plausible numbers in 2013, it is expected to be easily above $1billion for water sourcing and disposal, with the disposal taking more than half.
Here is Newfield's latest Second Quarter 2016 Investor Update, on page 12, it reads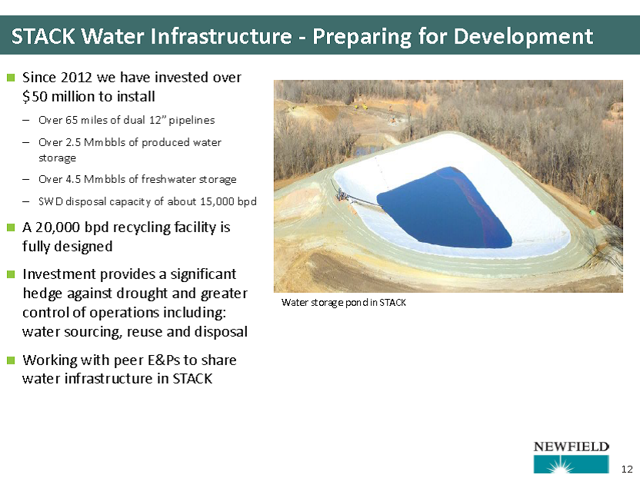 Note that Newfield has more storage room for fresh water than produced water. This is consistent to their claim that STACK produce less water than the water pumped in for fracking.
In terms of waste water disposal, Newfield has CAPEX over 4 years less than $50million in STACK versus Pioneer's over half a billion in less than 4 years. With less than $50 million, Newfield built a salt water disposal facility able to handle 15,000 bpd of produced water, and able to recycle 20,000 bpd of salt water. One would guess that Pioneer's project has salt water disposal capability 10 times larger. The oil and gas production for Newfield is about 80MBOEPD (capacity acquired in the last 4 years, and especially the past 2 years) in STACK versus Pioneer's ~110MBOEPD (capacity acquired in the past 3 years) in Midland. Even with the ten times more CAPEX in water disposal, Pioneer is already having to choke its initial oil production because it could no longer handle the water produced. It makes one guessing that the water production from Pioneer's Midland ~400 horizontal wells is well above 200,000bpd.
In terms of water sourcing, Newfield probably spend less than $10 million in the past 4 years and considering that water is much more abundant in STACK, OK than in Midland, this is no surprise.
With less than 50MMBOE each year of oil and gas production in Midland, Pioneer's CAPEX in water in 2016 put an upfront cost of over $4/boe in Midland. This upfront cost is there without considering operational cost, and we don't know if the water sourcing and treatment operational cost is included in their $2.25 LOE each BOE or classified as other costs.
For Newfield, the cost is probably less than half a dollar each BOE.
Conclusion is obvious that in terms of water sourcing and disposal, STACK has a huge advantage to Midland core. Pioneer is hiding the cost of production by moving water handling cost to the CAPEX.
I am not investing in PXD nor NFX, but might consider in the next couple of months.
Disclosure: I/we have no positions in any stocks mentioned, and no plans to initiate any positions within the next 72 hours.