BHP Billiton(NYSE:BHP), the world's largest mining company, plans to sell their remaining diamond assets. Their diamond assets lie on the Balance Sheet in the Diamond and Specialty Products unit. The unit currently on the books for $2.8Billion generated $1.5B in revenue and $587MM in earnings before interest and taxes in the previous fiscal year ending June 30. The unit has two large assets up for grabs, their 80 percent interest in the Ekati diamond mine and a 51 percent interest in the Chidliak project. BHP has expressed clearly that the reason for the sale is that the assets are no longer consistent with the company's strategy of investing in "large, long life expandable assets." In December, BHP unloaded their interest in the Chidliak diamond project, and attention now turns to the Ekati mine.
"As we invest more in our bigger assets, the minimum threshold for both an industry and an asset in terms of scale gets moved up," BHP Chief Executive Marius Kloppers said back in February. BHP's focus is on Iron Ore, Copper, and Coal. Mr. Kloppers is conveying that it's the notional value of the project that becomes the scope of whether to invest or divest, not necessarily the margin of the return on assets. This presents a potential win win situation for both buyer and seller.
Interestingly, Citigroup has voiced its opinion that both BHP and Rio Tinto(NYSE:RIO) should spin off their diamond units because they are "major cash drains". This will lead to large mining companies freeing up their cash flows to invest in large capital intensive projects. Companies such as Harry Winston(HWD), which have a long established history in extracting value from such assets by using their downstream operations, can step in to take advantage. HWD operates the Diavik mine which is located close to the Ekati mine. There are many similarities between these mines including the stage of the mines' lives. Both mines are in their maturity and one would postulate that they have similar capital needs.
Citigroup analysts Oliver Chen and Kate McShane initiated coverage of HWD with a "Buy" rating and a $15 price target the day after Valentine's Day, citing the company's mix of retail and mining assets would cause the stock to be valued highly as it will allow investors to gain exposure to rising diamond prices.
I agree with the Citigroup analysts; HWD's vertical integration uniquely positions them within the diamond industry. This view has been shared by their Chief Executive Bob Ginnicott on many of their conference calls. The company has a window into the trends of diamond pricing for both rough and polished diamonds. The company uses this info to gauge the industry and then capitalize on it by targeting consumer spending in the jewelry segment, tailoring their capital expenditures to the industry cycle, and managing overall operating costs.
Asian Demand
While the near term catalyst of purchasing an asset such as the Ekati mine is compelling, a quick look at the structural reasons diamond prices have risen is important to gauge if the trend is sustainable and if this purchase will provide good returns in the future.
Diamond prices are up over 20% in the last year and have been fueled by growth in emerging markets, most notably demand from Asia. This tremendous growth in the luxury goods sector has propelled the stock prices of companies such as Coach(COH), Ralph Lauren(NYSE:RL), and Tiffany & Co.(NYSE:TIF). The luxury goods sector has enjoyed unprecedented growth and ability for price elasticity to increase. Recently TIF pushed through one of many recent price increases. The high end of the luxury spectrum is becoming less sensitive to pricing and this is evident in diamonds. Diamonds also serve as a readily transportable store of wealth, which is important to discerning high end consumers. I believe this demand will only expand in the future and isn't going to be on a correcting trajectory any time soon.
Valuation
I will refrain from delving into metrics such as price/sales, ROA, P/E, book value, etc. This info is readily available to anyone and with regards to P/E not relevant to Harry Winston's operations. I will focus on a peer comparison and chart technicals in my valuation observation. First I would like to compare HWD with the titan of the industry, TIF, which has purchased Diavik diamonds extensively for use in their jewelry. I will use the last 5 years as a backdrop for our comparison since this coincides with the timeframe of the tremendous growth of the luxury goods sector as a whole and also incorporates the impact of the financial crisis. During this period TIF has traded from a $40 per share to a current trading range of around $65-$75 per share, a 1.75x increase in value. By comparison, HWD has traded from $35 to a current price of $15 per share. If HWD traded in line with TIF during this period it should theoretically be valued north of $60 per share.
Reasons for the TIF premium are obvious and considerable; they have a huge brand presence. I've read reports that a woman's heartbeat will increase by 22% when exposed to the Tiffany trademark blue color. There is also the mining risk that investors may perceive with HWD, although I believe this risk is mitigated in their operations through retail and wholesale pricing.
An important question to ask is weather Asian buyers will place as much perceived brand value on TIF jewelry as US and European consumers have historically? Will this lead to TIF losing some of its competitive advantage in Asian markets? I think that with their expanding retail business in Asia, HWD is quickly gaining on TIF and the current valuation gap could be cut in half over the next year, allowing HWD to outperform TIF 2 to 1 over that time period. Indeed, since November 2011 the valuation gap has been narrowing.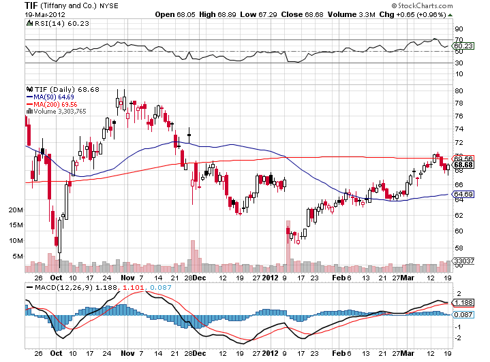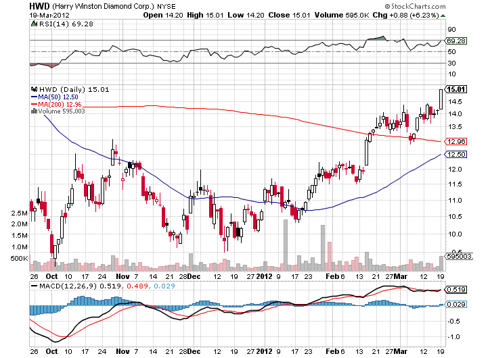 With that said HWD has had a good run of late topping $15 per share from a base of $10 per share in the 4th quarter of 2011, and a retracement to the low $13's would provide a good entry point. As a hedge to owning HWD I would short TIF as I expect it to underperform for the foreseeable future.
Disclosure: I am long HWD.