The last two years have not been the best one for mining companies. Several mining companies, including the likes of BHP Billiton (NYSE:BHP) and Rio Tinto (NYSE:RIO), have shut down some of their mines, delayed production and sold non-core assets due to the slowdown in the global economy, especially. Many analysts even say that the "commodity supercycle" may have come to an end.
While mining companies are not likely to return to the kind of growth seen in the early part of the millennium, the fundamentals are certainly improving. I believe that this makes the mining sector once again an attractive investment proposition. Investing in mining giants such as BHP and RIO is one way of playing the mining sector. However, my focus is always on small growth companies. One company that I am particularly optimistic about is Zinco Do Brasil Inc. (OTC:ZNBR), a junior mining company.
Overview
Zinco Do Brasil is a Brazilian-American junior mining company, focusing on the exploration, development and operation of world class mining assets in Brazil.
In August last year, ZNBR signed a Binding Agreement with Ouro do Brasil Holdings Ltd. (OBH) and IMS Engenharia Mineral Ltda (NYSE:IMS) for the proposed acquisition of 99.9% of the capital stock of Zinco do Brasil Mineracao Ltda. Under the terms of the agreement, ZNBR will acquire 99.9% of total capitalization of ZBM in exchange for 7,166,667 newly issued shares of its common stock to OBH and 1,075,000 shares of a newly created Series C Preferred Stock to IMS.
ZNBR has already issued 4,711,714 shares to OBH. The company has also delivered the 1,075,000 shares to IMS. The company will issue the balance shares to OBH on completion of the final transaction agreement. The transaction agreement requires ZNBR to convert an aggregate approximately $5 million of outstanding debt into approximately 3,333,333 shares of its common stock. Also on closing of the proposed transaction, the company shall consummate a private placement offering of $300,000 secured convertible notes.
Within six months of the completion of the transaction, the company is also required to raise up to $6 million to pay Vale SA to the complete the acquisition of the zinc mine. In addition, the company is also required to raise $17 million within one year of completion of transaction agreement for working capital and general corporate purposes, which are collectively called the Financing Conditions. If these conditions are not met, IMS will have the right of rescission if it has not converted any of its Preferred shares into Common shares.
The Projects
Through Zinco do Brasil Mineracao, ZNBR owns 57 mineral rights spread over an area of 82,379 hectares in the Brazilian state of Minas Gerais. The projects include Salobro, Gorutuba and Tocandira.
Salobro consists of 2 mining rights spread over an area of 1,210 hectares. Salobro's historic mineral resources are expected to increase by 30% to 50% during the exploration and drilling program, which is scheduled for the first half of 2014. The company expects Salobro to go into production in the first quarter of 2016. Production is expected to exceed 30,000 metric tons of zinc and 5,000 metric tons of lead per year during the currently estimated mine-life of 10 years.
The Gorutuba project consists of 33 mining rights spread over an area of 44,761 hectares in total. The Tocandira block consists of 22 mining rights for an area of 36,408 hectares.
Back in July, Zinco Do Brasil reported progress in the soil sampling geochemical program at two highly prospective mineralization targets Gorutuba and Tocandira.
Outlook for Lead and Zinc
Zinco Do Brasil notes that the near-term outlook for zinc consumption remains bullish despite the state of the global economy. According to ZNBR, zinc consumption is expected to grow 5.2% in 2013 and 5% in 2014. If anything, the consumption outlook for 2014 might be conservative. This is because while the global economy is still some way off from a full recovery, the outlook for Europe and China has improved significantly. China recently registered robust growth in the third quarter and Europe has also shown signs of recovery.
The sentiment is echoed by Glencore-Xstrata, which is the world's largest miner and trader of zinc and lead. At its Investor Day last month, the company said that global zinc demand has been rising at 5% per year, driven by a gradual improvement in key consuming sectors and regions. According to Glencore, Chinese zinc imports are up 19% and galvanized zinc production is up 11.2%.Glencore expects the 5% annual demand growth to continue as growth in key sectors such as construction and automotive will drive demand upwards. In fact, the mining company expects the zinc market to go into deficit sooner than most analysts expect. This of course would mean higher realized prices. Assuming that Zinco Do Brasil remains on track and begins production at Salobro in the first quarter of 2016, it is very likely that market would be in deficit at the time resulting in higher average realized prices.
Wood Mackenzie's Brook Hunt said last year that zinc has the most promising fundamental outlook among the metals. Hunt expects zinc price to average $1.24/lb in 2014 and steadily climb thereafter, possibly challenging the earlier high of $2.08/lb.
In a recent article on Financial Times, Martin Sandbu notes that the supercycle for zinc may just be beginning. Sandbu notes that while other metals such as copper, gold and tin rose to record high levels post the financial crisis, zinc prices remained subdued. However, analysts are turning bullish on zinc. Sandbu, citing Wood Mackenzie, says that zinc prices are expected to average more than $3,500 a ton from 2016-2018. Prices are currently hovering around $1,940 a ton. According to Sandbu, the bullish argument is based on the anticipated shut down of several large zinc mines along with lack of new projects ready to replace them.
Management has Significant Experience and Expertise
The most important thing for any young company like Zinco Do Brasil is the management. If a young company is backed by people with the right experience and expertise then achieving operational goals becomes easier. Zinco Do Brasil certainly has that.
ZNBR is led by Daniel Kunz, who serves as Executive Chairman of the Board of Directors and the CEO. Kunz was appointed by the company in June this year. He brings over 3 decades of experience in the mining industry to ZNBR. Kunz has held executive level positions at mining companies, including at Ivanhoe Mines Ltd. (now called Turquoise Hill Resources Ltd.). In the seven years that Kunz was involved with Ivanhoe, the company saw its market capitalization increase from $400 million to $14.4 billion.
ZNBR also has several other senior executives, with significant experience.
Investment Thesis
Zinco Do Brasil shares closed at $0.470 on Friday. The company currently has a market capitalization of $11.08 million. If the company achieves its target of starting production at Salobro by the first quarter of 2016 then it could create significant value. Even if we assume that the company produces 20,000 metric tons of zinc per year at Salobro, and zinc prices rise to $2500 (which is Wood Mackenzie's low case scenario), this translates to $50 million in revenue for Zinco Do Brasil. If the company as planned produces 5,000 metric tons of lead at Salobro, this translates to around $11 million at current prices. Given the significant potential to generate revenue in the medium-term, Zinco Do Brasil is undervalued. One must also note that my estimates are conservative. As I discussed before, zinc market is expected to go into deficit sooner than anticipated, according to the world's largest zinc miner and trader. The global economy is continuing to show signs of improvement, which will further boost demand. I think in the best case scenario, we are talking about $100 million in revenue in the next four years.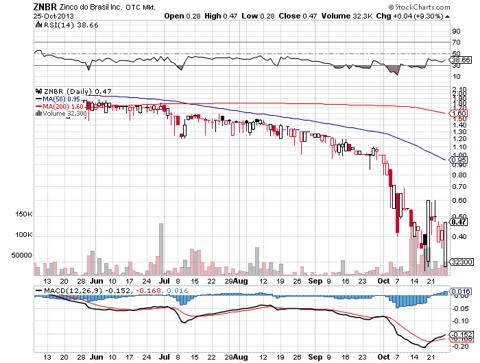 Source; stockcharts.com
As the chart above shows, ZNBR is also set to post significant gains in the near-term. Technical indicators for the stock have turned bullish, with the MACD crossing the signal line. On Friday, the stock rose sharply on above average volume. The stock has bounced back after the RSI recently entered oversold territory.
Risk Factors
While Zinco Do Brasil has huge potential, there are of course significant risks involved. The biggest risk is funding. The company has to raise substantial capital in the near-term otherwise it will struggle to complete its business plan. ZNBR's acquisition of Zinco do Brasil Mineracao depends upon the payment of purchase price by certain specified dates. Failure to do so would mean that the company will not be able to acquire the Brazilian subsidiary and commence operations. Therefore, raising capital is the most important goal for ZNBR right now.
Another risk for shareholders is dilution. ZNBR may have to issue additional equity or convertible debt in the future if it raises additional capital. This would dilute the ownership of existing shareholders.
Finally, as with any mining company, ZNBR faces macro risks. The company may struggle if the global economic recovery is derailed as this would hurt demand for zinc and lead.
Conclusion
Zinco Do Brasil has the potential to generate significant revenue in the medium-term. If the company achieves its targets, it will be in an excellent position to capitalize on anticipated growth in zinc demand in the near future. Zinc market is expected to go into deficit soon, which bodes well for the company. Additionally, the company has a very capable management. While there are certain risks, I believe that ZNBR is a favorable risk/reward investment, especially given the current market price of the company's shares.
Disclosure: I am long OTC:ZNBR. I wrote this article myself, and it expresses my own opinions. I am not receiving compensation for it (other than from Seeking Alpha). I have no business relationship with any company whose stock is mentioned in this article.