Even two days of testimony from Fed Chairman Powell could not derail stock prices last week. Most major averages managed solid gains for the week as the S&P 500 gained 0.78% to close at a new record of 3013.77.
The stock market started off the week on a negative note as Morgan Stanley's Andrew Sheets reduced their allocation to global equities since he "sees mere a one percent average upside to Morgan Stanley's price targets for the S&P 500, MSCI Europe, MSCI EM and Topix Japan (including dividends and equally weighted)."
Investors were already disappointed the prior week as their hopes of a 0.50% rate cut by the Federal Reserve at the end of the month had declined based on the FOMC announcement. The further downgrade of large-cap banks by another Morgan Stanley analyst did not help. Analyst Betsy Graseck even double-downgraded trust banks State Street Corp. and BNY Mellon Corp. to underweight from overweight, as they're "most exposed to the curve".
Since I had recommended State Street Advisors (STT) before the open on Monday, I found this rather irritating. STT was already down 10.1% YTD, and BNY Mellon Corp. (BK) was down 4.3%. If they are still headed downward, why did Morgan Stanley not turn negative earlier? Given that the S&P 500 was up 19.3% as of last week, I feel sorry for investors who followed their original advice.
I often have trouble understanding why anyone pays attention to analyst price forecasts. As I pointed out last fall when the market was collapsing some analysts did not lower their price forecasts on NVIDIA Corp. (NVDA) until it had dropped over $100 (over 30%).
As for the year-end forecast, the Wall Street strategists do not have a great record as pointed out by the New York Times at the end of 2016 in "Wall Street's Annual Stock Forecasts: Bullish, and Often Wrong", which details the annual ritual of overly-optimistic market forecasts that takes place each year.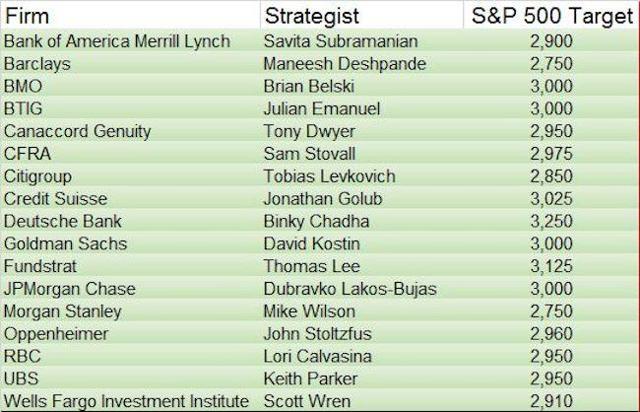 With the S&P 500's close Friday at there were only three strategists whose December 2018 forecasts gave a higher year end price than what we're currently seeing. As the table indicates the highest forecast of 3250 is from Deutsche Bank's Binky Chadha.
The two lowest forecasts of 2750 are from Morgan Stanley and Barclays. That would mean a decline of 8.7% from Friday's close by the end of the year. Is this possible? Absolutely! However, I would expect to see significant warnings beforehand from the advance/decline lines and other technical studies.
After most missed their year-end forecasts for 2017 by a wide margin, strategists raised their targets sharply for 2018, with an average of 2854. The S&P 500 topped at 2872 at the end of January 2018 before an 11.8% decline, eventually closing at 2506.85 for the year.
Because the year-end forecasts have such a bias towards bullishness, I would expect to see a number of firms raise their price targets as the summer progresses. However, as the analysts continue to raise their targets, I will become more nervous. (Editor's note: On July 15th JPMorgan raised the S&P 500 target to 3200.

In last week's performance, the Dow Jones Industrials Average ($INDU) performed the best, up 1.52%. Close behind was the Dow Jones Transportation Average ($TRAN), up 1.45%. The Nasdaq 100 also had a solid gain of 1.30% and is by far the leader Year-to-Date, up 25.5%.
The small-cap Russell 2000 was lower for the week, and many have their focus on how these stocks do in earnings season. All of the market-tracking ETFs I follow are holding above their quarterly pivots, and have not had a weekly close below their quarterly pivots since they began generating positive trend signals in January. For more analysis on this, see last week's Keep An Eye On The Third-Quarter Pivots.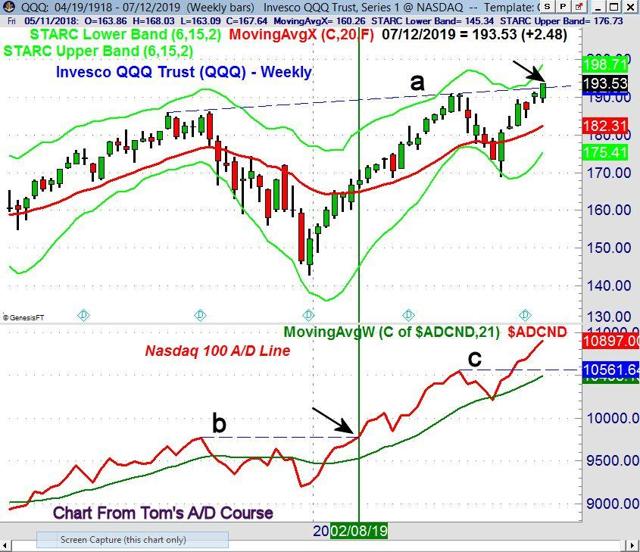 The weekly chart of the Invesco QQQ Trust (QQQ) shows the weekly close above the long term resistance (line a) as it made a new all-time high last week, as did the S&P 500 and Dow Jones Industrial Average. The weekly NYSE A/D numbers were positive again last week, and the Nasdaq 100 A/D is still rising sharply as it has since it overcame the May high (line c) five weeks ago.
The Nasdaq 100 A/D line made a new all-time high the week ending February 8 (see chart), even though QQQ closed at $167.88 which was still 10.9% below its high. Based on my advance/decline analysis when an A/D line makes a new high before prices, the market average will eventually also make a new high. The QQQ made a new high the week of April 26.
Looking now to interest rates, the daily technical formations for the 10 Year T-Note Yield ($TNX) had favored higher yields (see chart) and yields rose 2.8% last week to close well above the recent highs. This may be a positive sign for the financial stocks, as many of the largest banks report earnings next week. The Financial Sector ETF (XLF) has been showing strong On Balance Volume patterns since the start of the month.
There are a number of key economic reports next week so many will be looking for weaker than expected numbers to support more than a 0.25% rate cut by the Fed at the end of the month. In my view the economic numbers will need to get considerably weaker before the Fed is likely to cut rates 0.5%.
The outlook for the earnings season may be too negative, as a number of analysts continue to warn of an earnings recession. The risk of an earnings shock for any individual stock is still high, and one can soften the impact of an earnings miss by investing in a sector ETF.
Those readers who followed the four-week dollar-cost averaging plan I recommended before Christmas are still 75% long, at an average value of 2497 based on the S&P 500. On February 25, 2019, my order to sell 25% of the position was executed when the S&P 500 moved above 2805. The position is currently up over 20% since being established. As a stop on the position, I would sell the remaining position if the S&P 500 has a weekly close below 2878, which is the new 3rd Quarter Pivot.
In the Viper ETF Report and Viper Hot Stocks Report, I teach subscribers how to interpret the stock market's true trends while providing specific buy and sell advice on stocks or ETFs twice a week. Each service is only $34.95 per month.
For a copy of my eBook and get weekly emails with investing  and trading advice, sign up here.
Disclosure: I am/we are long QQQ.
Additional disclosure: I have recommended QQQ and XLF to my subscribers