Some Background :
After a decade+ of paying high premiums via employee sponsored healthcare plans, for past 6 years, I am selecting high deductible health care plan and moving premium payment to HSA account. This part is good however when I checked account, bank is paying mere 0.2% on balance. With 30K+, Similar to IRA, I felt laziness is not an option.  My objective is make ~ 4% return. So during July first week, I moved 60% of account balance in to the following four funds evenly. I picked based on morning star ratings/dividend payout history etc.
Portfolio Composition:
BlackRock Equity Dividend
PIMCO Commodity Real Ret Strat Instl
PIMCO StocksPLUS Small Institutional
VANGUARD VALUE INDEX
Performance
Following chart shows how Portfolio fared over last  two quarters of 2018.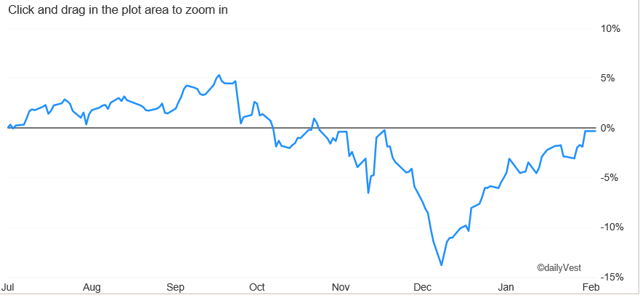 Thinking back, I made few mistakes
1) Moving entire amount in one go.
2) Not realizing some profit after reaching 5%+ returns
3) During December, not adding some more cash.
Only saving graces is all monthly contribution amount $500 is going to the funds regularly.
Bottom-line, even with quality funds, my HAS  Portfolio  total return was -12%.  Disappointed however I don't want to make any changes for now.
2019-year plan:
With 6 weeks of market gains, my account will reach break-even very soon. Continue with monthly contributions and If a fund is returns 5%+, realize some profits. Regularly contribute additional $ when indexes drop heavily i.e. -500+.  Will update this post with any changes to this  portfolio.