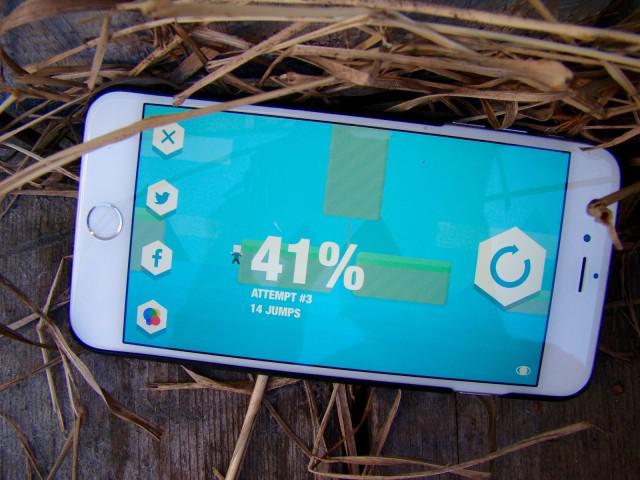 Mr. Jump, Apple's game, gains more than 5 million downloads within a few days
It has been only 6 days since we all met Mr. Jump. A lot of us have already jumped a lot the last weekend too. Before you all start wondering what I am talking about, it is about the new iPhone / iPad game, Mr. Jump released on Thursday, last week. Latest Apple Inc news is that the game is developed by 1Button (based in France) within a few days' time has grabbed 5 million downloads. It is in-app purchase and revenue based on ads is creating the daily five-figure revenue.
A platform title which is associated with one-button performance. All that user is expected to do is tap on the screen where it is appropriate. The longer you tap, the higher the higher the jump by Mr. Jump. The goal is to avoid the spikes by jumping to proportionate height. However, to get rid of the ads that appear from nowhere, you can pay $1.99. Just in case you have loved the game way too much, you can pay $0.99 further to unlock the other level (truly an earning technique) or to just getting rid of navigating through the previous levels in order to get into the other one. The current number of levels in this game are 12 as per the Apple news.
The basic aim of the game was the developers wanted to earn but keeping balance between earning good and letting the users think they are paying in order to win. It is legit that the "key" IAP is providing a shortcut but isn't needed to get ahead in the game.
Co-creator of the game, Jérémie Francone said:
"As gamers ourselves, we are not really into these pay-to-win models (checkpoints, continues…). They kind of ruin the experience. In Mr Jump, you have to complete a level to go to the next one. But if you are really stuck, you can buy a key to unlock the next level."
As far as the gameplay is concerned, it is challenging, that too without being annoying and also rewards the pattern memorization. In a month or so, we will be able to hear a lot about this game, probably as much as we have heard about Angry Birds in the past, good time-killing game but also an innovative one. It can be said that there millions of more downloads that await this game after the buzz is strong and creating more people jump all around!