What is the difference between a mutual fund and ETF. I use a chart with clients that I believe is faster and easier than typing it out.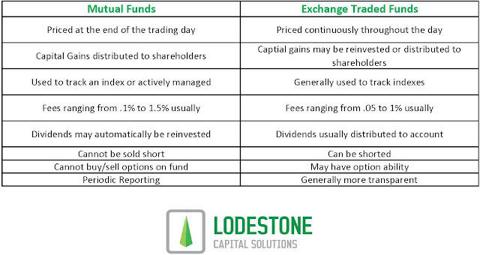 So one of the major difference is that with ETFs, you can trade them throughout the day. Mutual funds reprice at the close and trade at that price. So while it is slightly less liquid, it generally is not a huge issue unless you need the money that day and cannot wait 24 hours.
ETFs generally also have slightly lower fees, but low expense mutual funds are very competitive as well and can offer roughly the same expense ratios if you look hard enough.
We are believers in active management. So we have a list of good managers/mutual funds we keep an eye on. But for an indexer, ETFs may be a good supplement/alternative to purely mutual funds.