A point worth noting that AdEchanger reports today, is that "comScore (in a category known as 'Top DSP/SSP/Ad Exchange Entities.'-as it did last month (PDF) advises that there will be more 'entities' in this category in the future. Sounds mysterious."
comScore's advise is: Among DSPs, SSPs & Ad Exchanges (which will include several additional entities in the coming months), Rubicon Project REVV Platform reached 88.3 percent of Americans online.
In terms of reach in another category the "Top 20 Ad Networks/Buy Side Networks", Google (besides ranking it's #1 in Search Engines @ 82.4%) is said to have a reach of 93.0% in the USA.
To me there's nothing 'mysterious' about exactly where the Looksmart (Search and Display) Marketplace's 'reach' will rank - for both American and Global users online-and that it'll come in at around 99.9%! (With just 0.1% only, being allowed for non-search engine users!)
Which brings me to a long held belief that a complete "News embargo" has been placed on Looksmart and that this has been the 'case' for quite a number of years now.
A display of stoic silence from Looksmart's Jean-Yves Dexmier.
There are way too many reasons (that I can list) that would support my view. - The latest being the recently announced replacement of the CEO with Scott Kauffman as Looksmart's chairman, with him taking over the responsibilities of this position - from a seeming 'under constant siege' French born CEO, in Jean-Yves Dexmier.
Is there anyone reading this instapost that doesn't feel it's 'strange' that there's been no 'fanfare' whatsoever of this appointment? - That no real announcement of any worth, was made by the company to the market? What I mean is, that Scott Kauffman does have an excellent profile.
And with how the company have described themselves in recent times, Looksmart cannot make it any clearer.
And the company has said it all again in today's filing.
I just love the Friday Joke put out by AdExchanger. And this one (in view of yet another 'under pressure' or, besieged CEO) is no exception.
And it has none other than Mark Zuckerberg being quizzed about Facebook investor's ROI and a need to get a 'move on', no doubt!
And since the 'comic' (on 17th August), Facebook have been kind of busy with advertising announcements - tiny.cc/7smjjw
YET....
......A question I've been mulling around in my mind (and relating to who controls the actual timing of the 'roll-out' of - the pending intersection of search and display), is .... just who is the Roi des Rois?
*****************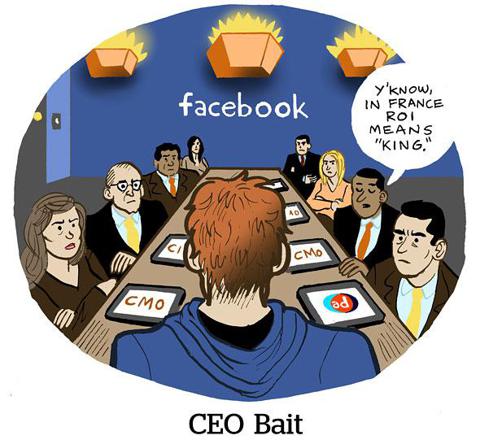 *****************
Oh, and about those dodgy "News embargo" arrangements? And the kind of favourable or un-favourable 'spin' that's churned out, daily?- I guess that's a story for another time.
Spin? Google names names in amended 'shills' list
("Google again states that neither it nor its counsel has paid an author, journalist, commentator or blogger to report or comment on any issues in this case," the statement read.)
Always (and, as is today's story) only an opinion.
LC
Disclosure: Long LOOK
.