From my previous Instapost.. Looksmart .. That "tier two inventory" (Global) Marketplace? [Part One]

# ..And the Looksmart declared existing (over) TWO Billion impressions had daily will soon get to "scale up" to manage 10's of billions (of impressions) had in the AdCenter marketplace (and daily) with/when these bigger players start providing their full (publisher) inventory.#

I've used that same opening paragraph once again, for a very good reason. In a previous (enlightening?) InstaPost [Looksmart up in the "cloud" with Cisco's new, exciting Unified Computing System?] linked below, we have already been told (by Looksmart - see my comment I have made, pinned to this same Instapost), that:
 
The .. <......Connecting [of] multiple installations of the AdCenter for Publishers together [then] allows LookSmart to create an open marketplace environment that [then] empowers publishers to share, leverage, and exchange their advertisers for expanded distribution.>

seekingalpha.com/instablog/36191-looking...

Not bad, at all . This is done (I feel) by simply "private-labeling" the Looksmart AdCenter platform, thereby allowing such licensees to then bring on board many other smaller Ad networks, publishers, etc, from all over the web.

Within that above linked post I had strongly suggested (and have clearly shown why, I feel), that AdJuggler is (it would appear to be?), one such licensee..... In fact, this Co (itself) advise us, that ....

< AdJuggler boasts the most scalable technology platform with nearly 30% of its customer base in Canada, Europe, Asia Pacific and the Middle East.>

Again ...Where is that kind of (global) SCALE coming from?

In my travels just now, I've come across an Ad Network (called, Fidelity Media fidelity-media.com/) that (and according to Linkedin - www.linkedin.com/companies/fidelity-media), has it's Headquarters in the Virgin Islands - British.

Fidelity Media (describe themselves as being a "Brand Safe Remnant Traffic Network") and advise (22.10.2010), that they .... 'have [now] successfully moved to a new adserving solution designed by AdJuggler, [being] a global leader in digital advertisement service & management'.


AdJuggler [they tell us], offers the industry's most accurate and reliable geo-location services as well as IP Intelligence that allows perfect audience segmentation capabilities and targeting based on parameters such as: Country, Region/State, City, DMA&Zip code, Category, Keyword, Cookie, OS/Browser, Domain etc.. Read more
That "
reach
", once again? Yes, it's ...
Country, Region/State, City, DMA&Zip code, Category, Keyword, Cookie, OS/Browser, Domain etc..
And once more ....
Not bad scale
, at all....But, (exactly) what does
Brand Safe Remnant Traffic
mean?
This blog
[
from a Virginia, USA company
PowerHomeBiz.com
- who say they deliver tools, information and inspiration for small business, home business entrepreneurs; work at home moms; and self-employed freelancers to succeed],
that is
linked
below - says a whole lot more about (plus, their fully dispelling
the myth
of), the  '
specialised remnant traffic/networks
' and in particular the blog strongly mentions,
Fidelity Media
.
www.powerhomebiz.com/News/102010/remnant...
Do note mention of the E Mail from
Adotas
(from within my above linked InstaPost) an E Mail that had
contained a Looksmart banner Ad
- This was an Ad that was being served by
AdJuggler Ads
(and on rotation), that included..bla, bla .... It's all very interesting, and even moreso when it's combined with the other information on
iContact
www.icontact.com
/ - info that includes
iContact
having a well known (& long time) Looksmart partner as a customer, in
7Search.
....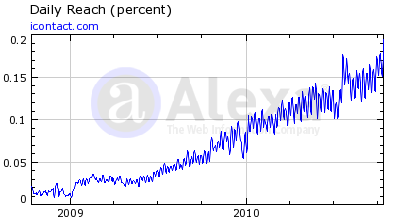 www.alexa.com/siteinfo/icontact.com
#
I can only imagine (that apart from the payment of
a license FEE
to Looksmart), that any/all revenues relating to the above traffic may well be going back to
Microsoft
or,
ASK
, to help repay them for help given
re; Looksmart's
(global)
scaled
AdCenter
, in the construction period? (Just a thought.)
Yes .."
Oh what a tangled web we weave, When first we practice to deceive
". Sir Walter Scott
LC
Disclosure:
Long
LOOK
and happy to be so, too...