In this instapost on Apr 22, 2011 (just one week after a 1st mention of the name of the DSP Brandscreen here on my instablog), it was noted that on Brandscreen's website we are [or, were once] told:
"Brandscreen is a platform technology provider, not an ad network and that most Brandscreen platform solutions are white-labelled."
www.brandscreen.com/Analyze.aspx [Note; Now defaults to website.]
Brandscreen - had raised $2.5 million in 2010 in its Series A round.
And as far back as in another post here on SA (on Sep 14, 2010), I was getting pretty excited about what I termed as being a Traffic EXPLOSION
to the home of Looksmart's AdCenter global marketplace. I'd also made mention of an AdCenter partner (in "Affinity"),within this same post.
Within a linked reply to a former shareholder (texas16qld- ultimately, will he sue Looksmart- I am wondering?) with his new partners enquiry- I had even suggested (the possibility of) some new partner 'networks', as being the likely case! [To be precise.]
Note Affinity is still being shown (by Looksmart), as being a Looksmart Network Partner. - www.looksmart.com/scale-the-looksmart-network
*******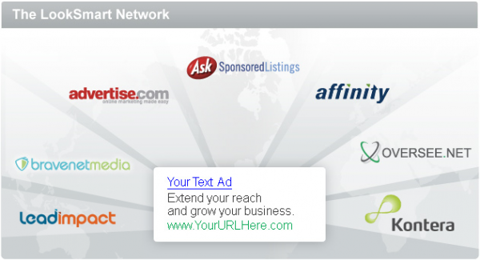 *******
From within The Australian's recent Article Julian Tol (who is the CEO of Brandscreen), has said:
"Millions of people and companies already buy ads manually on Facebook but in a couple of weeks we'll be launching an automated trading system in Australia which will connect brands with a scalable audience," Mr Tol said.
..........The addition of Facebook in the real-time bidding market would represent the single biggest growth step the industry had seen, he said. "Usually inventory - or sites - come on one at a time but Facebook will have a larger impact since it represents around 20 per cent of page views globally," Mr Tol said.
In this (yet another) instapost (Looksmart has a Strong Affinity for ad:tech New Delhi) I had also noted that Affinity were listed as being a sponsor of ad:tech in India.
And the advice that: "Affinity enables over 75,000 advertisers from across the globe to - drive traffic, garner leads, generate sales, and achieve conversions on a PPC/CPA basis. - - - Affinity's ad platform enables brands in India to contextually connect with over 35 Million Indian internet users each month."
This Affinity post also shows a 'tweet' (on Twitter) from Brandscreen's CEO Julian Tol, who had advised all on Twitter that he was:
"On my way to #Singapore and #adtech Delhi. - Get ready India - here comes your DSP" - http://bit.ly/dHB4P2
The question is-Was he bringing Affinity to India or, the "Brandscreen platform solutions [that] are white-labelled."?
In a comment I made to the Traffic EXPLOSION post I hadn't quite said as much as Snowy August's own accusations (in claiming the Co's dubious corporate governance practices, shady public disclosures, etc), when I'd written:
[Technology is marvelous but (at all times), IS or, can be controlled. And it's all pretty clear (to me) that it's still too early for any major "trumpet-blowing" (with Looksmart) and that this is still being kept for a time, in the not too distant future.]
Mind you, I've had plenty to say over the past number of years.
More on (Julian Tol/Affinity/Brandscreen and) Looksmart's Secrecy.
Always, only an opinion.
LC
Disclosure: Long LOOK
ps; Venture groups back Facebook partner | The Australian
theaustralian.com.au/...facebook.../story-fnay3vxj-1226487428...
6 days ago --- The addition of Facebook in the real-time bidding market would represent the single biggest growth step the industry had seen, he said.