Jimmy WULULU-Gupapuyngu people Australia [1934] 1936-2005

Images for Jimmy Wululu
After the Second World War (1939-and ended in 1945) and before his Djapi (first initiation) Jimmy Wululu and some friends walked over 600 kilometers west across Arnhem Land to Darwin - - - a journey that was undertaken by many of their generation-and one of the key events of his life.
In Darwin Wululu lived and worked with white Australia by day and was involved in complex traditional ceremonial life at night.
....In the late 1950's, back in Milingimbi, Wululu began work in the building industry, including work in an innovative scheme using ant-beds to make mud-brick houses.
Wululu's paintings are said to be in the classic Arnhem Land tradition, with its use of ochres and sheets of bark, and intricate cross-hatching over the image. Wululu's experience in the building trade, however, led to his practice, rare in Aboriginal artists, of making preliminary drawings, drafting his images in pencil.
It is my strongest belief that this center-piece of an old bark art (that's shown below), is likely to be part of Jimmy Wululu's boy-hood story. Of his own recollection (at such an early time in his life), in his becoming a man. - Possibly even his story, up until his own "Djapi" ceremony.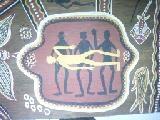 [The Namal (stingray) would represent the importance of the cultural connection between it and the shark.]
************************************************
...........In 1982, a North East Arnhem Lander from Naymil/Datiway clan group living at Bagot [Darwin], said that a Gunabibi ceremony site behind Bagot was used during the 1950s & although no longer active is still out of bounds to all women and children (AS.81/147, in Cooper 1985).http://www.bagot.org.au/node/5
Gunabibi - (Ceremony - an account - tiny.cc/3d8hnw)
"On arrival at Ngukurr in early May I was informed that a Gunabibi ceremony would be commencing in the near future. The Gunabibi is one of two major ceremonies regularly performed at Ngukurr.-The other is the Yabudurruwa.
The ceremony was well underway when I returned with Dr. Cook in mid June.
.....I have attended Gunabibi ceremonies previously both at Ngukurr and at Numbulwar and was made welcome at the present ceremony.
A few days later Dr. Cook was invited to attend. Ms. O'Donnell and Ms. Senior were both invited to the women's section of the ceremony shortly after arriving at Ngukurr. The Gunabibi at Ngukurr concluded on 10th July.
While it is not appropriate to discuss the ceremony here there a number of matters that can be mentioned.
The organisation and conduct of these ceremonies entails the utilisation of considerable material & personnel resources over a substantial period. This particular ceremony was undertaken over a 2 month period.
...There is a high level of community involvement of both men & women. At periods of peak activity about 200 people were active participants."
http://www.uow.edu.au/arts/sealcp/reports/repor1t.pdf
****************************************************
The Australian aboriginal shamans - "clever men" or "men of high degree" -- described "celestial ascents" to meet with the "sky gods" such as Baiame, Biral, Goin and Bundjil.
...........Many of the accounts of ritualistic initiation bare striking parallels to modern day UFO contactee and abduction lore.
The aboriginal shamanic "experience of death and rising again" in the initiation of tribal "men of high degree" finds some fascinating parallels with modern day UFO abduction lore.
The "chosen one" (either voluntarily or spontaneously) is set upon by "spirits", ritualistically "killed", and then experiences a wondrous journey (generally an aerial ascent to a strange realm) to met the "sky god." He is restored to life - a new life as the tribal shaman.
Ritual death and resurrection, abduction by powerful beings, ritual removal or rearrangement of body parts, symbolic disembowelment, implanting of artifacts, aerial ascents and journeys into strange realms, alien tutelage & enlightenment, personal empowerment, & transformation - these and many more other phenomena are recurring elements of the extraordinary shamanic tradition. - tiny.cc/06ngnw ;
**************
Lorrkon ceremony - tiny.cc/tu8hnw
< Western Arnhem Land's version of the Lorrkon ceremony involves the singing of sacred songs to the accompaniment of karlikarli, a pair of sacred boomerangs used as rhythm instruments.
During the final evening of the ceremony, dancers decorate themselves with kapok down or today cotton wool and conduct much of the final segments of the ceremony in the secrecy of a restricted men's camp.
The complete ceremony may stretch over a period of two weeks but on the last night the bones of the deceased which have been kept in a bark container or today wrapped in cloth and kept in a suitcase are taken out then painted with red ochre and placed inside the hollow log.
This ceremony may take place many years after the person has died.
........At first light on the final morning of the Lorrkon ceremony, the men appear coming out of their secret bush camp carrying the pole towards the women's camp. The two groups call to each other using distinct ceremonial calls.
The women have prepared a hole for the pole to be placed into and when it is stood upright, women in particular kinship relationships to the deceased dance around the pole in a jumping/shuffling motion. The Lorrkon is then often covered with a tarpaulin and left to slowly decay>
**************
[Those] Pencil outlines on Jimmy Wululu Paintings
.<.....Wululu's experience in the building trade, however, led to his practice, rare in Aboriginal artists, of his making preliminary drawings, drafting his images in pencil. >
From the Australian National Art Gallery - Canberra
(www.googleartproject.com/)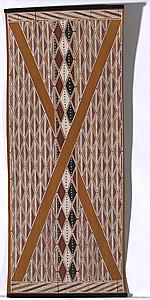 Niwuda, Yirritja native honey
[Niwuda, Yirritja honey] 1986
artsearch.nga.gov.au/Detail.cfm?IRN=68894
Jimmy Wululu - Niwuda, Yirritja native honey
Niwuda, Yirritja native honey - Google Art Project
Important to Note: [From Google Art]
This above link, with the painting - as indexed in the Australian National Art Gallery can be finely inspected (bottom Rt hand corner), and a viewer can enlarge all portions of this piece. Check the fine pencil lines under the white ochre and the pencil markings inside white dot work. It's important to do so.
www.googleartproject.com/collection/nati.../
And (possibly?) Jimmy Wululu's 1st painted Story on bark?
When enlarging this pic (to max), be sure to check for the very same fine pencil lines in white ochre & the pencil markings inside dot work-as are there within the main Jimmy Wululu painting. [Niwuda, Yirritja honey]
static.seekingalpha.com/uploads/2011/5/2...
They are exactly, the same.
*********
Notes:
Aboriginal Initiation Ceremonies from Northern Australia - OzOutback
#.......................Another type of initiation ceremony that is more typical of Arnhem Land is called "Djapi" in which initiates' faces and torso are painted with clan designs.......
....Men and women perform various totemic dances, accompanied by chanting, didjeridu & clapsticks and the boys are guided through various performances. ........ On the last day of the ceremony the boys are circumcised, right in the general camp but shielded from view with a cloth partition.#
*********
Jimmy Wululu - David Malangi
*********************************
Malangi, still a young man, was not painting on bark for the public at this time and hence doesn't appear in their collections or records. In a 1957 census conducted by the Social Welfare Division of the Northern Territory he enters the records for the first time since his birth.11
...Though spending time in Darwin on and off, it was in Milingimbi in the late 1950s that David met and married Elsie Ganbada (the first of his four wives), who'd also spent time in Darwin with her parents at Bagot Reserve.
Milingimbi mission records have both Malangi and Ganbada receiving 'cake and rations' on Christmas day 1959 and an undescribed 'gift' at the 1961 Christmas celebrations.12
They lived near the present day Milingimbi church building behind the beach. ...At that time a milking paddock was there and Malangi worked in the dairy and gardens with fellow artist Jimmy Wululu under the supervision of a Fijian missionary.
nga.gov.au/Exhibition/MALANGI/Default.cf...
Story on Painting AND PICS ...Can enlarge....
seekingalpha.com/instablog/36191-looking...
Incredible Rock Art - www.googleartproject.com/collection/aust.../
*******************
[Tim] Klingender warns that the best paintings, those created during the first collisions between remote Aboriginal artists and city folk, known as first-contact art, will never be seen again - - there are now so few indigenous communities untouched by outside influences.
....He (Klingender) admits there is only a small percentage of truly exceptional Aboriginal art available but "at its best, it holds its own across the world". http://www.vogueidea.com/aboriginal-art.html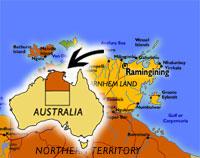 ********************
< I cannot describe Shamanism any better than the way Teresa Moorey does here:
"Shamanism is the most ancient spiritual practice of all. It entails no dogma, and very few rules, for shamanism is about doing, experiencing and knowing. It is a path of the heart - the heart that opens and enfolds all of the natural world. It is a way of beauty and balance." >
The site then goes on to tell us, that......
< The late Australian anthropologist A.P. Elkin says this about the Australian Aboriginal shamans:
"Aboriginal Medicine Men, so far from being rogues, charlatans or ignoramuses, are men of HIGH degree; that is, men who have taken a degree in the secret life beyond that taken by most adult males - a step which implies discipline, mental training, courage and perseverance... They are men of respected, and often outstanding personality.... They are of immense social significance, the psychological health of the group largely depending on faith in their powers... The various psychic powers attributed to them must not be too readily dismissed as mere primitive magic and 'make-believe', for many of them have specialized in the working of the human mind, and in the influence of mind on body and of mind on mind."
From 'Aboriginal Men Of High Degree': A.P. Elkin (1945: pp78-79)>
******************************
I find it all so interesting.
LC