It was Jim Spanfeller - CEO, Spanfeller Media Group who had recently posed the question to the industry (@ AdExchanger), in his wanting to say to everyone .. "Can't we all just get along"?
[He went on]
"Does one thing have to be bad for another to be good? Aside from sounding silly, all we really do with these hyperbolic arguments is cause more confusion and thus push the time when digital will be the top dog in ad spending further away."
If you build it, Brands will come?
It seems that there are some (in the industry) who've been suggesting that the banner is dead! Yet in the past hour I've read that (in working with programmatic buying) a huge brand marketer in Kellogg (see link, for article), have said, that .."depending on the brand, the digital media ROIs have increased as much as six times"
CONSOLIDATION
..A few days back I read of UpStream's Doug Weaver (see link) saying that the ad tech marketplace must and should consolidate into the hands of very few companies!
Then Eric Picard (CEO of Rare Crowds) comes out and declares:
...."I've repeatedly said over the years that at the end of the natural process this industry is going through, we'll end up with two to three major platforms (possibly four) driving the entire ecosystem, with a healthy ecosystem of other companies sitting on top of them.
Story: http://bit.ly/RnXa37
And it is AdExchanger's great comic today that suggests to me that the 'big boys' may have just about decided, that 'time waits for no one'.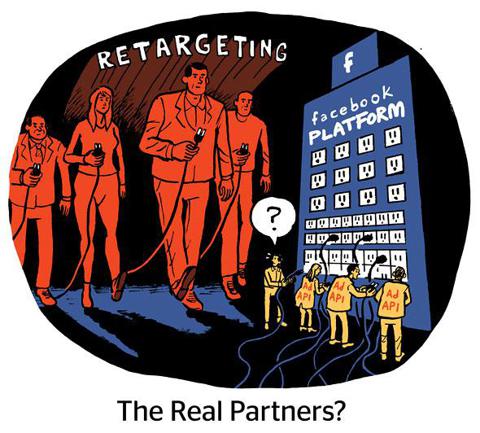 AdExchanger: www.adexchanger.com/comic-strip/comic-th.../
AppNexus (who'll represent Microsoft admirably) have beat their drum loud and clear (in recent days) and they claim exposure to 7 billion daily impressions on the (above) FBX.
Well placed re-targeting supremo Criteo - and an $800 Million Valuation (with its many partnerships and a reported 700 employees) are holed-up in a Paris Taj Mahal appear just a little 'all dressed up with no-where to go'. An 'intro' to a couple more 'key' larger players, wouldn't go astray.
John Battelle's Federated Media (story), with a network of 145,000 sites and who reach nearly 180.1 million unique visitors a month; and are the 6th largest U.S. ad network -- has committed to programmatic for the road ahead.
I've stated my own 'wish list' for consolidations, that could help 'simplify' the buying of 'user intent' (in real time), and from what becomes a ONE platform - and across a ONE (independent) marketplace.
Facebook? May well be repeating Jim Spanfeller's words up there in the 1st paragraph? [And, that it's].... All in together this fine weather?
An opinion as always.
LC
ps; 'Programmatic' is not just RTB | Econsultancy
Disclosure: Long LOOK
.