It was Looksmart's current CEO who once said, "The Devil is in the detail".
In LookSmart's Q3 2012 Report (released yesterday after market close and unannounced) Dr. Jean-Yves Dexmier, Looksmart's Chief Executive Officer, could only say that:
......."We are discontent with our performance and results in the third quarter........ The Special Committee of the LookSmart Ltd. Board of Directors continues to seek & evaluate indications of interest & other strategic alternatives."
It appears there will be no CC to be had on the report (conference call) and certainly no guidance whatsoever on how this current Q4 period is going -- at what is now almost the 'half-way' point of an all important period. LOOK has long stopped giving any indications, as such.
My mind goes back to a Q&A period following the Q4 2009 Report when Brian Horey (from Aurelian Management) was told by LOOK's CEO that, "as you know, the Co doesn't give guidance". (So it's now a case of being, no questions asked whatsoever - no answers will be given?)
And 'punters' are not happy, over @ Yahoo. tiny.cc/ga7qnw
What is there to be happy about? - That the CEO could well have (or, should have), advised the market?
Revenues were reported as being UP (Q/Q) by some $300,000. And my own expectancy was met. When I recently wrote:
< ....I'm seeing an improvement in revenues Q/Q (since announcing the return of Display Capabilities to the fold - July 17th) and I've based that on the remarkable lift in (inward) Traffic to the AdCenter marketplace, that I've 'charted' from that date.>
I mean ....The total number of paid clicks [as were reported] for the third quarter of 2012 were 55 million - UP by 3 million from 52 million for the second quarter of 2012.
It's important to note also that for this Q3 period (Q/Q), the 'debtor's ledger' is UP by some $522,000!
| | | |
| --- | --- | --- |
| Trade accounts receivable, net - | $2,018 | - - - June 1,496 |
How much of that (over $2M) figure, was 'earned' in the Q3 period?
If 'traffic' growth has any bearing on revenues (of course it does - as is proven to be the case with the back half traffic had, Q3), then how good (the number of paid clicks), is this Q4 period looking to you (the reader), I wonder?
www.alexa.com/siteinfo/looksmart.com#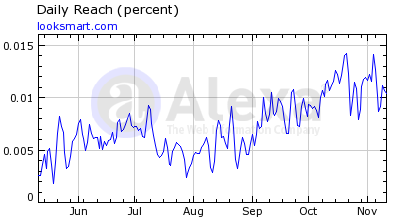 When considering that Looksmart now reports it's "Comprehensive income" as revenues (tiny.cc/ae4rmw), it's fair to say that the Trade accounts receivable, net figure (being, $2,018) is possibly free of any TAC due to be paid on a +60% or, $3230 in total sales/paid clicks had (it's a net figure, we are told), and may well go straight onto the $17.6 million in cash that LOOK has declared?
Yes. The Trade accounts payable figure has also risen. Does it include a 60% TAC figure? (On the $2,018 of accounts receivable?)- The increase may well be as a result of the company 'dragging over' the $0.6M that the PEEK Tender Offer has cost, in the Q3 period.
(Trade accounts payable $1,909 June 1,368)
Other 'positives' include:
The average Advertising Network RPC for the third quarter of 2012 was reported as being $0.066 UP from $0.063 in the second quarter.
[55 million x's $0.066 ='s $3,630,000 - Looksmart's report advises Revenues from the Company's Advertiser Networks were $3.7 million. Revenues from the Company's Publisher Solutions were $0.2 million in the third quarter of 2012,]
Traffic acquisition costs (NYSE:TAC) for LookSmart's Ad Networks were 60% in the third quarter, DOWN from 61% in the second quarter of 2012.
As for ...."We are discontent with our performance and results in the third quarter."?? C'mon Jean-Yves, you can do a lot better than that for the over $600,000 p/a you pay your-self, surely?
What of that new ad-server? How many shares have been bought with the $1M that was allotted to do so?
Always, only an opinion.
LOOK: $0.8301-0.03 (-3.48%) Nov 13 3:58 PMEST
LC
Disclosure: Long LOOK
.