Looksmart's (acting - was he ever appointed?) CEO Dr. Jean-Yves Dexmier held no CC (conference call) and had very little to say when posting (and, unannounced), the Co's Third Quarter 2012 Results.
"We are discontent with our performance & results in the third quarter. ........The Special Committee of the LookSmart Ltd. Board of Directors continues to seek & evaluate indications of interest and other strategic alternatives."
Yet, many may feel that there were a good number of 'positives' that he could have chosen to have pointed out, but he didn't.
Companies attract CEOs who reflect a firm's "personality"?
..."The study also found that the CEOs, besides being optimistic about life in general, were upbeat about the prospects of their businesses and were more willing to take risks than members of a general population."
That story: "Accentuate the positive; eliminate the negative - and you might make a good CEO" - http://bit.ly/ZRkFFv
Honesty?
Is there any in today's world? And I've mentioned this word in other posts: tiny.cc/anxvnw
And Facebook/Twitter? Yahoo Finance? HMmm? ......... from the comments to this excellent article [How did Mark Cuban get caught?]
"I guess I'm confused - as a user, why would I *not* expect to see everything that is posted by the people/organizations/companies to which I subscribe?"
The clear problem is that you don't - and you can't ever be sure.
It was within my own instapost "The Fox Guarding the Hen House" (on Jan 29, 2010) in which I had opined that the IAB and it's membership is one where any semblance of logic and fair play is totally non existent, in their comfortable little 'corners of the world'. tiny.cc/ejxvnw
Bit of a whine today, Folkz.
LOOK: $0.84

0.02 (2.44%) 3:49PM EST
LC
ps; I've often talked about how I feel that Looksmart are now reporting its comprehensive income as it's revenues.- The reason why revenue totals have dropped when compared to last year's figures.
Where Looksmart (again, I feel) get to receive ~20% of an advertiser's winning bid total, per billable impression found and served. The 80% is passed on to the publisher/s representation for any payments to then be made. Of this 20% figure, Looksmart then pay TAC (60% in Q3), onto the search provider of the intent data - used to 'snare' the paid click.
Looksmart reported an Average Advertising Network RPC for the third quarter of 2012 of $0.066 [so, 55 million x's $0.066 ='s $3,630,000] and from this figure, TAC is then paid.
In a RTB 'intent based' marketplace, search data that anonymously finds an 'in market' user (across the publisher base of the marketplace), will in time, come from many and varied sources, is my feeling. An example may be Inuvo Inc (INUV) who have shown early results with it's BargainMatch Platform & Vertro's ALOT tool bar. The following comment on the INUVO Yahoo Finance board, caught my eye.
"Don't forget to add the apps for Amazon and Groupon to your Appbar. We make 4 - 8% off each sale when it starts through the Appbar - click the Amazon App or Groupon App, and it will show a search box of its own that you enter the product you are looking for. When you use that, Inuvo gets paid!"
"Dont forget the Amazon App and the Groupon App for your Appbar. Wonder if they will make a Living Social App.... The Bargain Match site says we get paid 4% on Living Social deals too."
The 8% (I'm guessing) would apply when an ALOT user generates a paid click (directly) on either Amazon and or, Groupon. And that this is paid direct. The 4% may then apply if a user is ultimately targeted and found in the broader (Looksmart) marketplace?
Traffic (As per Alexa) - To Looksmart's AdCenter marketplace.
It's hard not to be impressed with the 'spike' in traffic in recent days, as shown. It's up from 0.0047%, since the return of Display Capabilities to the fold - on July 17th. - www.alexa.com/siteinfo/looksmart.com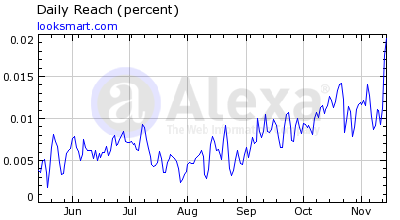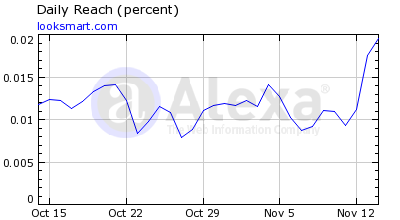 Estimated percentage of global internet users who visit looksmart.com:
 
Reach %
Change
7 day
0.0047%
-10%
1 month
0.0057%
+0.9%
3 month
0.00521%
+11%
Estimated percentage of global internet users who visit looksmart.com:
 
Reach %
Change
7 day
0.0127%
+9%
1 month
0.0117%
+26%
3 month
0.0092%
+64%
Disclosure: Long LOOK