The news is out today. - As is contained in a Form 8-K signed off by William O'Kelly - Looksmart's Senior Vice President Operations and Chief Financial officer.
Looksmart's CEO To Step Down
......"Due to his deteriorating health condition, on January 7, 2013 Dr. Jean-Yves Dexmier informed the Company's Board of Directors (the "Board") of his desire to step down from his position of Chief Executive Officer as soon as practically possible. No timing has been determined for such transition."
CEO of Looksmart? No doubt (at all), that it's been a hard gig. In my most recent comment made on my instapost - A Few Questions For Looksmart's CEO Jean-Yves Dexmier [View instapost] I'd made the following point to Ben Plomion-VP Marketing & Partnerships @chango
In the interest of transparency for both buyers and sellers (& way, less "BS"), it is now about time for ALL to 'show and tell', surely?
From today's Filing (it appears?), we still have a long way to go.
More (From the filing - with my own interpretation. In no particular order)
"LookSmart, Ltd. (the "Company") is submitting the information in this Item 2.02 to disclose certain financial information with respect to the Company's current daily revenue and daily gross margin, as well as December 2012 revenue & cash position at December 31, 2012:
1) The Company's daily revenue has decreased from $36,000 as of June 2012 to $32,000 as of January 2013." (This appears to be a daily average through January that would include zero revenues for the 1st 6 days of January - from the "intermediary" business.)
(Revenues for Q2 of 2012 were $3.6 million)
"Daily gross margin has decreased from $14,000 as of June 2012 to $9,000 as of January 2013- Daily revenue & margin unrelated to the intermediary business is $6,000 & $3,000 respectively." (Gross margin decreased to 34% in the second quarter of 2012 from 48% in the second quarter of 2011, and 45% in the first quarter of 2012.)
Looksmart (it would appear from the above), have now 'shut down' it's own ad network or, the (so called), "intermediary business".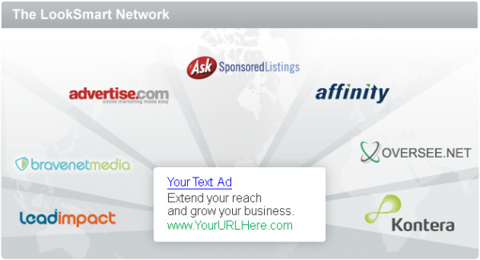 HMMmm? "[The] daily revenue & margin unrelated to the intermediary business is $6,000 and $3,000 respectively"? (This revenue and gross margin of 50%-with an assumed TAC of 50%?, would appear to relate to the marketplace or, Distribution Network revenues & margin/TAC? And are possibly as of Jan. 2013? For the 1st 6,7 or, 8 days?)
This appears to be (Comprehensive Revenue only, and), totally related to the Distribution Network - (Traffic as shown, has been poor for at least 4 of the 1st 6 days? - tiny.cc/rhjsow)
[Comprehensive revenue: tiny.cc/7v33pw]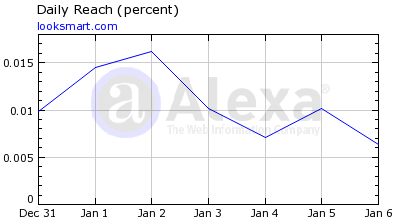 "2) As of December 31, 2012, the Company had approximately $15.85 million in cash, cash equivalents & investments or approximately $0.92 per share or $14.8 million net of working capital, [in] assuming that $2.2 million in accounts receivable has been fully collected."
This can only mean that the accounts receivables for Q4 has once AGAIN risen-on top of my own Q/Q increase estimated $522,000 (out of a total of $2.018M in accounts receivables) coming out of Q3.
[The Board considered the fact that as of Nov. 30, 2012, LookSmart had approximately $16.8 million in cash, or approximately $0.97 per share.- (SC 14D9/A)]
Just how much cash the company will apportion to the PEEK saga, has (once again) been 'telegraphed' and some - by that pronounced drop in the cash level. (Dropping some $985,000 M/M - November/December. And how much is going to paying-off what appears to be a technology debt & redundancy payments to all the no longer required departures, is anyone's guess?)
Worth Noting
[Q4] - "The Company's monthly revenue increased from $1.23 million in June 2012 to approximately $1.36 million, or $44,000 per day, in December 2012." (What were the revenues for October & November?)
[ Q4 Days - 31 October, 30 November, 31 December
Total of 92 days @ $44,000/day ='s Total revenues ~ $4.048 million?]
Actually, it's $4.1 million. (We are told)
....."Monthly run rate of operating expenses is currently about $550,000, which amount does not include the cost of operating the Company's data center, but takes into effect the terminations [You mean, Departures), discussed in paragraph (1) of Item 7.01 hereto.
Revenue for the fourth quarter of 2012 was approximately $4.1 million, compared to $3.9 million in the third quarter of 2012. Past revenue is not an indication of future performance"
(Revenues for the second quarter of 2012 were $3.6 million)
[Q3 days - 31 July, 31 August, 31 September - Total of 93 days @ $39,785/day - And derived from the Company's Advertiser Networks revs of $3.7 million]
It appears that Looksmart's Intermediary Business is now gone and the Co's Distribution Network business is finally now, TOTALLY Independent!
(From today's Filing)
"The Company's intermediary business is comprised of traffic sold to intermediaries who arbitrage the Yahoo! Partner Network. LookSmart directly manages several arbitrager accounts.
Managing those accounts requires real-time management of more than 100 campaigns.
..............Due to recent key departures, the Company expects that it will be unable to continue to provide services to its intermediary customers, and expects that its intermediary business customers may terminate their business relationship with the Company.
Departures of personnel from the Company's distribution network business [the Company's Vice President, Distribution Network Benoit Vatere-who has told all of the Co's involvement with both Google and Yahoo. tiny.cc/fzkjr - along with Vice President, Software Development and Information Technology] have both resigned [and, this] may also render the Company unable to respond in a timely fashion- to requests of traffic suppliers, which may [then] adversity impact the Company's traffic supplier relationships."
How sad it is to lose good ethical people!
LC
ps; With a ..."Monthly run rate of operating expenses of about $550,000, plus the cost of operating the Company's data center, as estimated at $120,000 to $150,000 --- will then leaves the company now having quarterly costs of ~ $2.1 million.
The stated January (?) comprehensive revenue (after TAC) of $3000 (as the comprehensive income) per day is a long way short of quarterly costs of $2.1M -- when considering that it totals up to just $270,000 for a full quarter. (At that quoted rate.)
Yet I still feel there's a bright future for an independent Global OPEN marketplace capable of handling up to 100 Billion transactions per day.
Disclosure: Long LOOK
.