Brands Can Soon Get To Maximize The Role Search Can Play with new styled PLAs or, Product Listing Ad Units.
............"Google Product Listing Ads served on Google Shopping and in search query listings are no longer free - - in the United Kingdom, Germany, France, Japan, Italy, Spain, Netherlands, Brazil, Australia, Switzerland and Czech Republic."
"DataPop's Creative Optimization platform tests what the viewer sees and the merchant's or manufacturer's product data feed.
The technology aligns the product data feeds with keywords searched. When optimized, the platform claims merchants can see between 40% and 50% of their search traffic from PLAs."
ALL, ready and Waiting?
"Aside from DataPop, platform providers and agencies have not taken the step to break out PLAs into a separate business unit, although Covario, Didit, IgnitionOne, Kenshoo, and Marin support the ad unit."
Read more: http://tiny.cc/f9xxsw
DataPop: http://bit.ly/Xvuwhm
.........."DataPop gathers information on products, services, promotions and other relevant data from customer web sites; it then automatically presents ads for those products, etc., when someone searches for something related on Google or Microsoft; the ads appear as if a human wrote them, not just a collection of keywords."
gigaom.com/2012/04/24/datapop-scores-7m-.../
"Offer Driven Search"
DataPop Video (2 mins) tiny.cc/w6wzsw (copy/paste)
If not already partners (Looksmart/DataPop) it would appear that, as Looksmart is dealing with billions of actual pieces of 'search intent' data (all, in real time) daily, they must surely be made for each other?
Is Looksmart's marketplace 'involved' in this, as yet? (Just who is DataPop receiving it's RT- real time keyword search data from? ........And that there's the need for that independent marketplace - for all to ultimately operate friction-free within, should become obvious.)
This may well be the case (at least to some degree) if the recent rise in the 'Estimated percentage of visits to looksmart.com -- that came from a search engine', is any indication. (This is some 'spike'.)
Trailing 7 Days/3 months/6 months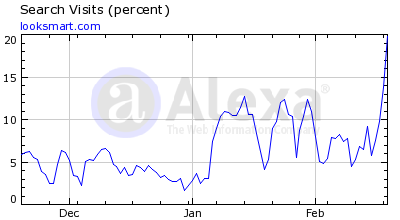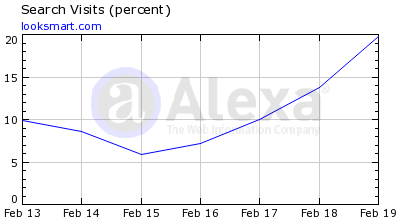 (All) February19th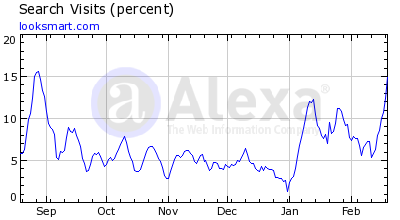 Upstream Sites
Which sites did users visit immediately preceding looksmart.com?
Downstream Sites
Where do visitors go after leaving looksmart.com?
Google PLAs : http://tiny.cc/zlyxsw
The Looksmart RTB Global (intent based) Marketplace
I can only suggest (at this stage) for Looksmart's 'neutral' intent-based global marketplace, that Google (alone) is involved with PLAs (along with a number of minor search engines- in RTB) with both Google and Yahoo having enabled users to get be found in real-time (14.75% & 2,65% on or, across Looksmart's condensed total marketplace), respectively.
Is only, my own unqualified opinion.
LOOK: $0.9105

0.0195(-2.10%) Feb 22, 11:09AM EST
LC
pps; (Facebook have now acquired Atlas.)
FACEBOOK (Looksmart) And That (Microsoft's) Atlas Acquisition
ps; Estimated percentage of visits to looksmart.com that came from a search engine: [February 20th]
 
Search %
Change
7 day
12.0%
+88%
1 month
9.3%
+82%
3 month
5.7%
-3%