Search Engine Guru DannySullivan ('fresh' from his trip 'Down-Under') makes some great observations on Yahoo's (today), Q1-2011 report:

"Display revenue increased 10 percent but overall search revenue was down 19 percent (more, depending on the accounting methods used)"

And .."Yahoo has some bright spots in display but otherwise it seems a company very much stuck in neutral."

Read this great report in the link contained in his 'Tweet', here:

************

Updated Yahoo post again
with my best guess as to how the Microsoft guaranteed revenue payments work
http://selnd.com/fKont5
***********
This is a chart that
Greg Sterling
made from the Yahoo earnings deck: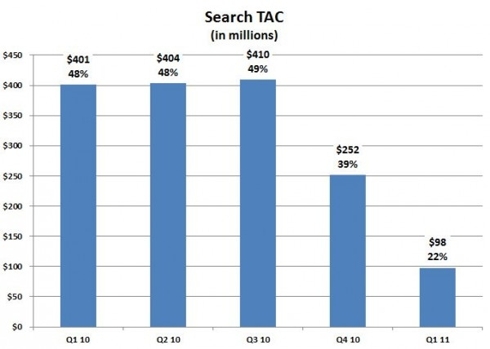 And the comment on that (above) chart, that follows:
"
Something big happened in the last quarter
. - - - Yahoo's search-related TAC massively dropped. What this was isn't clear. I'm checking on it. - It suggests that Yahoo has lost a major distribution partner (or two) that, despite costing a lot, was sending traffic that monetized very well.
"
[Note,
from
Danny Sullivan
Yahoo
: "
Without question, we're net positive on the profitability of search
" one of several
updates
to my story
http://selnd.com/fpbjaj
]
Here's my best "
guess
" on what is happening & who Yahoo have 'lost'.
It's clear to me, that they (
Yahoo
) have temporarily "
lost
"
Google
!!
And (I feel) that it's
ALL
to do with
DATA leakage
and
Google
& that very need for the likes of
Yahoo
,
Microsoft
, et al - - - to have that all important independent
***"co-ordinator". [See note, below]

(Yes, that "interconnector", being one
acting as a 'fire-wall' that will then protect precious Data from Yahoo/Google [vis-a-vis], when they're accessing each other's inventory).
Or, in reality-it's a case of/for '
interoperability
' being needed - to then permit their (individual) advertisers to go ahead & then 'freely' buy - in their & all 'other' exchange marketplace/s. -
tinyurl.com/3ptkbfb
Now Looksmart (through it's CEO
Jean-Yves
& relating once again to the Co's early advice - to
expect poor revenues
for Q1 - 2011), had also told all-those who have listened to it's CC following Q4-2010, that:
< ......."
it will take probably up to the end of the second quarter to restore a click stream comparable to the period - - - - prior to the (the Yahoo!-Bing Search Alliance), integration.
" >
<
..We would also improve our publisher onboarding process in order to accelerate revenue generation from new traffic added to the network
.>
[That's quite a contrast to his previously stated, from my last instapost:
......"We look at Publisher Solutions more as an opportunistic source of revenues. Our core business is the Ad Network."
]  
<
The network initially will be a continuous effort during 2011. - - - - By the end of the year, we are targeting 20% to 25% of our revenues to be generated by traffic, which was not available in our network at the beginning of the year.
> -
tinyurl.com/3wdd4gy
Yes, I suspect that,
they are now 'testing' 'interoperability'
& with a part of
Yahoo's inventory
, I feel. - It was in my posts on Yahoo that I had reported the following:
[
HMMm? - Google Ads !! Ha Ha!
]- [
Re: HMMmm? - Google Ads !! Ha Ha!
]
Yes. --
Ads
that were served to me (by
GOOGLE
) over on "
Y
"
Finance
, is what I have pointed out. - That will soon get to see a return of the 'lost' earnings related to that/the above
Yahoo
(search-related TAC
) '
stack
' (and some), in time to come!
And
what of Looksmart's own revenues?
  :)
Traffic
to Looksmart's AdCenter marketplace (according to Alexa), has now 'halved' - - But it's now traffic that is
clearly only related to CPA
(or,
'CPV
', as Looksmart's CEO puts it!), being of a much higher paying ('
re-targeting
') revenue earner, kind. I mean, you don't just add some
30 new publishers
to your marketplace (as the CEO told all, of) and then see a decline of up to 50% in 'traffic', as has occured.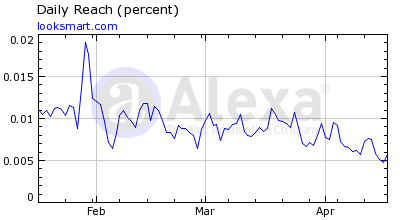 (Trailing 3 months - An approx 50% drop! - But now, all 'quality' traffic)
Percent of global Internet users who visit looksmart.com:
 
Reach
Change
7 day
0.00620
-6%
1 month
0.00770
-10%
3 month
0.00920
-1%
www.alexa.com/siteinfo/looksmart.com
#
In fact, I feel my theory is supported by the following chart (and yes, I do see and am satisfied with a 'relationship' being on, between traffic to both sites (perhaps a following post), where one clearly 'increases' in traffic and the other (Looksmart.com), has shown the decline - that I've talked of, above.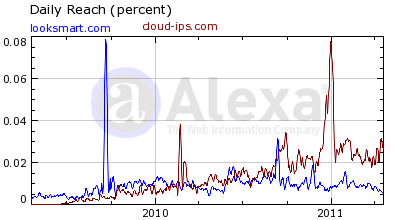 Note the enormous spike in traffic to both Looksmart.com (Sept 2010) and that other site (more recently), that I feel
may well represent the existing
(that's in combining traffic/queries had by all test 'partners'),
Looksmart marketplace's - impression queries
, full
potential
.
This 1 month comparison, then shows the increase in
cloud-isp.com
's traffic to be somewhat paradoxical to that of looksmart.com (since late in March) as can be expected, with more traffic needed to be 'combed' (my terminology), to produce reasonable scale in
CPA
impressions had.
(But again, just
my own
'un-educated'
guess
or, an opinion)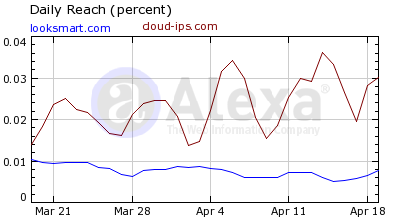 Other
meaningful
'
gobble-de-gook
' told in Looksmart's Q4 - 2010 CC by CEO
Jean-Yves
, is as follows:   
"
As the click stream is restored, we still expect revenue to be impacted by lower RPC paid by Bing, which will proportionally affect LookSmart revenue stream.
  
In order to mitigate the impact of the search alliance on revenue, we are accelerating the productization of our performance based advertising offerings  - - -  that we began testing in the last few weeks of the fourth quarter.
  
We are now proposing the cost per visit or CPV model to our impression customers, who are targeting new visitors to their sites.

We are able to select the right traffic in real time and deliver it at a guaranteed cost per visit recorded on their site rather than a traditional CPC basis.
"
LOOK
: (
Market Makers
'draining' once again)
$1.88
0.01
(-0.53%)


tinyurl.com/4xo3bua
As usual,
all
(including my thoughts below), is just an opinion.
LC
ps; Worth noting that in regards to
'performance based advertising offerings'
(
Microsoft
do have a deal with
Criteo
- & with
Looksmart
being Microsoft's Biaaatch!), bear in mind the above, instapost:
"During Q1 2011,
Criteo
appointed new executive leadership to accelerate the company's geographic, technological and business growth driving impressive revenue results and conversion rates
while serving nearly 70 percent more impressions and simultaneously increasing the click-through rates by double digits
in the U.S.
compared to Q4 2010." 
Read more.
- (READ IT ALL)
pps;
tinyurl.com/3bcok48
Re: Looksmart - Soon to be that (one-fits-all),"Backfill Advertising Network"?
.
ppps; Don't you just 'love' it!! Just a few days later, they 'switch' (no?) that huge amount of traffic (as shown, for
cloud-isp.com
) to another site!!
OMG
!!! 
:)
Alexa now tell us
:
"
We don't have enough data to display the traffic metrics for cloud-isp.com
"
www.alexa.com/siteinfo/cloud-isp.com
#
Now if my "theory" is really correct, the rise in traffic (showing just now) tells me that we are now 're-targeting' across one huge marketplace!!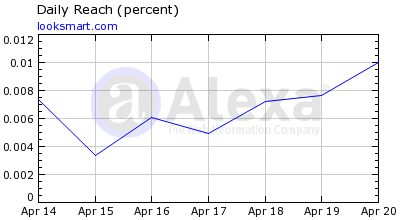 ***********
***
D
anish
R
esearch
U
nit for
I
ndustrial
D
ynamics
(Bottom of page 8 and start of page 9 - "distributed knowledge" is to have some agent-that may be called the "co-ordinator"- PDF below)

It's convincing and (I believe), that it has a lot to do with or, about:


The Druid
project (by
Metamarkets
) that is (I feel), very likely to be 'based' on or, has certainly been
influenced by
- the following:
[PDF]
Authority in the Context of Distributed Knowledge - Druid: Home

- File Format:

PDF/Adobe Acrobat - Quick View

by K Foss

- Related articles

Disclosure
: Long
LOOK
& am (patiently) happy to be so, most times...
.