Looksmart to provide "Triangulation of Data" via Metamarkets perhaps?
Please Note: Blog posts are not selected, edited or screened by Seeking Alpha editors.
Mention has been previously made before - - of who I feel will become the most important (intrical) and such a 'central' player (as part of an exciting future for both Looksmart & a/the fully scaled global,
OPEN marketplace
), being a Co called
Metamarkets
.  
-
tinyurl.com/3s46hks
In my most recent mention of
Metamarkets
[
The Yahoo! Q1 - 2011 Report .."Yahoo has lost a Major Distribution Partner"....
....
tinyurl.com/43tfynv
] I had even suggested  - that this Co's project (called,
The Druid
) is more than likely 'based' on or, has certainly been
influenced by
- the following:
[PDF]
Authority in the Context of Distributed Knowledge - Druid: Home

- - - File Format:

PDF/Adobe Acrobat - Quick View

by K Foss

- Related articles
-
(Bottom of page 8/the start of page 9-"distributed knowledge" is to have some agent - - - that may be called the "co-ordinator".)
["
Agent Looksmart
" has a nice 'ring' about it?]
tinyurl.com/43tfynv
We know this important Company
Metamarkets
[
details
] has been described as
essentially trying to price ads across mobile and web platforms
for media companies
in real-time
.- The company is described as being a supply-side electronic media price discovery and predictive analytics platform. [
Stan
]
Today, the Co's CEO (
David Soloff
) writes an interesting column over at adexchanger.com. -
Read the full story here
»
n
David Soloff
(I feel) virtually makes mention of a same (fundamental) need for (both)
"distributed knowledge"
and a
"co-ordinator"
in his article.
<
No trading desk or electronic broker would outline an execution strategy without the data necessary to provide a solid analytic basis for developing a winning trading strategy.

In this use case, market data provides a solid signal against which to execute: any HFT (High Frequency Trading) shop relies on multiple high-quality, high-frequency, neutrally-aggregated market data sets to feed the models that form the basis for the day's trade execution
.>
Regarding those two fundamental needs that I've mentioned, in (
Use Case the Second; in which the market itself conspires against price discovery
), he goes on to say:
<
The only answer here is lots and lots of corroborating or triangulating data. Data trades inversely to liquidity. In the absence of a transaction flow to dip one's toes into, data sets and valuation frameworks are the only mechanism to discover how to value an asset
. >
<
This need for data presents a major business opportunity. Capitalism abhors a vacuum, and all manner of public and private data sets have been created to help seller and buyer determine a fair trade. In illiquid and opaque markets, capital has been allocated very efficiently to help buyers and sellers of the asset learn how to fairly value that asset
.>
And that:
<
The system of independent information brokers works pretty well, despite some periodic cataclysmic
hiccups
, and especially taking into account the amount of capital and risk flowing through these various systems' pipes
.>
He goes on to say:
<
The best form of information vendor to these illiquid markets are typically contributory data networks: individual parties contribute their transaction set to the common pool, in exchange for access to the aggregated data set, stored and attended to by a consortium-owned data broker. - - - - 
Mike Driscoll
, has coined the acronym V.A.D.A.R. to describe these "value-added data aggregators and redistributors." These are the businesses that turn straw into gold
. >
He points out, that:
<
Nobody conducts business, either buying assets or pricing product, without consulting a data set or information product delivered by these companies. - - - These companies are duty-bound to protect and keep secure the data that has been entrusted to them.- - By the same token, contributors recognize - - that only by allowing their data to be analyzed and statistically combined with other data can value as information be derived
.>
He then concludes:
<
Maybe the introduction of triangulating data will enable buyers to more confidently participate in these opaque and illiquid markets.

Perhaps this business may offer two product lines to suit both use cases: information products to suit low-latency auction markets on the one hand & more opaque & hard-to-value assets such as contract-based inventory on the other.

Perhaps the rule of efficient allocation of capital dictates - - that this happen sooner rather than later?
> [
Triangulation
]
Now I've made many a mention here of Looksmart's Chief Scientist
Dr.
Vincent
Granville
[
tinyurl.com/66thmyp
] and a huge 'role' he and his team has to play.
Metamarketsgroup.com
  is 'hosted' by
Slicehost LLC
  - Server Details
IP address:  67.207.129.21 (Click on that hyper-link below, here)
67.207.129.21/
Details can be found on the (also) previously mentioned
Domain name:


CLOUD-IPS.COM
Registrars.Registrant:
Josh Odom
112 E. Pecan St.


...

Suite #400
San Antonio, TX 78205
US


Josh Odom | LinkedIn
is with Rackspace, who bought out Cloudclick, who he was also with.[
Cloudkick makes it easy to manage and monitor cloud servers across different cloud providers
http://cloudkick.com
]
"Rackspace has been a long-time hosting partner & has demonstrated its talent and expertise year after year, raising the bar in the design and deployment of customer solutions built on Microsoft technologies," said John Zanni, director of Worldwide Hosting at Microsoft Corp.
tinyurl.com/43bq6ae
[19th of May -
Rackspace
sponsor @ Internet week in NY June 6-13th
www.internetweekny.com/sponsors
]
[28th of July -
Rackspace
-
instagr.am/p/Iuktd
/ ]
Metamarket 'investors'
include
AOL
and a very clever 'angel' in
Jerry Neumann
, who even gets a mention on it's
Twitter
page, too!
twitter.com/#!/metamx
/
tinyurl.com/5uhgcm4
seekingalpha.com/user/36191/instablog/se...
During 'test' (I feel) I had pointed out recieving
a Looksmart Ad
from
AOL's AdTechus
, served on
Mail.com
(Also, owned by AOL)
tinyurl.com/3rqxdra
I find it fascinating that
Metamarkets
have their 'office' down @ 300 Brannon St.
San Francisco
, just around the corner from Looksmart, in 2nd Street. The [old Looksmart] building that also had the Metamarket Chief's former Co [in
Rapt
] as a tenant. (Besides
iWin
& 200 myspace engineers, supplied by News Corp!!!)
tinyurl.com/5w6k9zg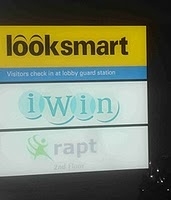 Microsoft
has a 'finger' in everything, no doubt.
< Microsoft plans to incorporate Rapt's tools & consultancy business into its Atlas Publisher Suite. That will allow it to offer publishers an integrated service to manage advertising sales, it said.

Microsoft obtained Atlas as part of its

...

acquisition of aQuantive for US$6 billion last May. It did not say how much it will pay for Rapt.

Rapt already counts a number of online services among its customers, including Microsoft, Expedia, Dow Jones and The New York Times, according to Microsoft.

One Rapt customer Microsoft didn't mention is Yahoo, which has used Rapt's Price Director software in the U.S. since 2004, and worldwide from October 2005, according to Rapt.>



http://www.pcworld.com/bus

inesscenter/article/143449

/microsoft_buys_rapt_for_i

ts_ad_management_tools.htm

l
Now consider Looksmart AdCenter partner
Adknowledge
's BidSystem Ad Marketplace is a performance ad network for advertisers looking to maximize their online performance on a CPC or CPA basis.???

They say: "
Our predictive targeting technology ensures delivery of the right message, to the right consumer, at the right time.

Performing over 20 billion calculations each day, [our- AdK's] targeting technology enables advertisers & publishers to

achieve their objectives in a performance-based marketplace
."
http://www.adknowledge.com

/
I could 'go-on' but won't do so.
Today, some-one must have decided shares in
LOOK
were a 'buy'. The volume after 1.00pm was very high (Day's Range:
$1.83
-
$2.23
) and they pushed it's value up to that high of
$2.23
, before Market Makers then, brought it back down. (Accumulation)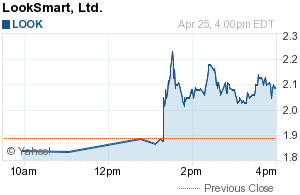 finance.yahoo.com/q?s=look
LOOK
:
4:00PM EDT
:
$2.09
0.20
(+10.58%)

All, just an opinion, as always.
LC
ps; By tomorrow we just may have some news? Who knows?

TechCrunch has tweeted that ... Facebook Deals Is Being Unveiled Tonight With Credits And Partners In Tow .... And that the NYT has put it's post back up here. 

Another embargo bites the dust… (Says TechCrunch)

You can almost 'bet you next week's wages' that OZ site Cudo will be involved, and up to it's chin, at that.
 
Disclosure
: Long
LOOK
and extremely happy to be so, too...
.
Seeking Alpha's Disclosure: Past performance is no guarantee of future results. No recommendation or advice is being given as to whether any investment is suitable for a particular investor. Any views or opinions expressed above may not reflect those of Seeking Alpha as a whole. Seeking Alpha is not a licensed securities dealer, broker or US investment adviser or investment bank. Our analysts are third party authors that include both professional investors and individual investors who may not be licensed or certified by any institute or regulatory body.