Brian Clark (an owner of several blogs on the web - and is a person who admits to some SEO expertise), says in a blog-post:

"Along with 7search looksmart offers a low cost easy to manage platform that anyone can become familiar with.
I'm giving looksmart a 9/10 & one of my highest recommendations."
brianclarkmethod.com/looksmart-review
/
Looksmart
(themselves) were so quick to 'pick up on' such a high marking of it's
Ad Network
, too! - They "
tweeted
" a link for all who follow, to then get to read of this 'independent' review, more easily.
****************
2 hours ago
****************
But just
how
"
accurate
" (and relevent)
is it
really,
Looksmart
?
Bearing in mind that a former CEO had told, that
Looksmart
- were
segmenting into two disparate groups
, said CEO Ted West.
seekingalpha.com/instablog/36191-looking...
The LookSmart Network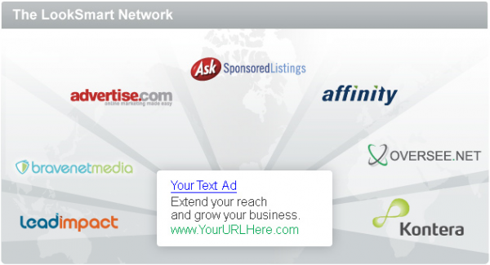 ****************
In
Looksmart's
2010
10-K Annual Report
, Looksmart clearly advise:
.........
"LookSmart operates in a large online search advertising ecosystem
serving ads that target user queries on partner sites.

......We operate in the middle of this ecosystem, acquiring search queries from a variety of sources and matching them with the keywords of our search advertising customers." 
Just 3 months later (in a CC following the Q1 2011 Report), Looksmart had then told the market:
"
We are now proposing the CPA or cost per action and
CPV
(or, cost per visit),
model to our impression customers, who are
[re?-]
targeting new visitors to their sites.

We are able to select the right traffic in real time and deliver it at a guaranteed cost per visit recorded on their site rather than a traditional CPC basis
."
No doubt (I feel),
the
"
switch
" from being a commission management of queries (
about 2B had daily
, we were told) & has been a recorder of paid clicks (that's - the/any CPCs recorded on such queries coming from
across the
[its]
entire marketplace
- when
operating in the middle
  - of that
large online search advertising ecosystem
), just may have had some 'teething' problems.
WHAaaaat?
Some may well say? What marketplace?
The LookSmart Network
has
about 2B queries
(impression queries), daily? (In it's global marketplace? - see
Current Report
)
Looksmart (in the last CC also), told us - for those that had listened:
...."
We expect to complete the launch in the second quarter of 2011 for all those models
".(That's specifically,the expansion of
CPV
and
CPA
[or, a 'cost per action'] - - being the very 'performance based advertising' offerings as discussed here.)
But not all of Looksmart's Ad Network partners (listed above, in '
The Looksmart Network
'), are or, would be suitable for what has become (it would seem?),
a
strictly
performance based marketplace
.
One that
HAD to go
, was
Kontera
. - Yet,
NOTHING
(no advice, at all) about this, has been forth-coming from Looksmart. Why? - - Is not the loss of a partner material to Looksmart's revenues potential?
So again,
Looksmart shareholders have been 'left in the dark'
, about this very matter.
****************
Kontera
and AppNexus Partner to Advance Display Advertising
"
AppNexus is widely used by the industry's leading providers because they have great pathways into the display ecosystems, superior scalability, and best in class functionality
," said Yoav Shaham, CEO,
Kontera
.  "
We are excited to team with them to add their real-time bidding and campaign management capabilities to our display solutions for marquee brands and publishers
."
And
isn't Looksmart's marketplace/platform simply a
"
twin
"
of AppNexus?
See my comments, here:
seekingalpha.com/instablog/36191-looking...
****************
Back to
Brian Clark
(and his
9/10 Rating
for The Looksmart Network) and his only 'down-side comment made, in his recommendation:
"
The bad thing about looksmart is the lack of live support, it helps to know you can start chatting with a support representative if you need to talk with one live
."
If you ask me Brian, the
7search's platform
is simply the same as (being a private label of), Looksmart's AdCenter PPC Platform. - Is my opinion.
And Brian, perhaps
7search
may just be kind (& civil?) enough provide you with that support representative to talk with? - - And to be plainly 'honest' - - in my own opinion with you, I'm not so sure Looksmart will be needing it's ..
The Looksmart
[Ad]
Network
(to get to continually 'hide behind'), for very much longer ....
As usual, only an opinion.
LOOK
:
4:00PM EDT
:
1.51
0.02
(+1.34%)
LC
ps;
Disclosure
: Long
LOOK
& wanting more transparency, from
LOOK
.