Smaller Publishers are NOT happy! - - And is it any wonder why?
They are NOT being told the FULL story, is my reckoning. - - That performance marketing (including the re-targeting of individuals), by advertisers bidding against each other across the web  -- generally should get to see higher averaged revenues coming to them.
Meaning
additional revenues
(that previously went, un-monetised), that can then result from off their many off-shore 'users', who may regularly visit their sites.
And where we should see situations of local marketers 'taking-on' big global brands blindly - - being provided with an opportunity to win the bid and show their product or, service to their targeted user.
The
following
(& a more than reasonable - yet un-signed)
question
was asked in a comment reply to a 'whinge' type article by Tyler Fitch (a Yield Management expert at
Mindjolt
), over at adexchanger today.
"
Which ad servers already have exchanges built in
with the ability to set floors for those 3 main factors that you mentioned in your other article (page, country & frequency)? And which of those exchanges provide you with bid level data for each of those?
"
[Click on] The
Tyler Fitch
reply to this 'loaded' question provided even
more of the kind of '

gobbledygook

'
- that could only confuse SMPs (small to medium sized publishers), even further than they are, I feel.
Tyler Fitch did mention one thing I fully agree with and that's that...


RTB does NOT scale (yet).
- But, it soon will.
As '
the undisputed master of gobbledygook
', I've just posted a number of 'thoughts' over on the Yahoo Finance
LOOK board
that hopefully
may help S&M
size
Publishers
get to understand. (Just a little more).
Certainly about what I believe is a very bright future that lies ahead for them. Provided they get to align themselves to publisher networks '
enabled
' with an
ad server
[that]
already have exchanges built in
with the ability
[for them to then]
set floors
. [And who also - can provide performance marketing at scale across a full
OPEN
RTB marketplace]
A fellow (long time) shareholder of
LOOK
had told me in a reply, that I was too optimistic.
So......
In four typical long-winded posts I set out to tell him, that I felt I had every reason to be optimistic.
Publishers
who do have concerns, may care to read them for a POV that might just shed some more light on this subject, hopefully.
I believe performance based marketing (with the re-targeting of users across a total OPEN marketplace) will generally ensure that higher average payments are made to publishers and will then be providing many of them with much, much healthier revenues.  
(1) Re: Indication Expected, within the August CC
(2) Re: Indication Expected, within the August CC
.
To think that those exciting type expandable banners that I feel
will prove exceptional for 're-targeting'
haven't already been 'tested' on major publisher sites (I've come across them on Yahoo Finance), would be a grave error to do so. [
SEE
comment/link in the ps; below]
A Looksmart AdCenter partner (in '
dBase Media
') already
offers
it's uni-cast [
video
]
ads
[that] they say are very popular today.
This is
basically
a
TV
commercial [they advise] that runs in a browser window. [where]
A user can simply click on the ad to receive more information
. (Like, to then watch a video on their very 'interest'?)
www.dbasemedia.com/portfolio.html
(Just run your mouse over that top banner in the link above, to see it 'expand' and that then, offers you a video option to view). How good is that? Click on the Ad for a chance to win a holiday from their website, too.
And how much will they cost advertisers/marketers when 'blindly' bidding against each other to reach their targeted audiences or, that 're-targetable', individual user/s? (In what is soon to become a highly competitive global marketplace?)
That 're-targetable' user may just be a visitor to
YOUR
site who
comes
to you
from
anywhere
,
across the web
. (Meaning - any publisher's site with visitors who 'drop in' regularly, from all parts of the world).
And as was pointed out in my recent instapost [
tinyurl.com/3rq2dvb
], I had opined that '
re-targeted
'
banner
ad/s
-- would then become (only) a matter for
the advertiser
,
the site
and
the user - who has been previously identified
(& elsewhere), as being
such a critical part
of all marketer's desired or optimum,
re-targetable audience
.
With,
RTB @ scale
- times ahead are (indeed), exciting for publishers.
Just an opinion.
LOOK
:
4:00PM EDT
:
$1.47
0.02
(+1.38%)
LC
ps; The AdExchanger "
comic
" cartoon today, tells the story so well!!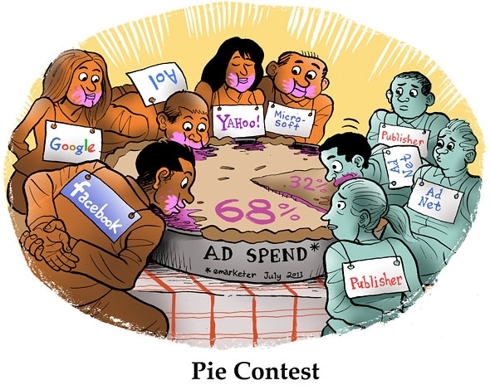 Disclosure
: Long
LOOK
and excited!!
.