It had to come. With the news today, that Facebook's New Zip Code Ad Targeting Could Boost Local Advertising Revenue - can now place both Ads and specific content (articles) in front of audiences - right down to geographical targeted areas, using Zip Codes. (Meaning that advertisers [via Facebook], can now target users right down to their individual Post Codes, here in Australia)

Initially, this new Facebook 'service' will be for the US only.






FACEBOOK Zip Code (Post Code) Audience Targeting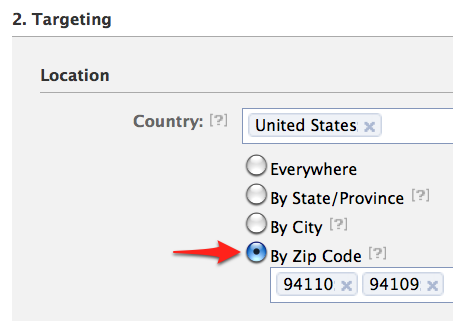 It was back on Jul 28, 2010 8:25 PM when I (myself), had predicted (the following, and) that we would soon have:

*******
A web where segmented audiences (or, individual 'users' on the Net) will now (or, as shown ------- can potentially now?), be segregated (or, segmented) & then be shown ONLY the information or, any particular 'version' (of "spin") of news or, content for (certain) vested interests, being what they would want them to see. I mean (that with today's technology..well...We'll do [almost] ANYTHING for money, no? - And about ethics?) - tinyurl.com/3ojgcze
*******

And the ramifications of all this, in the hands of political beasts? Well, I guess it still remains a 'game' of ...... He who has the most marbles wins? Or, is it a kind of web based gerrymander-like activity?

Indeed for Federal, State and 'Local' politicians as Politico points out, (and, in using the new features), political advertisers can cause their ads & sponsored stories to appear only for users in specified zip codes. (Until now, ads could only be narrowed down by city. They say)

[Aren't people already sick of those same 'advertorial' sponsored stories, being regularly shown on prime -time Current Affair shows?]

Will they pay for this service? (Where the 'highest bid wins?) - and the answer is a little like asking the question, is the Pope a Catholic? If it's legal (like prescription drugs), of course they can avail themselves of this modern (& legal) means, of reaching their desired audiences.

Whats it all mean for Looksmart - "We have signed Facebook"?

tinyurl.com/4yynfty

Well .. [Below advice - Contained here: tinyurl.com/3qaaaa8]

A reminder (again) that Looksmart's CEO Jean-Yves Dexmier (from within the CC following the Q1 2011 Report), had told the market:

"We are now proposing the CPA or cost per action and CPV (or, cost per visit), model to our impression customers, who are [re?-] targeting new visitors to their sites.

We are able to select the right traffic in real time and deliver it at a guaranteed cost per visit recorded on their site rather than a traditional CPC basis."

"We are exclusively targeting direct advertisers and their agencies operating outside of the [Tier One?] search engines."

Yes, EXCLUSIVELY is what Looksmart's CEO advises, above. With my own interpretation of that being or, meaning performance marketing or, the "re-targeting" (CPAs, CPVs) of users, across the (now quickly growing), Looksmart marketplace.

Readers need only take a good look at the existing capability of the Looksmart AdCenter 'targeting' offerings in the Link below:

adcenter.looksmart.com/help/faq#geo_targeting

[What Geo-Targeting options are available?

Geo-Targeting is performed at the campaign level and is available for regions as large as a country or narrow as a postal code. Specifically, there are four geographic types you can use to target your campaigns:
Country
State or Region
City / Designated Marketing Area
Postal Code
Please note that at present Geo-Targeting options below the country level are only available for the United States, Australia, Canada and the United Kingdom.
]
It has been pointed out that "
re-targeting
" users (at scale) can
ONLY
be achieved by marketers (& global political party agency advertisers - and content 'deliverers'), across a
ONE
(single) advertising network or, marketplace. -
Looksmart's technology
can "
re-target
" users right down to the individual (each) impression level!!
seekingalpha.com/user/36191/instablog/se...
ALL
, just an opinion, as always.
LOOK
: (as 'quiet as a church-mouse') -
tinyurl.com/4lxt4m4
LC
ps; 
Political Ads See a Slight Boost in Iowa - Adweek
So far, online ads are practically nonexistent with the exception of Ron Paul, who took out a banner ad on the politics section of the Des Moines Register. "Web advertising will be there later," said Woods. "It's early."
Disclosure
: Long
LOOK
and (only, kind of), happy to be so...
.