Today's AdExchanger.com (the regular Friday) cartoon says it all, is my interpretation.

In fact (it's so clear to see), the brilliant mind behind it has even caught my lone "voice in the crowd", (that for so long now), has been yelling out the praises of "LOOK" (Float) & the special Thanksgiving Day 'gift' (Looksmart is about to bring to the market), of Yielda.  :)

www.adexchanger.com/comic-strip/adexchan.../

In my own words, I posted a (yet to be published reply - to a Peter Kafka article) comment along the lines, that ........ Looksmart will be providing the 'links' as in the cartoon - as shown, going between the DSP, SSP and DMP platforms. (Buildings)
That an exclusive (and fully independent, standard percentage rate - lower costing) 'plumber' will [soon more] easily arrange all the 'interconnecting' required (in fact) - is what I had mentioned.
*************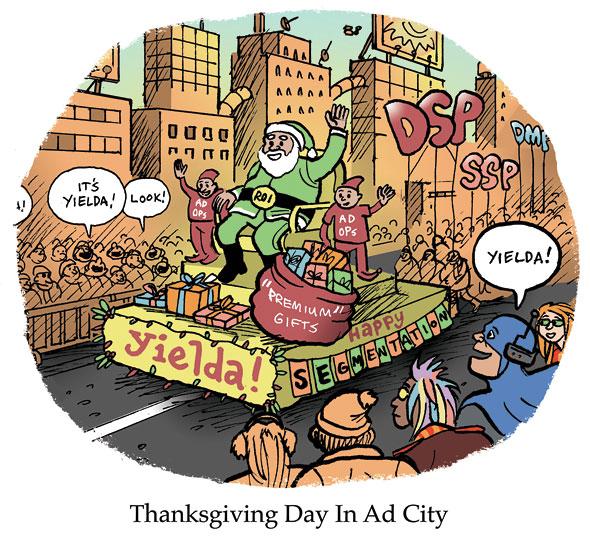 *************
[My] previous instapost Yahoo's Bomb-Shell tiny.cc/wu2zm - tells of an (my) explanation of why Yahoo has now 'pensioned off' DSPs/ad networks, etc having any direct access to it's Class 2 inventory. Just as the Microsoft Ad Exchange for Publishers will itself - soon, do like-wise.
This Comment made to the AdExchanger's Yahoo announcement article (by Matt Barash] says it all, I feel -"The momentum is swinging from the demand side back to the publisher. - - Shrewd move on the part of Yahoo and I would expect other large "players" to follow suit to take steps to improve ad quality, rate integrity and each property's respective user ecosystem."
"Combined with InterClick and the AOL/MS deal" (says Keith Pieper) - whose very own *Pretarget™ boasts intent based targeting methodology [that happens to] use seed keywords to create custom segments for each campaign), "I suspect Yahoo! will see a healthy yield increase". (Was a following comment, made.)

It's now (all) about a much fairer ROI for patient publishers who for way too long have been sitting on, the wrong end of the pineapple.
And the 'plumbing' providing that (same - Pretarget's™ intent based) targeting methodology?
Hey! It was from the 'mouth of Looksmart' that came the word, that Looksmart were..."now receiving about 3 billion queries per day .... that includes explicit search (search traffic - from Google & Yahoo's SE), domains traffic, E Mail, 'in text' as well . - tiny.cc/ct681

It's so sad. We are now in a period of time in society that those people who should be (and are) in a position to listen and think (independently), don't.
Personal ego's are so strong (in most humans these days), that in spite of our being 'leaders in our own 'right' (we all need to be "free", to do so), too many of us sadly, much prefer to be lead by others. [Where 'common sense' or, 'logic' rarely prevails. See such typical comments, here]

Always, only a pensioner (and, a thinking man's) opinion. (I do so much love the subtlety of the AdExchanger cartoonist - Read them all)

LC

ps;*Pretarget™ was founded by Keith Pieper, founder of the industry's first trading desk within Universal McCann (now known as Cadreon) and 15 year veteran of online digital advertising.
Cadreon tinyurl.com/73fxak9

"Everyone knows that search works and keywords are king - we now have data and inventory liquidity to make keyword based display buying (at "scale") a reality"
Pretarget At Keywords For Display Advertising.
Disclosure: Long LOOK