"It's not a bubble, it's a boom. Global display advertising is due to double from $21.8 billion in 2010 to $42.6 billion by 2014, according to figures released today by Publicis Groupe's Zenith Optimedia agency."

And it comes as no surprise to me that there's not a glimse of Looksmart to be found at all (from what I could see?), in an 'updated' layout of the 2011-12 European Display Ecosystem, according to ImproveDigital.

http://www.improvedigital.com/...

www.themediabriefing.com/article/2011-12...

Note that LookSmart offers publishers hosted, white label ad serving technology to command and control their advertising revenue. 

investor.shareholder.com/looksmart/index.cfm

Europe has been a happy 'hunting ground' for Looksmart for a good number of years now. So.....

In looking for likely (white labeled) platform agents/partners it's best not to 'stray' past established (well connected' - Facebook, AppNexus, etc), digital representation.

Such a Co, Adform (that has a longtime, 2003 'hook-up' with GroupM Denmark - & now, GroupM agencies in the Czech Republic) really do have all the right global 'connections' to be so ideal, for this important role.

www.adform.com/site/partners/ - - tinyurl.com/br6whb8

They'll (almost) all become part of a Looksmart (exclusive) performance based marketplace (globally) and that, shareholders can be assured of, is my opinion.

It was a former CEO in Ted West who had once said (when speaking of the Looksmart AdCenter 'management' platform - from within the CC following the Q2 Report of 2009), that:

<......."We believe that these performance features are comparable to those from each of the leading propriety search advertising platforms, but also that they are unique at scale among competing non-propriety search advertising networks."

"We fully understand that to replicate these performance features of scale would represent a significant engineering undertaking for any keyword search advertising provider".>

And that ...

< "it remains our firm belief that significant industry value will be created through growth of the non-proprietary keyword search advertising market." >

So many global Agencies representing global brands (along with direct advertisers) will soon (I feel), all get to compete (when bidding 'blindly') against each other while  're-targeting' chosen audiences or, the many millions of users 'who've already (previously) shown their hand', in the form of (user/) 'search intent'.
[Too many are quick to write-off or, completely disregard the fact that Looksmart have already let it be known that the Co is now buying an approx. 3 billion search queries daily from both the Google and Yahoo Search Engines. tiny.cc/az74t ]

It's obvious that Looksmart's unique position in supplying CPA/CPV to advertisers (that's based on 'user intent' @ scale),is simply a small part of a wide range of offers available for both advertisers and publishers to avail themselves of globally. And I feel Looksmart's very 'uniqueness' surrounds, it's (eventual) total independence within it's performance marketplace. IMO.
There can only be the ONE company entrusted with 'user intent' data, as it is being provided to Looksmart, via the Google and Yahoo (Bing) search engines, in a one huge marketplace.
Now please note the following message that's contained within (this European based company) Adform's personalized (re)targeting and real time buying capabilities:
Retarget with relevant messages based on search history from Google, Yahoo etc.
From Looksmart's (Q3)
10-Q
-
quarterly report
(11/07/11)
The following table reflects revenue from customers located in countries or regions that accounted for more than 10% of net revenue: [Note it's "Net" revenue]

 
 

Three Months Ended September 30,

 
 

Nine Months Ended September 30,

 
 
 

2011

 
 

2010

 
 

2011

 
 

2010

 

United States

 
 
73
%
 
 
57
%
 
 
70
%
 
 
60
%

Europe, Middle East and Africa

 
 
16
%
 
 
33
%
 
 
22
%
 
 
25
%

Canada

 
 
**
 
 
 
**
 
 
 
**
 
 
 
11
%
About Adform - www.adform.com/site/
Adform is the leading provider of digital advertising products and services. Founded in 2000, Adform offers a digital advertising platform encompassing campaign planning, ad serving, campaign optimisation, search engine marketing web site analytics & reporting.
Adform has leading clients in all major industries worldwide & delivered campaigns for over 3,400 clients across 11,831 global web publishers in more than 20 countries worldwide in 2009.
Adform has offices in London, Stockholm, Oslo, Copenhagen, Milan, Wroclaw and Vilnius. For more information, visit adform.com.
Our [Adform's] personalized (re)targeting and real time buying capabilities enable us to substantially improve campaign results, according to your specific objective.
Re-engage with potential customers after they leave your website
Retarget potential customers with relevant messages based on their browsing history on your website
Retarget with product-level recommendations
Retarget with relevant messages based on search history from Google, Yahoo etc. 
Retarget based on contextual content from the media 
Remessage even without user history based on similarity to current customers
Seamless integration with our Rich Media Content Manager
Increase CTR, CON% and ROI by incredible triple digit figures
www.adform.com/site/products/personalize.../

Client: Issuu AdPages integrated with Adform is available through both Issuu at www.issuu.com or Adform at www.adform.com. Customized demos can be scheduled to explore the measurable impact of this unique interactive publishing and advertising platform.
www.starafrica.com/en/news/detail-news/v...

www.issuu.com/about

The [Adform end-to-end advertising] platform provides large premium publishers with the opportunity and technology to build and manage their own Exchange. This offers the ability to optimise negotiated CPA, CPC and CPM campaigns alongside all major third party demand partners including RTB buyers.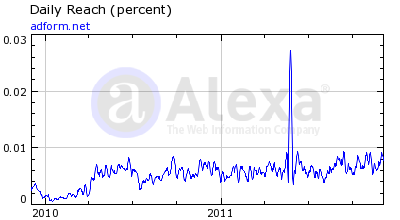 Estimated percentage of global internet users who visit adform.net:
 
Reach
Change
7 day
0.0086
+20%
1 month
0.0074
+2%
3 month
0.0071
+18%
www.alexa.com/siteinfo/adform.net#

Another "well connected", that is bound to be making progress in Europe. (And, a case of......'Birds of a feather...'??)

ImproveDigital
www.admonsters.com/article/improve-digit...

Joelle Frijters, CEO and co-founder of Improve Digital discuss the ... www.adform.com/.../joelle-frijters-ceo-and-co-founder-of-improve-d...With Improve Digital's 360Yield platform, publishers can build their own low CPM and performance ad market and benefit from the fast growing revenue streams ...
ImproveDigital - (CEO Joelle Fritjers video - mention of CPA offer and more. "We connect partners to the advertisers for publishers")

www.youtube.com/user/ImproveDigital1?ob=5

Improve Digital client's base consists of over 70 premium European publishers.

www.improvedigital.com/for-demand-partners

www.improvedigital.com/wp-content/upload...

Janneke Niessen Discusses Improve Digital's 360Yield Offering; Looks To Address Regional Sell-Side Issues For The Fragmented European Market

www.admonsters.com/article/improve-digit...

LOOK: $1.3740  
0.0340 (+2.54%)  - finance.yahoo.com/q?s=look

As always, only personal opinions are expressed in instaposts here on my instablog.

LC

ps; (See comment, below)
A View From The European Sell-Side: A 2011 Retrospective & A Look To Some Trends In 2012,
bit.ly/s4Sbcq
Disclosure
: Long
LOOK
and happy to be so...
.