Maybe he did see or, foretold the reality of the Guy Mitchell's song?
For mine, his (William Penn's) work is a revelation, I feel. Certainly this unfinished piece as contained within the link below.
...... Bear in mind that the CQV Act itself was enacted in 1666 when Penn was just 22 years of age.. the linked story (AN ESSAY TOWARDS THE PRESENT AND FUTURE PEACE OF EUROPE - 1st published 1693-94), tells us .... almost exactly, I feel - what had been destined within Penn's mind, from over 500 years ago.
As a foe of the Vatican, he would never have taken into account that the Popes (being fully involved in the corruption), would themselves find a solution, at law. ("Motu Proprio")
"I say .... Justice is the means of Peace" - William Penn
It appears finally, someone has been listening to his thoughts:
http://www.jstor.org/stable/pdf/25750949.pdf?acceptTC=true
What a thinker - William Penn (14 October 1644 - 30 July 1718)
Wikipedia tells us:
As one of the earlier supporters of colonial unification, Penn wrote and urged for a union of all the English colonies in what was to become the United States of America.
........... The democratic principles that he [Penn] set forth in the Pennsylvania Frame of Government served as an inspiration for the United States Constitution.
As a pacifist Quaker, Penn considered the problems of war and peace deeply.
He developed a forward-looking project for a United States of Europe through the creation of a European Assembly made of deputies that could discuss and adjudicate controversies peacefully.
He is therefore considered the very first thinker to suggest the creation of a European Parliament.
http://en.wikipedia.org/wiki/William_Penn
In a nutshell?
Penn is talking of a/the (one, democratic) European Parliament above- with a ONE "Law".
And we all must get to know now (just as William Penn would surely have back then), where that law comes from. (And it's fact, that he branded the Catholic Church, as "the Whore of Babylon".)
Yet, Penn was more about a ONE European Parliament law. And now, there is.
"Powered by"?
A one law .. where Peace Officers at the 'coal-face' of society uphold the law - and in a ONE system of law, for all. (Do no Harm.)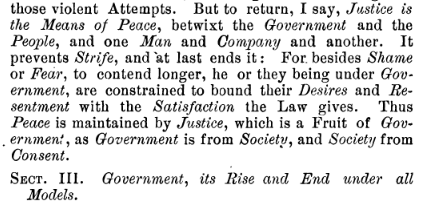 Yes. The unlawful "game" of deceitfully gaining societal "consent" is now over, at law.
Always, only an opinion.
LC