"The ad-tech landscape is messy as hell.
I'm fairly certain the entire universe of display advertising was built in the most confusing and complicated way possible so that buyers and sellers would throw their hands up in frustration & pay someone else to figure it out.
........There's even an emerging industry of middle-ware to help execs navigate the landscape.
But more layers is probably not the answer.
The hundreds of startups clogging up the digital advertising industry are due for a shake-out. ..... But until that happens, media buyers, advertisers and publishers need some guidance on what to buy & who to buy it with." - http://t.co/B7dfxaQk
There's no doubt the above statement has caused more than just an 'eye-roll' or, two from a number of those involved. You need only to look here at the now famous Luma Partners' universe charts to get some understanding as to why this article does express such sentiment.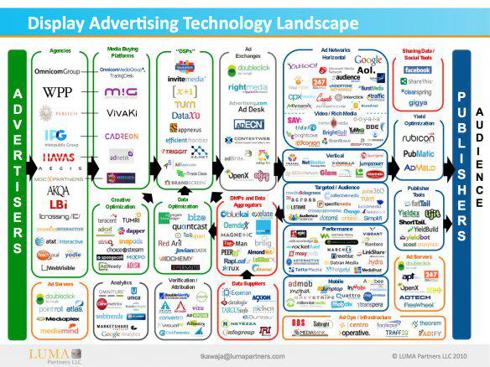 Like 'bees drawn to the honey-pot' (I feel), it was always to be a case of 'creating' enough 'buzz' early, that as many as was possible could then get to become involved, to help evangelise the message.
To have them 'spread the Global RTB word' for the 'power-brokers' (the puppeteers), who have always been there 'pulling the strings' from the out-set.
Yet, if Pareto's 80-20 'theory' is surely to be proven correct then once again, many will simply 'fall by the wayside'. And survivors can surely, ALL ...... 'thank ya mother for the rabbits'?
In my above Yahoo Finance post today (& hopefully for Looksmart's patient investors), I quoted from an important article at AdExchanger today:
"Attention Audience Buyers: Stop Buying Demographics"
I'd also pointed out that a Job description for a "vacancy", (as per LinkedIn), was now, no longer active. (They've filled the vacancy?)
www.linkedin.com/jobs?viewJob=&jobId...
Luckily I had 'saved' a copy that I have pasted (in full), below. FWIW.
**********
Director of Sales Midwest
LookSmart - Greater Chicago Area
Job Description
Director of Mid West Sales @ LookSmart
LookSmart, one of the founding pioneers of search marketing, is expanding its digital presence and reach via an integrated campaign management platform targeting audiences across search, display, video and mobile.
LookSmart is the largest independent search company processing over 5 Billion search queries a day that drive millions of high quality online visitors and conversions for advertisers.
Through its advanced platform, LookSmart will provide advertisers and publishers with the only independent campaign management solution that integrates and cross pollinates search, display, video & mobile campaigns.
.......LookSmart's proprietary data and algorithms, generated from processing billions of daily search queries across its PPC network, analyze and evaluate anonymous consumer behavior to identify receptive in-market digital audiences across premium inventory. LookSmart's agile and scalable targeting platform allows advertisers to provide integrated messaging to consumers throughout the purchase funnel, via search, display, video and mobile, to drive brand awareness and sales.
We're growing our national sales presence and are searching for an experienced Sales Director with an outstanding track record in digital advertising sales, a strong understanding of the regional clients and their needs, and a passion for helping grow LookSmart's emerging multi-channel advertising business. The Sales Director is responsible for overseeing the Mid West region, attaining sales quota by aggressively growing media revenue across multiple channels, educating clients about the advantages of LookSmart data and capabilities, cultivating client relationships, and providing specific search, display, video and mobile marketing solutions to direct clients and agencies. The ideal
candidate would have a comprehensive knowledge of the online advertising business including 5+ years of search or digital media sales.
Responsibilities
Creating and expanding business opportunities with the top interactive agencies and direct advertisers seeking online advertising solutions through CPM, CPC and CPA.
Consistently meet or exceed monthly revenue quota.
Identify new business opportunities with direct marketers, online advertisers & agencies.
Forecast agency revenue opportunities in the Mid West Region and manage a detailed book of business for key accounts.
Consult with and understand clients digital marketing needs; innovative design and execute comprehensive online advertising programs.
Develop account strategies to develop long term revenue growth and repeat business, develop requests for proposal responses, and create innovative programs to drive upfront media buying.
Works with Account Managers (NYSE:AM) to oversee the day to day up-sell and management of advertiser campaigns and relationships
Generate a high volume of sales related activity including cold calls, presentations, proposals, and client entertainment.
Build strategic level relationships with clients and agencies, be consultative on client needs, and generate sustainable programs to meet client goals and objectives.
Expand awareness of LookSmart capabilities within key accounts by cross selling and up selling product portfolio.
Desired Skills & Experience
Qualifications
At least 5-10 years of experience in digital advertising sales, marketing, media, and interactive, experience building and managing a sales team is a plus.
BA/BS degree preferred with a strong academic record.
Knowledge of online advertising, audience targeting and optimization strategies; knowledge of search, display, video and mobile preferred.
Strong contacts within the industry and your territory.
Must be highly motivated and a team player.
Outstanding communication and presentation skills.
Strong ability to manage large volume of prospecting activity (outbound calls, client meetings, proposals, etc.).
Negotiation and closing skills.
Proficient in MS Office & CRM Software.
Willing to travel frequently.
Company Description
"LookSmart is an online search advertising network solutions company that provides performance solutions for online search advertisers and online publishers.
LookSmart offers advertisers targeted, performance based search advertising via its Advertiser Network; and an Ad Center platform for customizable private-label advertiser solutions for online publishers."
Additional Information Posted:February 11, 2012Type: Full-time Experience: Director Functions: Sales Industries: Online Media Job ID:2538322
**********
The above 'embolded' description fo the Co has been taken from today's announcement, that (already over-due by many weeks), LookSmart, Ltd. are to finally Report Fourth Quarter and Full Year 2011 Results on March 20, 2012 .....
I suspect we should learn a lot more after market close on Tuesday of a Looksmart "role" in an explosive Ad-tech ecosystem, about to unfold.
As always, only an opinion.
LOOK:
LC
ps; A Mark Cuban tip. "A good investor buys where the company will go, not where the company has been."
pps; A strong traffic 'spike' on March 15th, too!!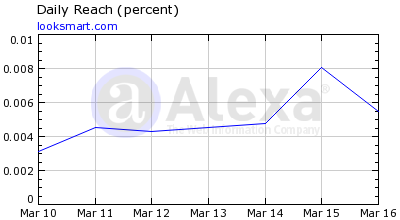 Estimated percentage of global internet users who visit looksmart.com:
 
Reach
Change
7 day
0.005
+40%
1 month
0.0047
-8%
3 month
0.00473
-12%
www.alexa.com/siteinfo/looksmart.com#
Disclosure: Long (and strong) LOOK...
.