Dear General the Honourable Sir Peter Cosgrove AK MC (Retd) - you well know that when the going get's tough, the tough get going.
This job now calls for that 'tough man' that you are, Digger!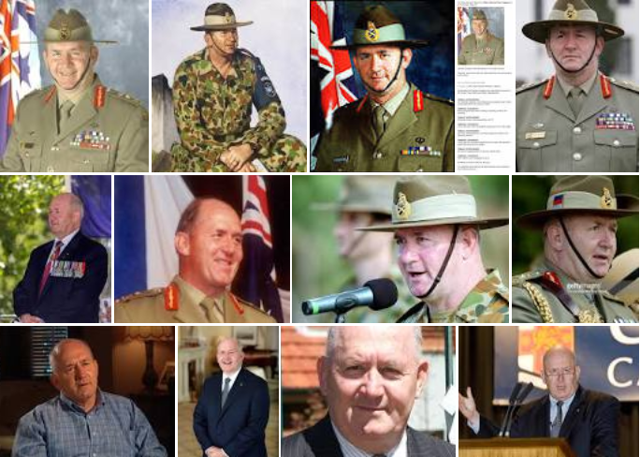 As the Ambassador of the Holy See (the Pope's law-making body), and as Australia's Governor General you must start taking an "active" role in 'waving the whip', is what 'me thinks'.
["Afterwards, the Governor-General received from His Excellency Archbishop The Most Reverend Adolfo Tito Yllana, Letters of Credence accrediting him as the Ambassador of The Holy See." - www.gg.gov.au/program/credentials-ceremo... ]
You and they (all the state governors) simply cannot continue to hide behind the apron (or, the pork-pie that it is) of "Her Majesty Queen Elizabeth the Second", forever.
You may only need to have a good 'chin wag' with them and to have them remind the Justices in the Supreme Courts that the living men and women acting in juridic positions (entities) in the corporate 'states' all must answer to THEM, at law - and that they the justices (separation of powers), don't ever answer to, any corporate entities.
You can do this, Honourable General.
It's so interesting to read and realise that International Law always "out-trumps" Domestic Law. (The lawmaker has said so.)
Wikipedia tells us:
"Pacta sunt servanda is related to good faith, while 'pacta sunt servanda' does not equate with good faith.
This entitles [U.N. corporate] states to require that obligations be respected and to rely upon the obligations being respected.... This good faith basis of treaties implies ..... that a party to the treaty cannot invoke provisions of its municipal (domestic) law as justification for a failure to perform."
Wikipedia: en.wikipedia.org/wiki/Pacta_sunt_servanda
This ("pacta sunt servanda") came up in a speech to the United Nations given by the Holy See's PAUL RICHARD GALLAGHER - SECRETARY FOR RELATIONS WITH STATES. [Page 4 IV.2 Responsibility to Observe the Existing International Law.

That Speech: gadebate.un.org/sites/default/files/gast...

Supposedly (and as recently advised by a Supreme Court Justice - the Honourable Justice Jackson), Queensland's Supreme court doesn't entertain any jurisdiction other than it's own state civil law interpretations?
Hello? ("Houston, we have a problem"?)
Yet, some 12 months ago I wrote that the then Attorney General of the UNITED STATES' corporation Eric Holder, was arguing before the Supreme Court (the US' highest court) that the United Nations treaties even out-trump the United States Constitution.
Don't take Your Guns to Town? - tinyurl.com/mxecoxz
Yes ... and if the then Attorney General of the UNITED STATES' corporation had to go to the Supreme court (I never read of any 'result'?) to 'argue' a point - you can only imagine how tough it is for an "ordinary", uneducated pensioner (who lives in the 'burbs of Logan City out of Brisbane), to do similar?
Always, only an opinion.
"LC"