"CROWN in Right" - Crown? (Adding to the existing mess.)
... The very confusion and what becomes an ongoing convolution of this topic ("CROWN in Right" - Crown?) can be seen here in the 1st paragraph taken from a chapter in this book (and, written by Geoffrey Lindell who is an Adjunct Professor of Law - he is at the Adelaide and Australian National Universities and a Professorial Fellow at Melbourne University), is where he cleverly disguises what is the true "Crown (in right") and hands it over to the "Executive".
The "Executive", that is mostly referred to as being the "Governor General or, governors ... in council", these days.
Professor Geoffrey Lindell: www.google.com.au/search?q=Geoffrey+Lind...
Never forget that it is the GG and governors, who represent the sovereign. And that both the crown and lawful sovereign of Australia is, "Her Majesty Queen Elizabeth the Second", a juristic entity.

The date he refers to (1688) is clearly about the Glorious Revolution of 1688-1689. In these recent times this ongoing convenient concept in regards to "the crown", is falling apart.
www.bbc.co.uk/history/british/civil_war_...
This is wrong. It must be corrected.
There are no "immunities" (at law) for those within "the Executive".
Under the Rule of Law, no one is above the law.
They are after-all, men and women who are "acting" as juridical persons and who are under the umbrella of, the state.
(A corporate COMMONWEALTH OF AUSTRALIA. Has legal personality.)
The Sept. 1st 2013 Papal Decree will ultimately be, their down-fall.
The Book: books.google.com.au/books?id=aHWlkXTwGKo...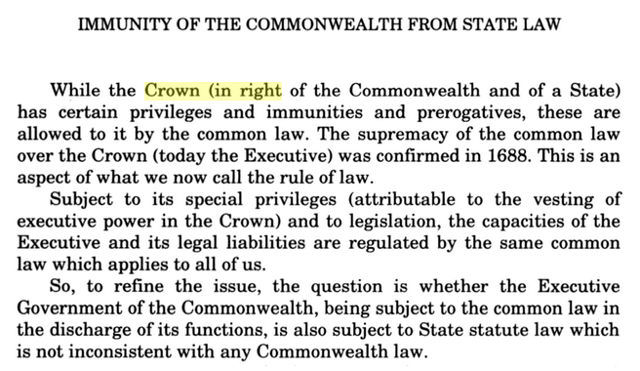 Cheers!
LC