Hi Mr Mark Slaven,
Registrar
Court of Appeal
re; This ELECTRONIC FILED DOCUMENT
This whole E Mail is to be treated as an electronic filed document requiring leave from a single (qualified) Judge and according to his Honour "Judge" Fraser (and who is to be an Officer of the Court of Appeal who must be a Justice who has sworn an Oath of Allegiance to the lawful sovereign of Australia, invoking the help of God, if not my Lord Justice, Fraser himself) and for you to then set a date so as to have my complete matter (again, ab inito and for it to either to be approved or, be set aside by that 'single' competent Justice, in his/her court and under the Crown), for it to then go on and be heard by the full court of Appeal in the common law of England jurisdiction, and in full accordance with the Charter of Justice, 1823.
I will require that 'single' competent Justice (and, if not my Lord Justice, Fraser himself), to then consider the lawfulness or, not of:
My full matter, going back to hearing MAG-239808/15 Beenleigh Court 11 November 2015 and as commenced before His Honour DUROUX, the Magistrate and re; the judiciary's involvement surrounding the Logan City Council matter and involving a worker being a man called karl-douglas is his legal name or, legal person created at law, who is from the Meakin Family.
At least a '3 months away' date (maybe even a little longer) is required, so as for me (a man) to properly present, in a single Justice or, what becomes my Lord's court.
You hold the "Office" of Registrar or, "Office of the Registrar" of the COURT OF APPEAL (no DOG-LATIN intended, and that's according to Article 11:147 of the Chicago Manual of Styles, SIXTEENTH EDITION) of the Supreme Court, in Queensland. As an Officer of the SUPREME COURT OF QUEENSLAND, you are a creation of the law.
Note, that I myself have previously used syntax parse in earlier filings re; this matter, and to the various courts.
It is also worth noting that anything unlawful ab inito, can never ever become "lawful" and not be deemed to be and by any declaration of any man or, woman 'acting' as an Officer of the Crown, and of any jurisdiction. (ROL.)
His Honour Judge Fraser's decision, part 2 of it in particular (he was never "my Lord", under the state's own logo or, a state coat of arms), has caught my eye. And "without leave from a single judge", has become appealing.
Another 'invitation', is what I have interpreted. It is such a convoluted "game" played, when seeking justice.
Or, is it that it has been made that way? I'm not so sure. Whatever. His Honour has said:

This Filing (electronically) is my acceptance of His Honour's invitation if in fact, it ever was, an invitation.
Regardless, I do wish to thank him from my heart and through my own spiritual person ross-james, accordingly.
And I'm not so sure that even His Honour had jurisdiction over me, as a man or, my "legal name" (ross-james), created at law. (*He didn't.) "I'll call you whatever you like" (or, similar), is what His Honour said to me, early on in this (so called) "review". You Mark, may have even heard His Honour say that (or, similar), as you were there.
*Because of the two different jurisdictions. And that cannot be enmeshed. To empower one is to exclude the other.
And just to add some "spice" to my feeling right now. This is from my "wall", on social media.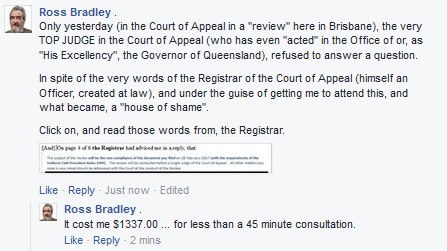 Mark ... Here are those above, your own "words". (Other than the emboldened in a bracket, that I had added.)


Yesterday and prior to the "review" (?) start, I asked you about the correct court "coat of arms" and that, that was at all times a firm requirement of mine.
In fact, in my matter as filed (#2015/17 page 5/6) I had pointed this out.
It clearly says: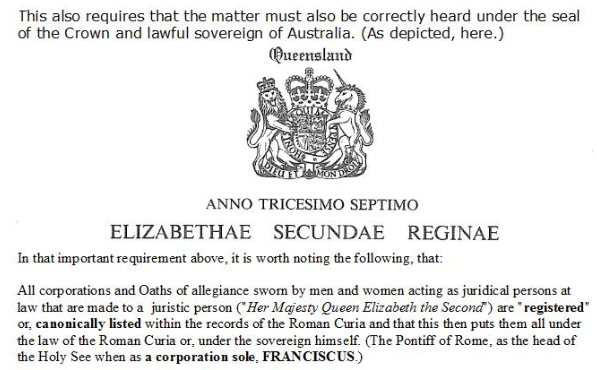 And when twice I had queried his Honour in relation to the missing "Crown" (above the bench) His Honour replied with what I realise now, was no more than "an invitation".
And a "go ahead" or, "continue" or, similar, was that reply that he made, to me.
I recall asking him if he can assure me that all would be "ok" (or, similar), without that crown?
His answer was a same "go ahead" or, "continue" or, similar.
He was never going to answer that question. He didn't have to.
I clearly needed to then require an adjournment from his (and in what was, a state jurisdiction) court, until such time that the "correct" Crown could be placed up above the bench.
I also realise .... that it was not his 'call', for him to do that.
He is not the Lord Judge of Appeal (top dog), without a reason for his being so. And its not just, seniority. His Honour, a man who acts as an Officer of the Court of Appeal who is both respected and very revered by myself, is such a clever mind. (He has a "mind", of a Godly Spirit.)
Yes, I know. "Ignorance of the law, is no excuse." (Jurisdiction.)
OK, Mark....this, my matter as filed (electronically) is to be properly handled by you as an OFFICER of the court, as per my above requirement/s and no less than, them. (My requirements.) Thanks.
As a (broke) old aged pensioner, there is no price on justice. Can you show me a law, that says there is?
High regards and Sincerely,
ross-james - Filing Party.