< "Cardinal George Pell, the most senior Catholic official to face sex offense charges, was jeered by protesters as he made a court appearance in his native Australia on Friday in a case that has rocked the Vatican and placed scrutiny on the pope's stance against abusive clergy." >
< Pell's attorney, Robert Richter QC, told Friday's hearing at least one of the allegations could not have happened.
"We propose to demonstrate to Your Honor that what was alleged was impossible," Richter told magistrate Belinda Wallington. >
That Story: Cardinal charged with sex offenses jeered at Australia court


"george" ....... '[P]ell, who remained silent throughout, has been charged with multiple offenses involving multiple complainants.  .......... The exact detail and nature of the charges have not been disclosed to the public, though police have described them as "historical" sexual assault offenses, meaning they are alleged to have occurred years ago.'

Leading the defence, is Robert Richter, QC.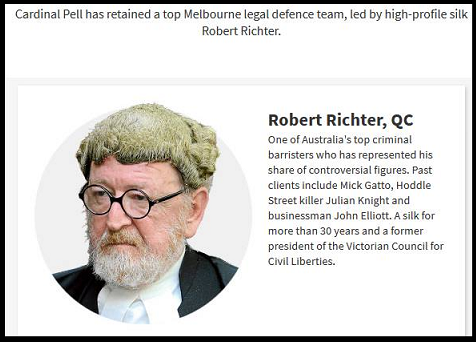 I am struggling with the chance that "george" (a man, with inherent legal personality) is being prosecuted under Victorian Legislation or, criminal code.

George PELL is not a legal name, not a legal person. Not a "creation", at law.

Only a legal person can sue and or, be sued, at law.

You cannot "mix" jurisdictions, at law. It is a discrimen to do so. You cannot have a distinction between two jurisdictions. One, the inferior (that, of a state) and the other being the superior ecclesiastical law jurisdiction. Of the Crown.


People need to realise that "george" is a natural person. A man. And that even the corporation sole of the superior body politic and sovereign himself (as a natural person: a man), has bound himself within his own criminal law.

Apostolic Letter Issued Motu Proprio On the Jurisdiction of Judicial Authorities of Vatican City State in Criminal Matters (11 July 2013) | Francis

This matter (I feel strongly) must be heard in the Supreme Court. The court of plenary jurisdiction. The Crown against "george", a man. (And with a sworn to the Crown Solicitor and QC barristers to invoke the inherent law jurisdiction/s.)

Ecclesiastical/common law of England. As, the common law of our land.

Both jurisdictions it seems can (apparently) run concurrently. (Arguably, they are the same.)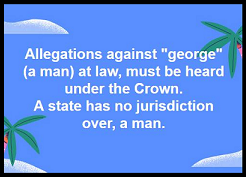 A state (any state) is a legal person, created at law.

A man or, woman has inherent RIGHTS and DUTIES or, what is a legal personality. A birth-right. (Can sue and or, be sued.)

No state can "power" a "sworn" ecclesiastical Officer, of the Crown.

No state can "power" a man or, woman (a member of a state's own judiciary) with or, to have any authority over any man or woman and under a state's own inferior jurisdiction.

A comment: Gary N Wendy Jackson - Group Admin Unfortunately, the 'State', or the people who work for the 'State' believe they are the 'Crown'.

The following clearly shows that (at law) there is a clear distinction between "Officers" of the church (as bodies politic) and those as appointed sworn Officers under the Crown, who act through their natural capacity or, natural body.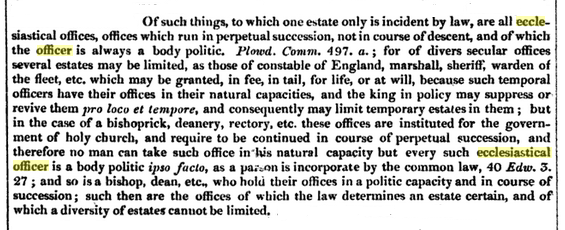 ECCLESIASTICAL Officers (Under and sworn to, the Crown.)
The Governor General, all state Governors, POLICE, Wardens in HM prisons, Judges, Magistrates, any Registrar in the Law courts and Sheriffs (all, temporal Officers) have (or, hold) their "Office" in their natural capacities.
And so man (as natural persons) and in our being sovereign over both our own "legal name" (our given or, Christian name/s, at birth: an inherent Right or, can be called our legal personality) and our own family name or, (own) body politic or, corporation (when our natural body is "incorporated", at law), can or does get to invoke that superior ecclesiastical law jurisdiction in our time of need.
Note the clear distinction between a "church" ecclesiastical person (being a same "body politic" as to that of a man's own 'family' body politic), and that of "temporal" ECCLESIASTICAL Officers.
[My legal name is ross-james. My natural body conjoined to my family body politic or, what becomes my very own corporation is, BRADLEY. It is not a legal person. It is an ecclesiastical person. And a man remains sovereign over his own legal name and his own corporation or body politic, at all times.]
Note also how the "common law" is clearly (it must or, can only be) what is, the ecclesiastical law jurisdiction as there can only be a one power source within a global legal system, bound by law.

This is all so important for us all to understand or, comprehend.
*************
What is INCIDENT?
This word, used as a noun, denotes anything which inseparably belongs to, or is connected with, or inherent in, another thing, called the "principal." (Black's Law Dictionary)
*************
Screen-shot. Google books: (Page 268) The ecclesiastical register
Google books: (Page 124) A report of cases and matters in law
HISTORICALLY

The King or, the parliament itself, both "creations" at the common law, could never become the "creator" of a legal person. The King, as a corporation sole was always an ecclesiastical person, at and answerable to, the law.

NOTE

Our family name is an ecclesiastical person, at law. It is NOT a legal person.

(A man has inherent legal personality.)  yet, all other corporations: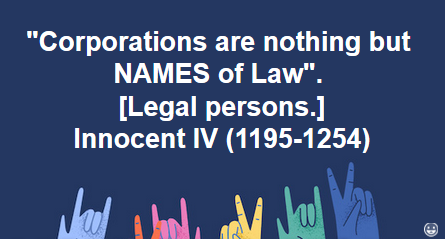 On Behalf of the superior body politic (Roman Curia) and as the Crown, and the supreme corporation sole and sovereign FRANCIS/FRANCISCUS, should not the STATE OF VICTORIA as a legal person/a creation at law get this correct, at law?

Just saying,

ross-james (My legal name)

"LC"